More Anesthesiology News
USask College of Medicine Synergy Mentorship Program
Congratulations to Dr. Mateen Raazi, Provincial Department Head, for being selected as the recipient of this year's Synergy Mentor of the Year award. Dr. Raazi is being recognized for his exceptional dedication and guidance during the mentorship program. He will be honored during the SMSS' Fall Formal on Thursday, September 28th at Praireland Park. Learn more about the program
Canadian Society for Clinical Investigation/Canadian Institutes of Health Research
Congratulations to anesthesia resident Dr. Brittany Benson for being chosen as a successful recipient of the 2023 CSCI/CIHR Resident Research Award for the College of Medicine, University of Saskatchewan. This prize is awarded annually for the best resident research project conducted during a RCPSC/CFPC training program at each Canadian medical school. The prize for this award includes $1,000.00, a complimentary CSCI membership for 2 years, and a certificate signed by the CIHR & CSCI presidents. Brittany will be recognized at PGME's Celebration Night and awards ceremony in Saskatoon on Friday October 27th, 2023. Learn more about the award. 
College of Medicine PGME CanMEDS Awards
Alixe Pellerin is the recipient of the Award for Excellence in the CanMEDS Collaborator Role for the 2022-23 academic year. This award was established to recognize a resident who demonstrates excellence in collaboration in different organizational settings and role models behaviors conducive to improving workplace relationships and culture that result in a positive impact in educational outcomes. Learn more.
2023 REACH- Resident Research Day
Robin Manaloor Implementation of a Novel Multidisciplinary Preoperative Assessment Pathway: Virtually There. Second Place in the Poster Presentation Competition at 2023 REACH-Resident Research Day. June 22nd, 2023 ($300)
Madison Rajchyba Can Video Priming Improve Patient's Informed Consent for Resuscitation Goals? Third Place and Viewer's Choice in the Poster Presentation Competition at 2023 REACH-Resident Research Day. June 22nd, 2023 ($150 & $100) 
Saskatchewan Health Research Foundation (SHRF):
Jonathan Gamble, Dr. Peter Hedlin, Dr. Jennifer O'Brien, Dr. Michael Prystajecky, Diana Ermel, Heather Dyck, James Macaskill, Robin Manaloor. Using Implementation Science to Expand Access to Virtual Multidisciplinary Preoperative Assessment To All Saskatchewan Residents Using a Pathway Developed and Piloted in a Single Saskatchewan Centre. 2022-23 SHRF Solutions Impact Grant ($147,260.21) Link to SHRF Announcement
Dr. Peter Hedlin, Dr. Jennifer O'Brien, Mrs. Heather Dyck, Dr. Nathan Ginther, & Dr. Liam Dowling. Reducing delirium after surgery in Saskatchewan: a knowledge sharing study. SHRF Research Connections Grant; March 2023 ($8,513.83) Link to SHRF Announcement
Dr. Peter Hedlin, Dr. Jennifer O'Brien and Heather Dyck. Experiences of older patients, their families, and healthcare providers with delirium after surgery: an action research study to improve patient and family centered care. SHRF Connections Program Align Grant; January 2023 ($9,997.00). Link to COM Announcement 
SCPOR Traineeship Award:
Sarah Foran "A Scoping Review and Cross-Sectional Survey to Inform Development of an ICU Bereavement Program" Team: Valiani, S., O'Brien, J.M., Goodridge, D., Brons, C., Glessman, J., McIlduff, C., Rukh, M., Waters, S., Earle, D. SCPOR Traineeship Award ($10,000) May 15th, 2023
Resident Doctors of Saskatchewan:
Congratulations to Dr. Alixe Pellerin! Resident Doctors of Saskatchewan Resident of the Month. Link
Congratulations to Dr. Brittany Benson! Winner of the Resident Doctors of Saskatchewan Presidential election for 2023-2024.  
Department of Anesthesiology Research Engagement (DARE) Awards:
Jonathan Gamble, Barbara Amros, and Trevor Krysak. Collaborators: Drs. Ban Tsui, Roman Koziy, and Jane Shin. Safety of a Novel Catheter-Over-Needle Epidural System in a Live Porcine Model. Awarded $5,000.
Peter Hedlin. Collaborator Dr. Jonathan Norton. Invasive hemodynamic monitoring, is there a better way? Awarded $5,000
2023 Dean's Summer Research Project Awardees:
Dr. Michelle Clunie "Pragmatic Observational Study of Prothrombin Complex Concentrate Safety and Efficacy for Excessive Bleeding During Adult Cardiac Surgery"
Dr. Jonathan Gamble "Is an abdominal compression test useful to predict fluid responsiveness in children undergoing general anesthesia?"
Dr. Peter Hedlin "Incidence of Failed Spinal Anesthesia during Caesarian Sections"
Dr. Peter Hedlin "Subarachnoid Block: Reasons for Insufficiency"
Drs. Sabrina Valiani and Sarah Foran "Interventions to support families through bereavement in the ICU: A scoping review"
CoMRAD Award: 
Congratulations
Drs.
Melanie Orvold (PI), Joelle McBain (Co-PI), Gaurav Jain (Co-I),
&
Brittany Benson (Co-I), 
collaborators
Drs Henry Bi, Eugene Choo, &
Erin Prosser-Loose
"
Pursuing equity, diversity, and inclusion in academic medicine: an action research study aimed at gender equity
"  (Oct 2022)
Awarded 
$ 17,055.70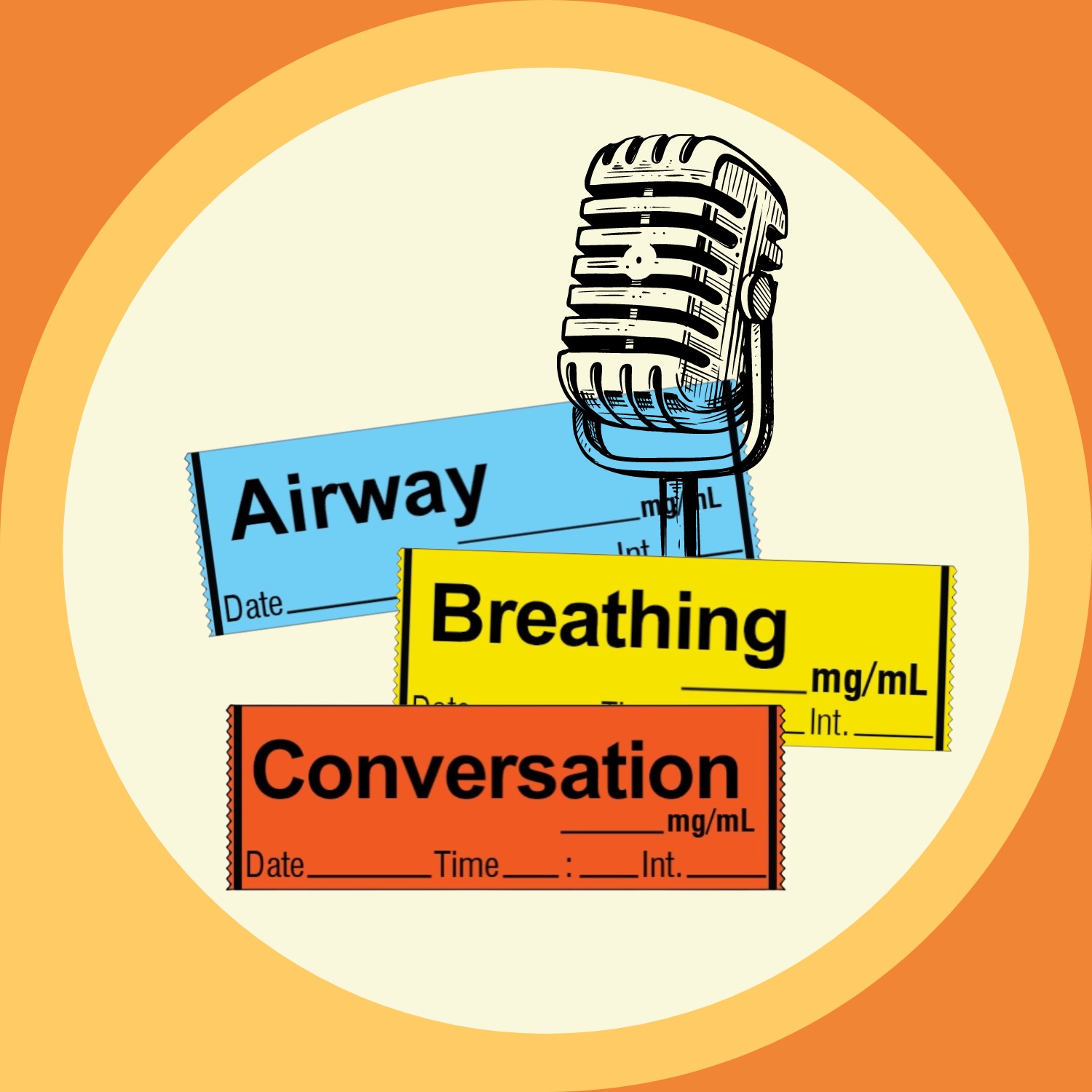 The Provincial Department of Anesthesiology has a Podcast: Airway Breathing Conversation 
Are you ready to learn your ABC's? Run by Anesthesiology residents at the University of Saskatchewan, this podcast was created with the goal of providing individuals with anesthesiology-related medical information. Created/hosted by Dr. Alixe Pellerin (Anesthesiology PGY3) and produced/edited by Dr. Allan Meldrum (Anesthesiology PGY1), join us twice a month while we speak with co-residents, anesthesiology staff, members of the broader USask College of Medicine Community, and other special guests about all things anesthesia.
The USask Anesthesiology residents are proud to release the first episode of their podcast, "Airway, Breathing, Conversation"! On this inaugural two-part episode, we introduce you to the University of Saskatchewan anesthesiology residency program. We speak with multiple residents, including PGY3 Dr. Alixe Pellerin, PGY2 Drs. Kim Mayville and Anne-Marie Friesen, and PGY1 Dr. Sebastien Turcotte, as well as one of our incredible staff members, Dr. Henry Bi, about the many perks of our program here in Saskatoon. With CaRMS interviews right around the corner, we'd love to give all you fourth-year medical students the chance to hear directly from us about what makes our program great! We have many more episodes releasing soon, so be sure to subscribe on our YouTube channel (USask Anesthesia) or your favourite podcast-listening app to stay up-to-date!
Whether you are an anesthesiologist, resident, medical student, or member of the general public, join us as we demystify the incredible specialty that is anesthesiology!
To see what it's all about, view the video trailer on youtube: ABC Podcast Trailer
Podcast & social media links available at: http://linktr.ee/abc_podcast
Undergraduate Program
The Department of Anesthesiology, Perioperative Medicine and Pain Management has significant involvement in the undergraduate MD program.
Members are involved with pre-clinical teaching on local anesthesia pharmacology, general anesthesia pharmacology and perioperative medicine. In addition, many of our faculty participate in small group clinical skills teaching, communications skills sessions, simulation and OSCE examinations.
We have a popular shadowing program for first- and second-year USask medical students looking to explore the specialty and a vibrant student-led Anesthesia Interest Group. Students can also compete in our annual essay competition, the Bev Leech Anesthesia Book Prize.
USask third year clerks complete a core two-week anesthesiology rotation in either Saskatoon, Regina or Prince Albert. The overall objective of this rotation is to provide students with the skills and knowledge that is both practical and generalizable to the primary care physician.
The Department also offers elective anesthesia rotations to clerks from USask, other medical schools in Canada and approved international schools.
Elective students can expect to gain further generalist experience in the provision of anesthetic care in a wide compliment of general and subspecialty surgical services which may include:
Pediatric
Obstetric
Vascular
Neuro
Thoracic
Acute pain
Regional
Chronic pain
and Trauma
We do not offer clerk electives exclusively in any individual subspecialty. Please contact the departmental staff should you have any questions!
Dr. Matthew Johnson
Director of Undergraduate Anesthesiology Education
Provincial Department of Anesthesiology
University of Saskatchewan
Continuing Education and Professional Development Events
The Provincial Department of Anesthesiology holds weekly grand rounds at 07:00-08:15 AM on Fridays at Health Science E1130. These are Royal College CME accredited events. The speakers range from residents to staff anesthesiologists. We often have multi-disciplinary sessions. If you have any questions please email: Henrybi@gmail.com
If you have an idea for Grand Rounds, please complete the Grand Rounds Idea Form to populate the Grand Rounds Idea Repository. 
Dr. Henry Bi
Director of Continuing Education and Professional Development
Provincial Department of Anesthesiology
University of Saskatchewan
The Anesthesiology Journal Club provides faculty and residents a valuable opportunity to present their own research and to present on recent publications relevant to the area of Anesthesiology. This forum offers residents the chance to enhance their critical appraisal and public communication skills. Residents will explain the rationale and methodology of their own project for peer-review and lead an evidence-based discussion of selected publications.

The Journal Club meets at 17:30 on the third Thursday of every month from September to April. Each meeting features a minimum of one original research presentation, and one critical appraisal of a journal article and related discussion. The Department of Anesthesiology's research staff, faculty, residents and collaborators are invited to attend the meetings.

Articles are chosen by the resident and links to the articles are circulated one week prior to the meeting.
If you have a Journal Club idea, please complete the Journal Club Ideas Form to populate the Journal Club Ideas Repository. 
If you are interested in learning more about Journal Club or attending as a guest, please contact Darcie Earle, Provincial Research Facilitator.
Contact
Provincial Department of Anesthesiology
Royal University Hospital
G525-103 Hospital Drive
Saskatoon, SK
S7N 0W8
Phone: 306-655-1183
Fax: 306-655-1279