How to Apply
Application for University of Saskatchewan entry level positions in Royal College of Physicians & Surgeons of Canada specialty training programs or first-year Family Medicine training programs must be made through the Canadian Resident Matching Service (CaRMS). CaRMS is a not-for-profit organization that works in close cooperation with the medical education community, medical schools and students to provide an electronic application service and a computer match for entry into postgraduate medical training throughout Canada.
Welcome to the University of Saskatchewan!
In preparation for your residency training starting July 1, here are some details regarding paperwork to complete and events to put in your calendar. You will find information regarding orientation, licensure, credentialing, contracts and the resident handbook.
One45
Access your rotations, schedules, and evaluations
Your resident rotation schedules, academic session schedules, and evaluations are available through One45, an application accessible through the MEdIC channel in PAWS. In One45 you can:
Review personal academic schedules
Track attendance for academic sessions
Review personal rotation schedules
Review handouts and links for Program and Rotation
Send/distribute personal assessment forms to preceptors
Complete assigned rotation and preceptor assessment forms
Review and signoff personal assessment results
Enter encounters into procedure log (ED2)
Elentra
Information for Faculty and Residents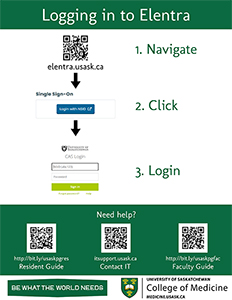 Log into Elentra in 3 Steps:

Navigate to elentra.usask.ca
Click the Single Sign-on button
Login using your NSID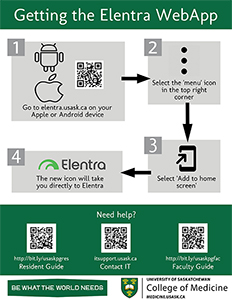 Get the Elentra WebApp in 4 steps:
Go to elentra.usask.ca on your Apple or Android device
Select the "Menu" icon (3 vertical dots) in the top right corner
Select "Add to home screen"
The new icon will take you directly to Elentra
USask-Specific Elentra EPA Assessment Quick Start Guides
Need help? Visit the following links:
Housing at Distributed Sites
Temporary housing is provided at no cost to residents who leave their home site to complete short term mandatory rotations at distributed sites in Saskatchewan. If residents complete electives away from their home site, they are responsible for all costs incurred, including mileage and rental housing.
Damage/Damage Deposits: Residents are responsible for paying for damage deposits, if required, at rental properties provided by the College of Medicine. Residents who incur damage or additional cleaning charges during their stay at rental properties provided by the College of Medicine must reimburse the landlord directly for these costs.
Residents with Disabilities and/or Medical Conditions: Residents requesting special accommodations for temporary housing due to disability and/or a medical condition are required to contact Gayathri Manoharan, PGME Wellness Resources (Ph: 306-966-1669; jennifer.uhryn@usask.ca.

All requests for special housing accommodations will require the resident to follow up with Access and Equity Services. This process can take several months to complete and it is the resident's responsibility to provide appropriate supporting documentation as required. Reasonable accommodations will be determined based on what is medically necessitated, rather than what is desired.
| | | |
| --- | --- | --- |
| Distributed Site | Contact | Phone |
| North Battleford | | 306-446-8631 |
| Moose Jaw | | 306-694-0282 |
| Prince Albert | | 306-765-6787 |
| Regina | | 306-966-5605 |
| Saskatoon | | 306-966-1941 |
FAQs
1. I'm a new resident, who is my employer?
As a resident, you are both an employee and a student of the University of Saskatchewan. Type B residents are only students of the University.
2. What are my benefit entitlements as a resident?
As a resident (excluding Type B) you are automatically enrolled in the health and dental plans provided through the University of Saskatchewan's Sun Life Group Insurance Policy. Your fees are paid on your behalf for the duration of your residency in the province.  You have the option to enroll in Life and/or Disability Insurance provided through the SMA. You can reference the RDoS agreement for more information.
3. How do I request a leave of absence?
For any type of leave, first talk to your program director or program administrative assistant.
For maternity, personal, medical or sick leaves (longer than 5 days) please see the Leave of Absence Information & Guidelines.  
4. I need a document notarized. Who do I call?
Notary services are provided to residents as they relate to residency training (i.e. licensure, electives, fellowships, preparation for practice).  Please call 306-966-5536 to schedule an appointment.
Please bring the following to the appointment:
Original document requiring notarization and a copy – Documents are not to be signed in advance of the scheduled appointment.
Government Photo Issued ID with a signature (i.e. Driver's License)
Requirements noted on the form such as a photograph
5. Where will I find more information about my residency training?
Everything you need to know about residency at the University of Saskatchewan can be found in the Resident Handbook.
6. How do I make an appointment with the Associate Dean?
All meetings should be booked with the Associate Dean's Executive Assistant.  Please contact Maureen Lumbis at 306-966-7649
7. How do I update my address?
Your current address can be updated on the U of S website on  PAWS. The University of Saskatchewan forwards T4's to the last reported address on file (you can also print it from PAWS).
We strongly encourage residents to contact the PGME, CMPA and CPSS offices to update your information.
8. I am completing my residency training. Is there anything I need to do?
Please email the PGME Office or call 306-966-5557 for details.
9. What costs are covered for electives?
No reimbursement is provided for electives and all costs are paid by the resident.