Message from the Associate Dean
Our programs and the PGME unit of the College of Medicine are fully engaged to prepare for the 2023 conjoint Royal College of Physicians and Surgeons of Canada (RCPSC) and the College of Family Physicians of Canada (CFPC) regular accreditation review of the University of Saskatchewan scheduled for November 26 to December 1, 2023. This review includes a review of the institution and its oversight of residency education, all active residency programs, and affiliated education sites.
As we collectively and collaboratively address all areas for improvement (AFIs) identified in the most recent external and the 2021/2022 internal reviews, our approach remains that of continuous quality improvement and evidence-based decision making as we seek to achieve exemplary indicators. 
---
PGME Accreditation Planning Committees:
PGME Accreditation Oversight Team (AOT)
Includes the following PGME staff: Ope Okunola, Audrey Kincaid, Loni Desanghere, Maureen Lumbis, and Tanya Robertson-Frey. The AOT has developed an implementation plan and will continue to provide overall support and oversight, including progress monitoring, reporting, logistics, and managing stakeholder communications. The AOT reports to the Associate Dean, PGME, who has the overall oversight, responsibility, and accountability for accreditation.​
Internal Review Committee
The 2021-2022 internal review committee was co-chaired by Dr. Marla Davidson and Dr. Ayisha Kurji. This committee aided the review teams in finalizing their review reports and ensured the strengths and areas for improvement were properly identified. As well, they identified key themes across the programs based upon the findings.  The findings from this review (including surveys done by our program directors and residents, and in some cases, by external reviewers) are being considered by the Academic Program Enhancement Committee (APEC).
Academic Program Enhancement Committee (APEC) 
Led by co-chairs Dr. Mark Sheridan and Dr. Brian Geller and comprised of highly dedicated and experienced physician leaders (Drs. Kylie Kvinlaug, Maryam Mehtar, Asma Nosherwan, Darrien Rattray, Marla Davidson, Ayisha Kurji) and residents (Drs. Nina Dhillon, Nicole Pendleton and Karan Vats). The APEC reviews and develops recommendations to address the AFIs and work towards quality improvement and exemplary requirements.
---
Accreditation Timeline Overview
Key Dates – Timeline Review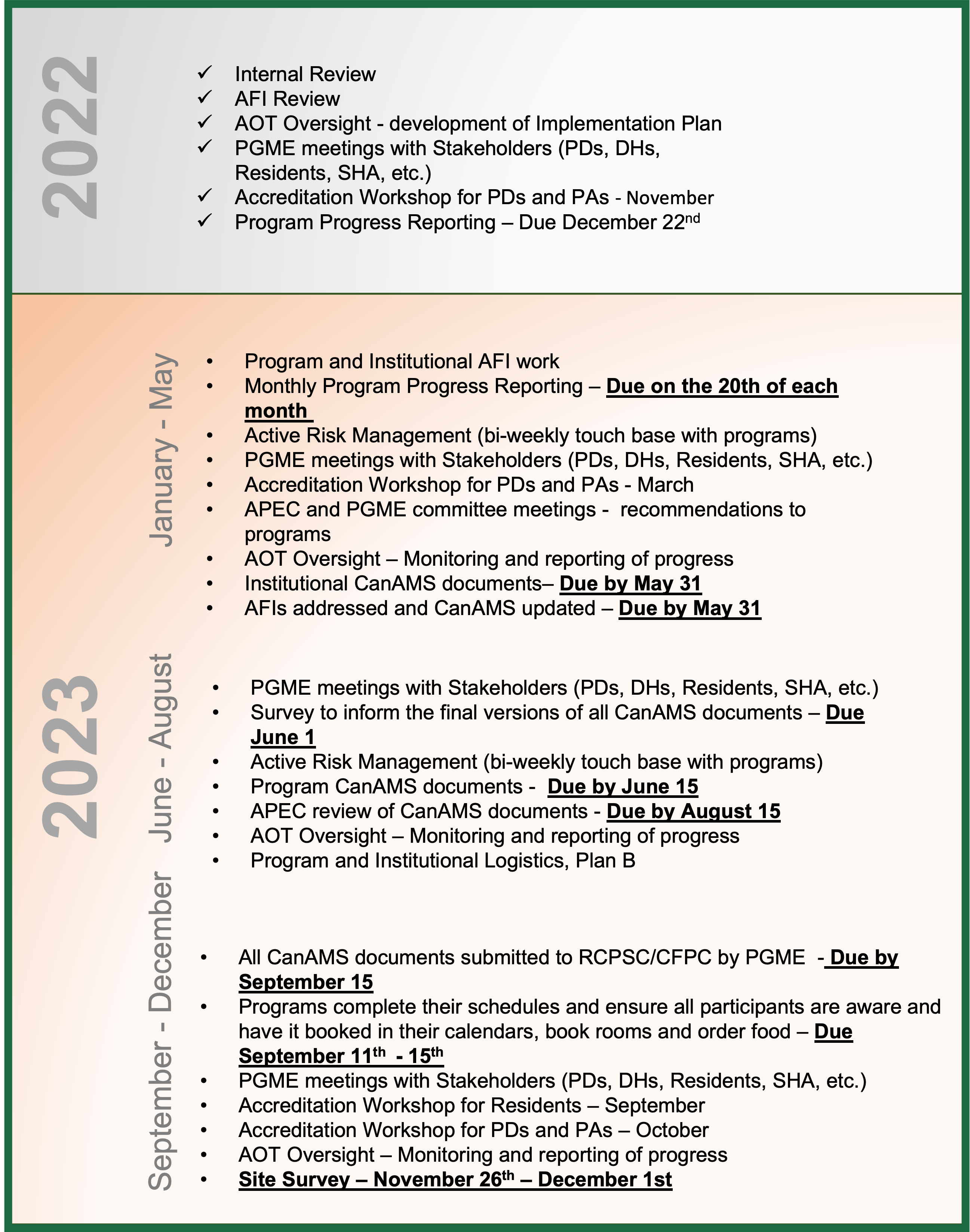 ---
Accreditation Newsletters
Contacts
For all accreditation-related matters and questions, please contact
Audrey Kincaid
306-966-5536