Medical Education Research & Scholarship Day 2020
Unfortunately in light of the COVID-19 outbreak, MERSD has been indefinitely delayed.
Clinician Educator Diploma Program - A Medical Education Fellowship at the University of Saskatchewan
The Clinician Educator Program provides formal training in medical education, to give you the skills and tools that you need to provide consultative medical education advice and guidance for education projects. This includes practical training in curriculum design and implementation, scholarly teaching and learning, assessment and evaluation, education scholarship and leadership. The CE program gives you the tools to be a valuable educational resource for your educational environment and workplace.
*Admissions will remain open until further notice
What is Faculty Development?
Faculty development (FD) is here to support you in those areas of your work that include teaching (all levels of learners), research (to help get you started), leadership (including assuming educational leadership roles), wellness for you and your learners and more.  We want to support you as we collectively strive to provide excellent learning experiences across all our teaching sites.  We want to support you individually in your faculty role and hope the resources provided on this site and through our various programs will be helpful.  We recognize faculty development is often most relevant at the site/clinic/program/or department level.  Feel free to contact us for more information or to arrange a FD session.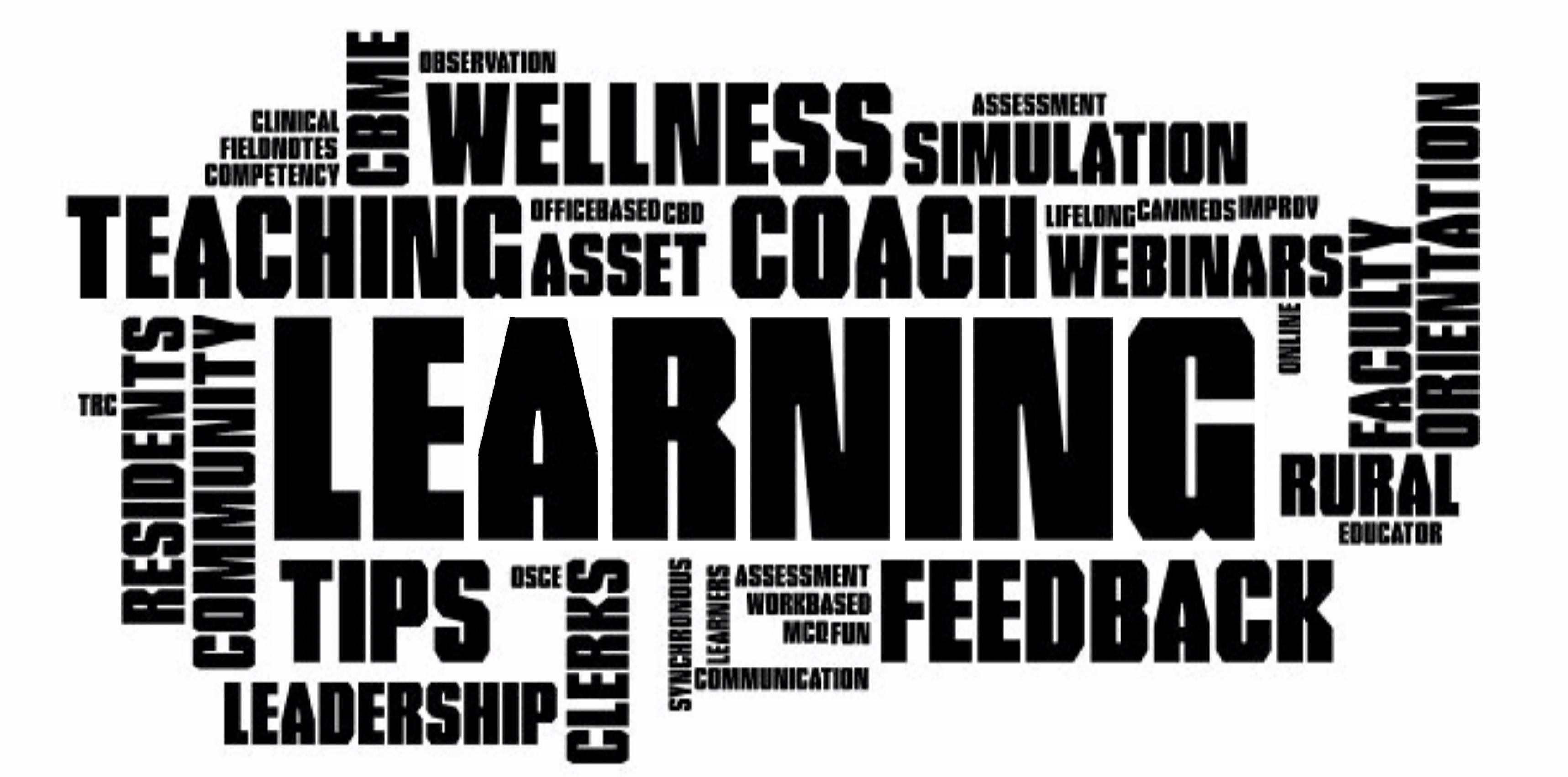 See the events tab to learn about our FD programming or go to CoM calendar
Resources available including Clinical Teaching Tips – updated 2019

Online Modules including orientation for new teachers/ Med Ed Wiki (updated 2018)

Links to resources

Posted recordings of FD sessions; archives

"Just in time" FD –  faculty can do on their own
---
FD - What do we do?
FD - What We Do
To see what we do in a nutshell refer to the FD Programming Matrix.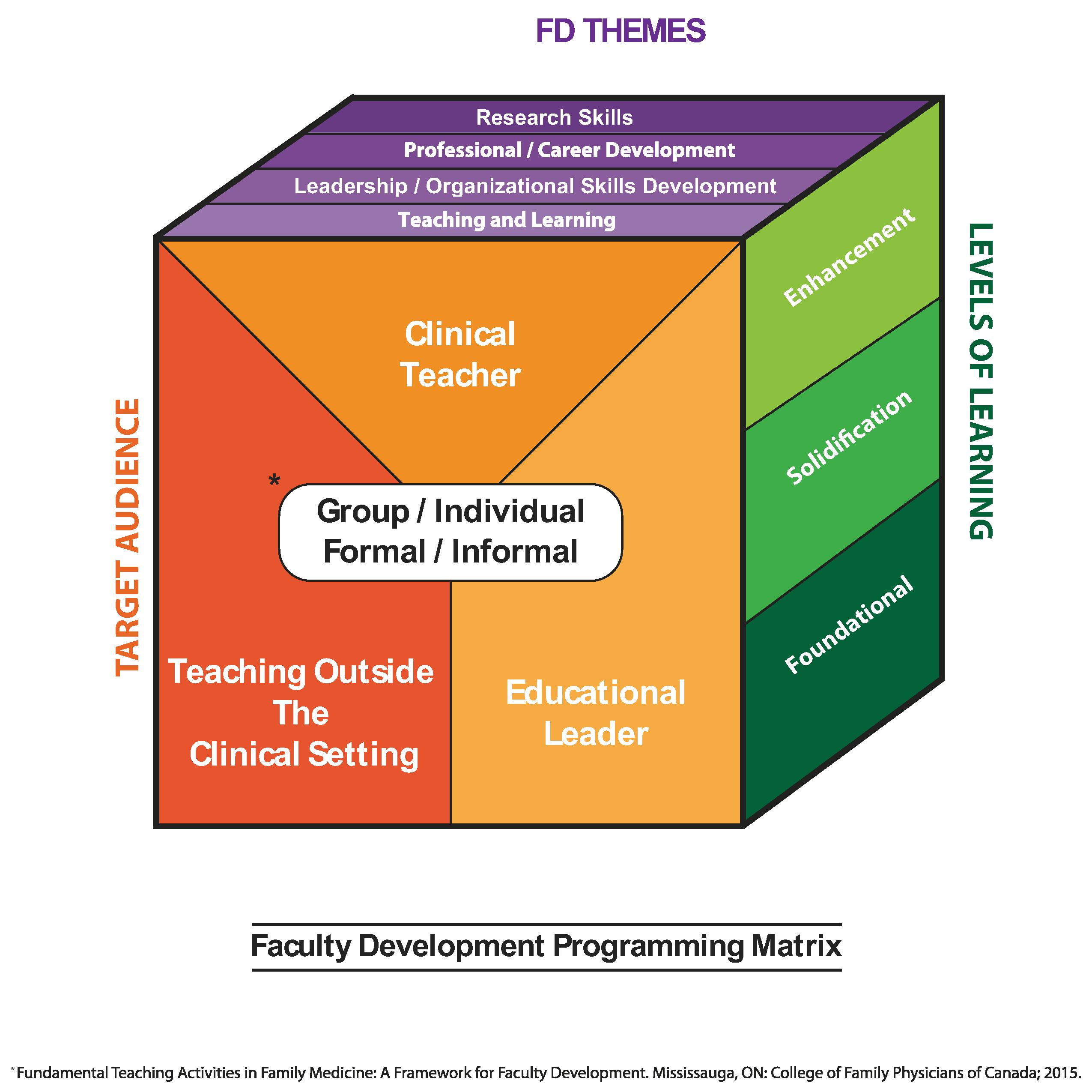 ---
What Is CPD?
Continuing Professional Development (CPD) is a broadly defined group of activities that includes both Continuing Medical Education (CME) and Faculty Development (FD).  We embrace lifelong learning across all CanMEDS domains and are here to support and meet your continuing education needs.  We work closely with the Division of CME and look forward to helping you meet your MOC/Mainpro requirements and continuous improvement in all aspects of our professional work in today's healthcare environment.
We use the USask SRS site to register for both CME and FD events.  By selecting the register button, you will find a list of currently offered programs.

---
College of Medicine Strat Plan
Faculty Development Strategic Plan
Who are we?
We are a community of practice of staff, faculty including physicians and other providers, educators and learners around the province who are interested in supporting and facilitating medical education, using best practices and evidence for work in all domains- clinical, administrative, teaching and learning, research and leadership.   We are creating a Faculty Development Network to reach across all areas of the province and are working to have leads in all disciplines.  We also have a Faculty Development Advisory committee to help strategically guide our work and an End Users group of medical students and residents to give us feedback on how we are doing from their perspective.
 Faculty development has a strategic plan (click here) and is aligned with College of Medicine strategic plan (click here for a summary) and in particular the priority area on Quality Education and Scholarship (click for a more detailed description).  We work collaboratively with the Distributed Medical Education, Faculty Engagement, Research, Social Accountability and others and are keen to establish relationships and connections within the Health Professions.
See our Contacts section for a listing of staff and faculty and how to reach our office in Saskatoon and Regina.
---
Annual Report
Our annual report is released in the fall following the end of our reporting year which runs from September-June.  For a more comprehensive view of the Department, beyond what's listed on our website, please review our Annual Report
---
Don't waste time – learn effectively!
A great book that is not too long and useful as a teacher, a learner and a parent is Make it stick (The Science of Successful Learning) by Brown, Roediger and McDaniel.  Check out this quick video on how adults learn best - https://youtu.be/tQsIlnuAB9E
We encourage you to come back to this site from time to time and do a little online reading or take in a webinar, watch a video or plan to attend a FD session.  There are many topics to choose from which you can touch on when you visit the site. Mix it up.  Think about how you will apply what you are learning to your clinic and with your learners.  Talk about it with interested colleagues and then give it a try – apply it.  Use various approaches to help your learning – pictures and diagrams, reading and  webinars and simulation.  Take some notes while you're on the site.  Writing things out helps you process information and makes it easier to retrieve.  We have designed the site to help you learn using built-in learning plans.
---
What supports do we offer?
Resources in the FD office in Saskatoon and Regina and PG training sites in Family Medicine

International Memberships:
Whether through the College of Medicine or specific memberships through Faculty Development, we belong to several international medical education organizations that allow us access to many resources.  For instance the College of Medicine, University of Saskatchewan, is a member of the Association of American Medical Colleges(AAMC) and in particular to the Central GEA (CGEA).   As such faculty can apply for and participate in these different offerings, grants, courses and resources.  We also belong to the following:
IAMSE (The International Association of Medical Science Educators)
AMEE (The Association for Medical Education in Europe) https://amee.org/home. Click here for their brochure.
STFM (Society of Teachers of Family Medicine) https://www.stfm.org/
---
What's new in Faculty Development?
Unconscious/Everyday Bias Workshops – now available! Contact Sean Polreis.
Specific programs/ events – Presenting with Pizzazz, LGBTQ session, Wellness resources
---
Contact Us

Professor and Director

College of Medicine, University of Saskatchewan
Room 316, 1121 College Drive, Saskatoon
Phone:
Fax: 306-966-7920

Twitter: @macleancathy


Professor, Community Health and Epidemiology

College of Medicine, University of Saskatchewan
3224 E-Wing, Health Sciences Building
Phone: 306-966-2756





Sean Polreis


Faculty Development Coordinator

College of Medicine, University of Saskatchewan
Room 317, 1121 College Drive, Saskatoon
Phone: 306-966-1311
Fax: 306-966-5224

Amy Winik


 
Administrative Assistant

College of Medicine, University of Saskatchewan
Room 318, 1121 College Drive, Saskatoon
Phone: 306-966-5171

Email: medicinefaculty.development@usask.ca

MBBS MD MSc (Med Ed) PhD MBA
CoM Lead, Masters in Education (Health Professions Education)

College of Medicine, University of Saskatchewan
Health Science E-Wing Room 3226
Phone: 306-966-1409
Fax: 306 966-7920

Email: Kalyani.Premkumar@usask.ca

Paul Olszynski, MD, MEd, CCFP(EM), FCFP
Associate Professor of Emergency Medicine
Director of Emergency Ultrasound for the Provincial Department of Emergency Medicine
Director of Simulation and Clinical Ultrasonography for the College of Medicine
University of Saskatchewan

Contact Information:
e-mail: pao292@mail.usask.ca
Cell: 306 370-0357
www.sasksonic.com


 

BSc, MD, PhD

Assoc. Professor, DAFM
Peer Observation Program – PROMPT-MED

306-655-4208
West Winds Primary Health Care Centre

 

MD MMEd FRCPC

Lead for the Clinical Educator Diploma ProgramEmergency Physician, Trauma Team Leader and STARS Transport Physician

Assistant Professor & Residency Program Director

(306) 612-3206
@robwoodsuofs
www.USaskEM.ca

 

MSc, MD, FRCPC

GIM Division

Past Chair GIM Specialty Committee

CBD Lead University of Saskatchewan

 
---
 

Helen Chang

 

 


Faculty Development Coordinator, Regina

Phone: 306-766-0558

 

 

 

Jeanette Bellavance

 

 


Adminisrative Assistant, Regina

Phone: 306-766-0558

email: reginafaculty.development@usask.ca

---
Dr. Andries Muller
Faculty Development Director, DAFM |  Email
Jaime Markowski
Administrative Assistant, Saskatoon support for Faculty Development |  Email
La Ronge
Elliot Wilkinson, Site Lead | Email

Moose Jaw
Rob Haver, Site Lead | Email
North Battleford
Mike Barnett, Site Lead | Email
Prince Albert
Navid Robertson, Site Lead | Email
Regina
Danielle Frost, Site Lead |  Email
Saskatoon
Emily Sullivan, Site Lead |  Email
Swift Current
Sarah Harrison, Site Lead |  Email
---
Frequently Asked Questions
Investigate the most common questions that are asked of Faculty Development
Do I need to register in advance to attend the workshops?
Yes. This will enable us to send you any resources/references if there is any advance preparation required. Also, it will be easier to get your certificate for study credits.
Is there a cost to attend any of the events?
Typically there is no cost to attend faculty development events. It is, however, still important to attend events when you have registered as there are costs associated with holding these events.  We will, therefore, occasionally ask for a $50 deposit which is refunded if you attend.  We appreciate your letting us know if you are not able to attend in advance in which case you will also not be charged.
Can I attend events remotely?
Yes, you can. We can make arrangements for you to participate remotely, with advanced notice.  We currently use mostly WebEx as this is the distance platform supported by the university.
Will it be possible for Faculty Development facilitators to come to our site?
Absolutely. Faculty Development serves teachers located anywhere in the province and welcomes the opportunities to work with the various FD leads around the province.
Can you organize training based on our specific needs?
Certainly. We believe in customizing training according to your individual/site/program/or department needs. Contact our office and we can work with you to tailor a FD session to meet your needs.
How can I get study credits for participating in FD?
For noncertified educational events, physicians may still claim credits:
For the College of Family Physicians of Canada, of the 250 credits per 5 year cycle, half can be for non-certified learning either group or individual; for further information please see the .  There is a Mainpro manual available online.
Members of the Royal College of Physicians and Surgeons of Canada may claim Maintenance of Certification program credits by reporting event hours with MAINPORT under "unaccredited activities" in Section 1; for further information please see the RCPSC website.
We do try to ensure many of our events are approved for either MOC or Mainpro credits. Members of the CFPC can claim MOC credits (up to 50 in a 5 year cycle.)
What if I miss a session that I wanted to attend?
Sometimes the FD events you want to attend may not be offered at a time or on a day that works for you. In an effort to help alleviate this problem, we try to digitally record many of our sessions so you can access them at your convenience from our website.
We are also happy to offer events again at times that might work better – with flexible scheduling. If you are interested in any of our events, please let us know which days and times will work best for you and your group, and we'll work with you to set up the workshop at a time and day that is convenient.
---
Track Your Thinking
Thinking about your thinking –- click on the image above to download and use this template to record  "process notes" to reflect on what you want to use or take away from this page.  This can be similar to writing a progress note on patient care.  Download this pdf and keep it as a record.  Write out your comments on what you are learning and come back to this from time to time to see how your thoughts and feelings are changing.  Review what you have written and re-comment on how you are applying what you are learning to your day to day practice.
---
Faculty Development Website Survey
Click the link below to complete a short survey that will assist us in continuous improvement of our website. We sincerely appreciate your feedback here.
---