News
Equity, Diversity, and Inclusion

Expand your knowledge and gain practical skills on topics like unconscious bias, inclusive language, and anti-racist medical education. Free enrollment for USask faculty, staff and students!

June 14, 2024

Regina, SK

Nominations open Feb 15, 2024

Deadline Apr 1, 2024
About Us
Faculty Development (FD) is a community of practice of staff, faculty including physicians and other providers, educators and learners around the province who are interested in supporting and facilitating medical education, using best practices and evidence for work in all domains- clinical, administrative, teaching and learning, research and leadership.   We are creating a Faculty Development Network to reach across all areas of the province and are working to have leads in all disciplines.  We also have a Faculty Development Advisory committee to help strategically guide our work and an End Users group of medical students and residents to give us feedback on how we are doing from their perspective.
We are here to support you in those areas of your work that include teaching (all levels of learners), research (to help get you started), leadership (including assuming educational leadership roles), wellness for you and your learners and more.  We want to support you as we collectively strive to provide excellent learning experiences across all our teaching sites.  We want to support you individually in your faculty role and hope the resources provided on this site and through our various programs will be helpful.  We recognize faculty development is often most relevant at the site/clinic/program/or department level.  Feel free to contact us for more information or to arrange a FD session.
Our annual report is released in the fall following the end of our reporting year which runs from September-June.  For a more comprehensive view of the Department, beyond what's listed on our website, please review our Annual Report.
Our strategic plan is aligned with the College of Medicine strategic plan and in particular the priority area on Quality Education and Scholarship.  We work collaboratively with the Distributed Medical Education, Faculty Engagement, Research, Social Accountability as well as others and are keen to establish relationships and connections within the Health Professions.
Faculty Development uses this matrix to ensure we are covering all the bases in our programming - are we connecting with all of our audiences at various levels and across several key themes?
We also look at the College of Medicine's Quality Education Plan and ensure that we are contributing in any area identified as a priority for Faculty Development or where FD can help to facilitate success.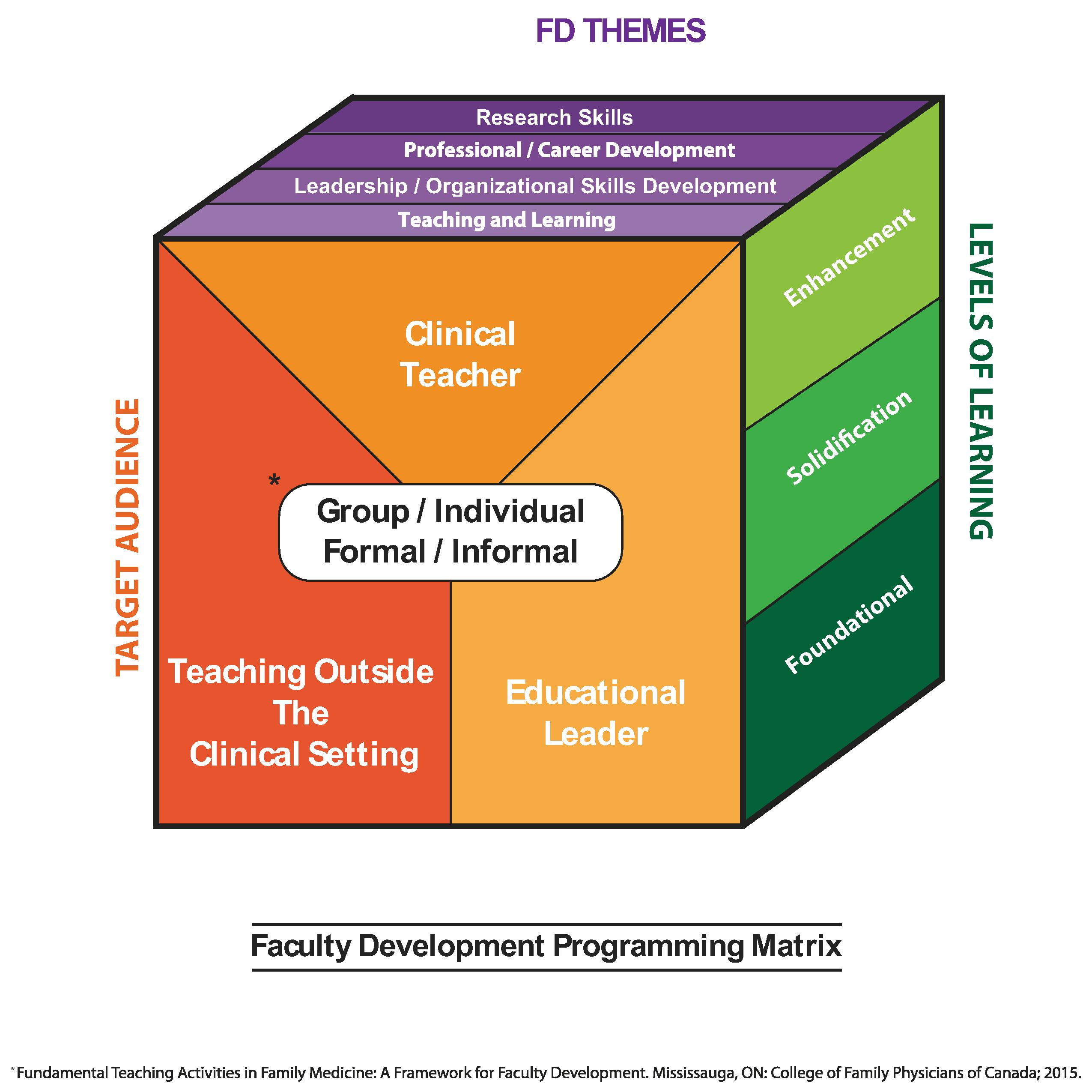 Supports
Faculty Development assists faculty members in the achievement of their academic roles with an aim to enhance the experience of our learners and support the missions of our faculties.  Below are just a few of the many supports we offer.
MedEd Conference Listings
What is out there and worth attending?  Visit our MedEd Conference Listings page to find out.
Events
See what's coming up in FD!
Faculty Development Library
Check out hard copies of resources we have available in Faculty Development easily.  You can scan our library online to see if we have books or medical education articles you might be interested in borrowing.  These are available to be borrowed by contacting medicinefaculty.development@usask.ca
Memberships
Whether through the College of Medicine or specific memberships through Faculty Development, we belong to several national and international medical education organizations that allow us access to many resources.  As such faculty can apply for and participate in these different offerings, grants, courses and resources.  

IAMSE (The International Association of Medical Science Educators)
AMEE (The Association for Medical Education in Europe). View their brochure.
STFM (Society of Teachers of Family Medicine)
CAME (Canadian Association for Medical Education)
AAMC (Association of American Medical Colleges)
CGEA (Centeral GEA)

Teaching Resources
We've compiled many resources to support you in your teaching.
Peer Observation and Mentorship
Peer Observation and Mentorship Program for Teaching in Medicine (PROMPT-MED) - The PROMPT-MED program provides opportunities for faculty to grow their skill set in teaching through peer observation.
Research Resources
Faculty development offers supports, courses and resources to help you develop research skills for medical education research and clinical research.
Med Ed Research and Scholarship /SoTL opportunities
Medical Education Research and Scholarship/ SoTL opportunities 
Supports for New Faculty
Welcome aboard!  This section is geared specifically to assist those new to teaching.  The New Faculty Orientation PDF is great for learning the basics about teaching and is recommended for all new faculty.
Contact Us
Dr. Cathy MacLean, MBA, MD, FCFP, MCISc
Professor and Director
5B57.2 HSc Bwing
Email
Twitter: @macleancathy

Mr. Sean Polreis, MEd
Teaching & Learning Specialist
5B57.4 HSc Bwing
Email
Ms. Amy Winik
Administrative Coordinator
5B57.3 HSc Bwing
Ph: (306) 966-5171
Email
Dr. Kalyani Premkumar, MBBS, MD, MSc (Med Ed), PhD, MBA
Lead, Masters in Health Professions Education
3226 HSc Ewing
 Email
Dr. Rob Woods, MD, FRCPC, MMEd, DRCPSC
Program Director, Clinician Educator Diploma
Email
Twitter: @robwoodsuofs
Dr. Paul Olszynski, MD, Med, CCFP(EM), FCFP
Course Director, ASSET Foundations Program
Email
Dr. Greg Malin, BSc, PhD, MD, Med
Peer Observation Program (PROMPT-MED)
Email
Dr. Andries Muller

DAFM Faculty Development Director

Email


                            

Kimberly Moss

Administrative Assistant, DAFM FD
---
Family Medicine Faculty Development Site Leads
La Ronge
Dr. Jeff Irvine, Site Lead | Email

Moose Jaw
Dr. Rob Haver, Site Lead | Email
North Battleford
Dr. Mike Barnett, Site Lead | Email
Prince Albert
Dr. Alanna Kurytnik, Site Lead | Email
Regina
Dr. Asma Gargoum, Site Lead |  Email
Saskatoon
Dr. Emily Sullivan, Site Lead |  Email
South East
Dr. Mahmood Beheshti | Email
Swift Current
Dr. Tara Lee, Site Lead | Email