The College of Medicine Indigenous Admissions Pathway is designed to support the growing number of Indigenous people choosing to becoming doctors in Saskatchewan.
The program helps to navigate the pathways and resources available to Indigenous students as they train to become physicians.
Through the pathway, Métis, Inuit and First Nations people can apply for admission to the Medical Doctor (MD) program of study. Ten percent of the positions available in the MD degree program each year are specifically for Métis, Inuit and First Nations people.
The program is open to all residents of Canada, with preference given to residents of Saskatchewan, Yukon, Nunavut and the Northwest Territories. (Residency is defined more specifically on the College of Medicine admissions website).
To be considered in the Indigenous Admissions Pathway category, indicate on the application form and please upload your Métis, Inuit or First Nations documentation. Please contact Valerie Arnault-Pelletier if you need assistance or clarification about this documentation.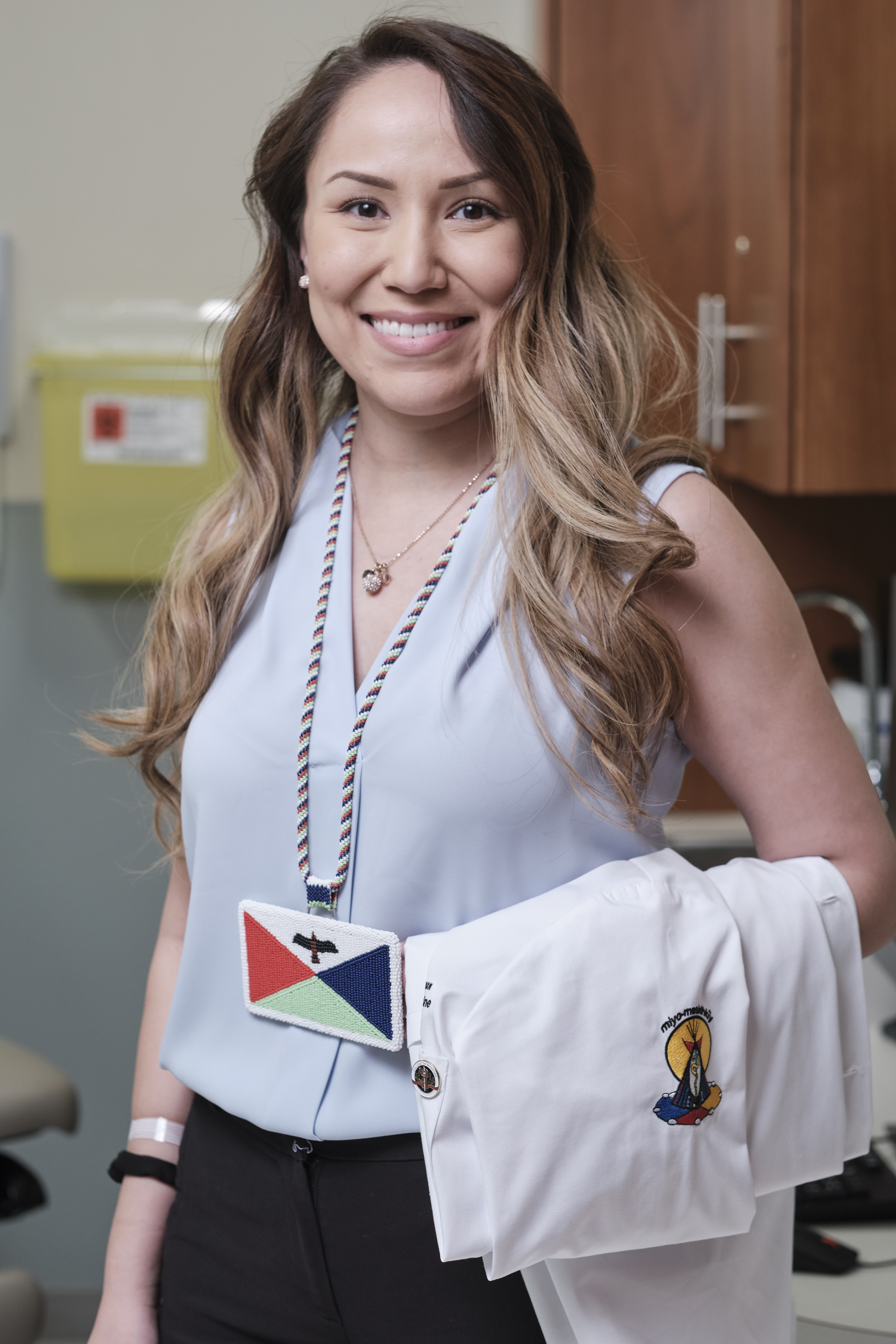 "Navigating medical school has been challenging. The boundaries I've had to overcome to exist in this institute could not have happened without the continued support I receive from my loved ones and my community.
"My presence epitomizes the resilience of generations before me and my only hope is to carry this responsibility with respect and humility."
- Jacqueline Nokusis, MD Class of 2022
Indigenous Admissions Circle *NEW*
Starting in the 2022 application cycle, the College of Medicine will have a new process to evaluate Indigenous applicants called the Indigenous Admissions Circle, made up of representatives from the Indigenous community. The group will support the college's Indigenous applicants by reviewing and evaluating applicants through an Indigenous lens.
The admission process for applying through the Indigenous Admissions Circle includes:
Submission of a written essay(s) that will have a cultural/Indigenous focus, as determined by the Indigenous Admissions Circle
Participation in a panel interview that will be conducted by members of the Indigenous Admissions Circle in a culturally-safe and inclusive way
Students applying through the Indigenous Admissions Circle will be offered the opportunity to provide a letter of support from an Indigenous community member
A file review will be used holistically and based on the lived experience of the applicant
Requirements for Admission
NOTICE:  Proposed upcoming changes to MCAT requirements to start for the next application cycle (2023 application for 2024 admission to the USask MD Program) 
The following changes have been recommended by the Admissions Committee and are pending approval by the College of Medicine Faculty Council.  A notice of motion will go forward to Faculty Council on March 29, 2023 and a vote on the motion will take place on May 31.  The final decision of Faculty Council will be posted on the admissions webpage June 1. Applicants should plan their writing accordingly.
The proposed changes to MCAT requirements for all applicants are as follows:
minimum required score will be a total score of 492 with minimum section scores of 123 in all sections, except one section may be 122
earliest MCAT writing considered is January 1, 2019
latest MCAT writing considered is August 26, 2023
deadline for release of MCAT scores to the USask College of Medicine is October 1, 2023
best score at one sitting will be considered
The College of Medicine selects students based on their academic ability and personal qualities. Be sure to thoroughly review the admission requirements posted at medicine.usask.ca/admissions for the most up-to-date and complete information.
Pathways to Medicine: Before You Apply
From spending a day with a physician to networking with other health sciences students, there are many pathways to medicine that will help you learn more about the profession and gain experience even before applying to medical school.
Educational Opportunities
Electives in Indigenous Health
Electives in Indigenous Health are (subject to availability) at the following sites:
Wellness Wheel – Regina

Métis Addictions Council of Saskatchewan Inc. (

MACSI) – Saskatoon
First Nations and Métis Health (Saskatoon) – St. Paul's Hospital and Royal University Hospital
All Nations Healing Hospital – Fort Qu'Appelle
Whitecap Health Centre – Whitecap Dakota First Nation
Sturgeon Lake Health Centre/Victoria Hospital – Prince Albert area
Making the Links
Making the Links started in 2005 as a unique service learning experience offered by the College of Medicine. Selected undergraduate medical students experience community health and development in three contexts:
Urban underserved community at SWITCH (the Student Wellness Initiative Towards Community Health) in Saskatoon

Rural and remote communities in Saskatchewan (Île-à-la-Crosse, Dillon, Kawacatoose, and Pinehouse)

International communities globally
Awards and Scholarships
Pathway Support for Indigenous Students to Pursue Medicine
These awards are open to Indigenous students who are continuing beyond first year of a program and registered in a minimum of 24 credit units (September-April) working towards a  bona fide four-year baccalaureate degree program at an accredited Saskatchewan post-secondary institution, as determined by the College of Medicine Admissions Office and the Award Committee.
Awards for Current Students
All University of Saskatchewan student awards can be found on the main 'Awards' page.
Search tips:
Enter "Indigenous" as a keyword to find awards for Indigenous students.
Many awards are not college-specific. Don't restrict yourself to searching only for Medicine awards.