The College of Medicine Indigenous Admissions Pathway is designed to support the growing number of Indigenous people choosing to becoming doctors in Saskatchewan.
The program helps to navigate the pathways and resources available to Indigenous students as they train to become physicians.
Through the pathway, Métis, Inuit and First Nations people can apply for admission to the Medical Doctor (MD) program of study. Up to Twenty seats in the MD degree program each year are specifically designated for Métis, Inuit and First Nations people. 
The University is committed to equity, diversity and inclusion, and are proud to support academic opportunities for Indigenous students. We continue to grow our partnerships with Indigenous communities across the province, and nationally and value the unique perspective that Indigenous students provide to strengthen these relationships. Only Indigenous candidates will be considered for this program.  Verification of Indigenous Membership/Citizenship at the University of Saskatchewan is led and determined by the deybwewin | taapwaywin | tapewin: Indigenous Truth policy and Standing Committee in accordance with the processes developed to enact the policy. Verification of Indigenous Membership/Citizenship with documentation is a condition of acceptance for this program. 
Please visit: https://indigenous.usask.ca/indigenous-initiatives/deybwewin-taapwaywin-tapwewin.php to proceed through the verification system. If you have any questions or require additional information about deybwewin | taapwaywin | tapwewin please contact: indigenoustruthpolicy@usask.ca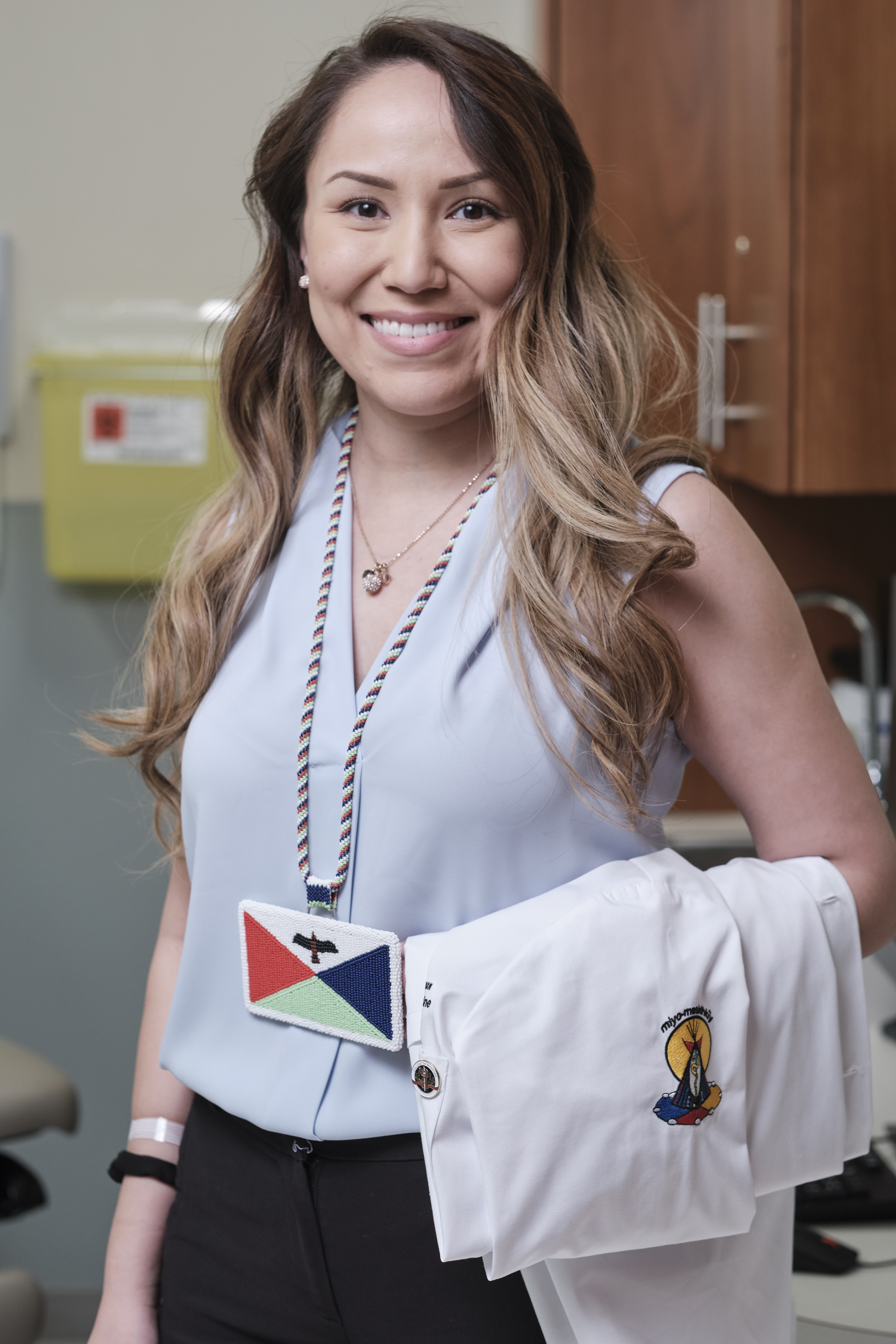 "Navigating medical school has been challenging. The boundaries I've had to overcome to exist in this institute could not have happened without the continued support I receive from my loved ones and my community.
"My presence epitomizes the resilience of generations before me and my only hope is to carry this responsibility with respect and humility."
- Jacqueline Nokusis, MD Class of 2024
Indigenous Admissions Circle
Starting in the 2022 application cycle, the College of Medicine introduced a new process to evaluate Indigenous applicants called the Indigenous Admissions Circle, made up of representatives from the Indigenous community. The group supports the college's Indigenous applicants by reviewing and evaluating applicants through an Indigenous lens.
The admission process for applying through the Indigenous Admissions Circle includes:
Participation in a panel interview that will be conducted by members of the Indigenous Admissions Circle in a culturally-safe and inclusive way
A file review will be used holistically and based on the lived experience of the applicant
Requirements for Admission
The College of Medicine selects students based on their academic ability and personal qualities. Be sure to thoroughly review the admission requirements posted at medicine.usask.ca/admissions for the most up-to-date and complete information.
Pathways to Medicine: Before You Apply
From spending a day with a physician to networking with other health sciences students, there are many pathways to medicine that will help you learn more about the profession and gain experience even before applying to medical school.
Educational Opportunities
Electives in Indigenous Health
Electives in Indigenous Health are (subject to availability) at the following sites:
Wellness Wheel – Regina

Métis Addictions Council of Saskatchewan Inc. (

MACSI) – Saskatoon
First Nations and Métis Health (Saskatoon) – St. Paul's Hospital and Royal University Hospital
All Nations Healing Hospital – Fort Qu'Appelle
Whitecap Health Centre – Whitecap Dakota First Nation
Sturgeon Lake Health Centre/Victoria Hospital – Prince Albert area
Making the Links
Making the Links started in 2005 as a unique service learning experience offered by the College of Medicine. Selected undergraduate medical students experience community health and development in three contexts:
Urban underserved community at SWITCH (the Student Wellness Initiative Towards Community Health) in Saskatoon

Rural and remote communities in Saskatchewan (Île-à-la-Crosse, Dillon, Kawacatoose, and Pinehouse)

International communities globally
Awards and Scholarships
Pathway Support for Indigenous Students to Pursue Medicine
These awards are open to continuing (beyond first year of a degree program) Indigenous students registered in a minimum of 24 credit units (September-April) working towards a baccalaureate degree in a bona fide four-year baccalaureate degree program OR are enrolled in a full-time graduate program at an accredited Saskatchewan degree granting institution.
Price of a Dream Fee Waiver Program
The Price of a Dream (POD) program was developed by the National POD Team alongside the AFMC and participating universities to address the personal and systemic financial barriers individuals face when applying to medical school. The $150 application fee and the $75 interview fee associated with a medical school application are waived through the POD program for successful applicants. for the upcoming 2023-2024 application cycle to the USask College of Medicine!
For more information, visit:
The application portal is available now for the upcoming 2023/2024 application cycle. Use the following link to apply: https://www.cognitoforms.com/AFMC3/SaskatchewanFeeWaiverProgram
If you have any questions, please feel free to email us mdpriceofadream@gmail.com
Awards for Current Students
All University of Saskatchewan student awards can be found on the main 'Awards' page.
Search tips:
Enter "Indigenous" as a keyword to find awards for Indigenous students.
Many awards are not college-specific. Don't restrict yourself to searching only for Medicine awards.