Dr. Laura Hopkins, professor of oncology and gynecology at USask's College of Medicine, and provincial lead for gynecologic oncology, was awarded $709,500 to establish the tumour testing and ovarian cancer drug prediction program, with $250,000 of the funds slated for the tumour bank. 
"Finding new ways to fight cancer is a vitally important way Saskatchewan is providing research the world needs," said USask Vice-President Research Baljit Singh. "We are grateful for the innovation and ingenuity shown by these scientists as they support women in their battle against ovarian cancer." 
The project is one of four proposals by USask researchers awarded a total $837,000 over three years. The Saskatchewan government provided the funding through Ovarian Cancer Canada's OvCAN research initiative. 
"Last year's budget included $1 million to support ovarian cancer treatment, research and clinical trials in Saskatchewan," Minister of Health Paul Merriman said. "It's rewarding to know that we are leading the way in Canada. This funding will help to improve outcomes for women with ovarian cancer right here in our province, once the tumour bank is established and testing is made available."  
Hopkins, who is laying the foundation for academic research in gynecological oncology in Saskatchewan, said an ovarian cancer tumour bank—with samples linked to clinical data such as chemotherapy history and disease outcomes of anonymized patients—is essential for future research. Most ovarian cancers are only diagnosed in late stages and outcomes are generally fatal, she said, but treatment advances over the past decade are keeping women alive longer. 
"It's mostly immuno-oncology agents to activate immune system, and there are some biologics that affect how a tumour thrives or doesn't thrive in a person," she said.  
Biologics, which can cost about $120,000 per patient annually, are effective in maintaining patients in remission following surgery and chemotherapy, she said, but they don't work for everyone.  
"There are biomarkers—little signals—that we can identify on tumour specimens that predict whether the person will respond or not to a given biologic," Hopkins said. 
However, broad criteria are currently used to identify women eligible for treatment with a biologic, with the treatment having no impact on about one-third of these patients. 
Since many biologics are toxic, selecting only those who benefit from these drugs will spare other patients wasted time and health complications, while also saving the health system a great deal of costs, she said. More than half of Saskatchewan's $87 million drug budget is for cancer drugs, she said, and the addition of biologics is ballooning the cost. 
Currently, her team is testing two biologics from a promising new class of drugs called PARP inhibitors that have been approved in Canada. The goal is to see which is best for maintaining eligible patients in remission. 
"Outcomes for women living with ovarian cancer have not significantly improved in decades. And so it is with great urgency that we are ushering through research to make the greatest impact in the shortest span of time," says Tania Vrionis, CEO of Ovarian Cancer Canada. "This work is an important milestone on the path to personalized care that could bring us steps further to ensuring every woman living with ovarian cancer receives treatment that works for them."
Hopkins' project involves all six Saskatchewan gynecology oncologists as co-investigators, as well as collaborations with two pathologists, other USask scientists, cancer experts at the University of British Columbia, and quality of life specialists in Australia and California. The group aims to make precision medicine the key for ovarian cancer patients. 
She is working with USask professor of pathology and laboratory medicine, Dr. John DeCoteau (MD), to develop gene panel tumour tests for biomarkers, eliminating the need for sending samples for testing in the United States at a cost of $4,000 each. Eventually, such a testing facility at USask could be expanded to serve all of Canada, Hopkins said. 
"If this is successful, this kind of project can go across other sites, for breast cancer, lung cancer, prostate cancer and other cancers. We can't afford not to implement precision medicine," she said. 
Dr. Mary Kinloch (MD), USask associate professor and division head of anatomic pathology and laboratory medicine, is leading establishment of the tumour bank. She and Hopkins have recruited a specialist in tumour bank operations from Montreal and are ready to start asking patients for permission to collect their surplus diagnostic tumour tissue in the bank. Hopkins is hopeful that the tumour testing part of the project can start by January 2022.
"We will be the first to implement this type of precision medicine in Canada. Hopefully we can make a business case across the three-year duration of the grant so that we can continue the precision medicine approach," she said.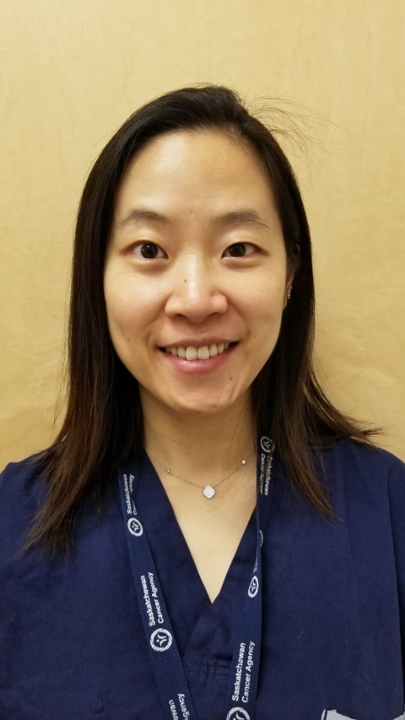 Dr. Maryam Al-Hayki, assistant professor in oncology and gynecology at the College of Medicine, and clinician at Regina's Allan Blair Cancer Centre (ABCC) in Regina, was awarded $102,000 for research on the efficacy of iron infusions instead of blood transfusions to treat anemia that's prevalent in up to 90 per cent of ovarian cancer patients. 
 
International guidelines recommend decreasing the use of blood transfusions generally because of the risks of adverse effects such as infections. Al-Hayki is studying factors, including how long it takes for ovarian cancer patients to reach target hemoglobin levels through iron infusions instead of blood transfusions, so that doctors can maintain hemoglobin levels required for cancer treatment. 
 
Around 120 patients receive chemotherapy annually in Saskatchewan, with about 95 eligible for the study. In all, about 200 patients in Saskatchewan will be involved over the three years, with the study expanded next year to other centres, starting with Calgary.  
 
Dr. Shaina Lee, assistant professor in oncology and gynecology at the college, and clinician at ABCC, was awarded $22,000 for a qualitative study of ovarian cancer patients' experience with the disease and care they receive and its impact.  
 
Lee also received $4,000 to create an educational video on "opportunistic salpingectomy"—the removal of fallopian tubes during a caesarean section and other gynecological surgery—that can be performed to prevent ovarian cancer, but isn't widely offered or performed by Saskatchewan's 60 or so obstetrician/gynecologists (OB-GYNs) during Caesarean section. 
 
She said goal is to help these specialists be comfortable with performing salpingectomies on patients during Caesarean section who give informed consent. Studies show that the most common form of ovarian cancer—high-grade serous ovarian carcinoma—originates in the fallopian tubes. Lee will conduct an online survey of OB-GYNs six months after presenting the video to gauge their response and report the findings. 
September is Ovarian Cancer Awareness Month in Canada. 
Article re-posted on .
View original article.