Biomedical Sciences
 Biomedical Sciences is composed of two basic science departments:
2023-2024 Transfer and Declare Intent details for current Arts and Science and BSc (BMSC) students
BSc (BMSC) Program  
In 2021-22, the College of Arts and Science, in an exciting partnership with the College of Medicine, introduced the new collaborative degree, a Bachelor of Science in Biomedical Sciences (BSc (BMSC)).  
The Biomedical Sciences Major Map provides detailed information on the degree and career information. 
The first two years of all BMSC programs include core courses indicated below. These two years ensure students build a solid foundation moving forward in the program. The BMSC courses incorporate content from each of the Biomedical Science areas of study to broaden student knowledge and create versatility in their studies. 
BMSC Common 2-year Courses 

* Other type M requirements might include courses in humanities, fine and performance arts, or social sciences. For a complete list of type M requirements, consult the current University of Saskatchewan course catalogue.
Current Arts & Science students not currently enrolled in the BSc (BMSC) program can transfer to the program by following the process indicated below.  
A passing grade (50% minimum) in 100-level or higher BIOL, CHEM, MATH is required. If there are deficiencies in any of these requirements high school grades will be reviewed with the following requirements: Chemistry 30, Biology 30, and Math Foundations 30 each with a minimum average of 70%. The transfer process is initiated annually from March 1st until April 30th by filling out: this survey.  
If you are a current BSc (BMSC) student, you can simply declare intent for a major by filling out this survey when eligible. See details below.  
*If you started your program prior to 2020 and are currently declared in a past major (ACB, BIOC, MCIM, PHPY) you can choose to continue with that major or declare intent for a new major in the BSc (BMSC) program.
The BSc (BMSC) majors: 

How can I declare the 3-year BSc (BMSC) Biomedical Foundations major (BMF)? 
Once you are accepted into the BSc (BMSC) program, you will have an undeclared major. You can switch to three-year BMF program at any time through the 'A&S Inquiry' form. 
How can I declare one of the BSc (BMSC) 4-year majors (BMI, BMNS, CPPS, ID BMSC)? 
The process to declare a BMSC 4-year major is slightly different from other A&S programs. You first need to complete all the courses indicated in the table below by the end of April in the year you want to declare a major (traditionally completed in 2nd year). In that year, you can declare your intent for a BMSC major from March 1st to April 30th by going through the survey link. The survey will prompt you to rank the majors from most preferred to least preferred. You must meet specific criteria (outlined in the table below) to be officially switched to one of the majors. The survey to declare a major needs to be completed by April 30, 2023, for the 2023-24 academic year. Once all the surveys are received, all students will be checked for their required courses and ranked (if requesting a program with limited seats). You will be informed of your placement in May of the year you declare. 
*If you started your program prior to 2020 and are currently declared in a past major (ACB, BIOC, MCIM, PHPY) you can choose to continue with that major or declare intent for a new major in the BSc (BMSC) program.
Required Classes to declare a 4-year major*: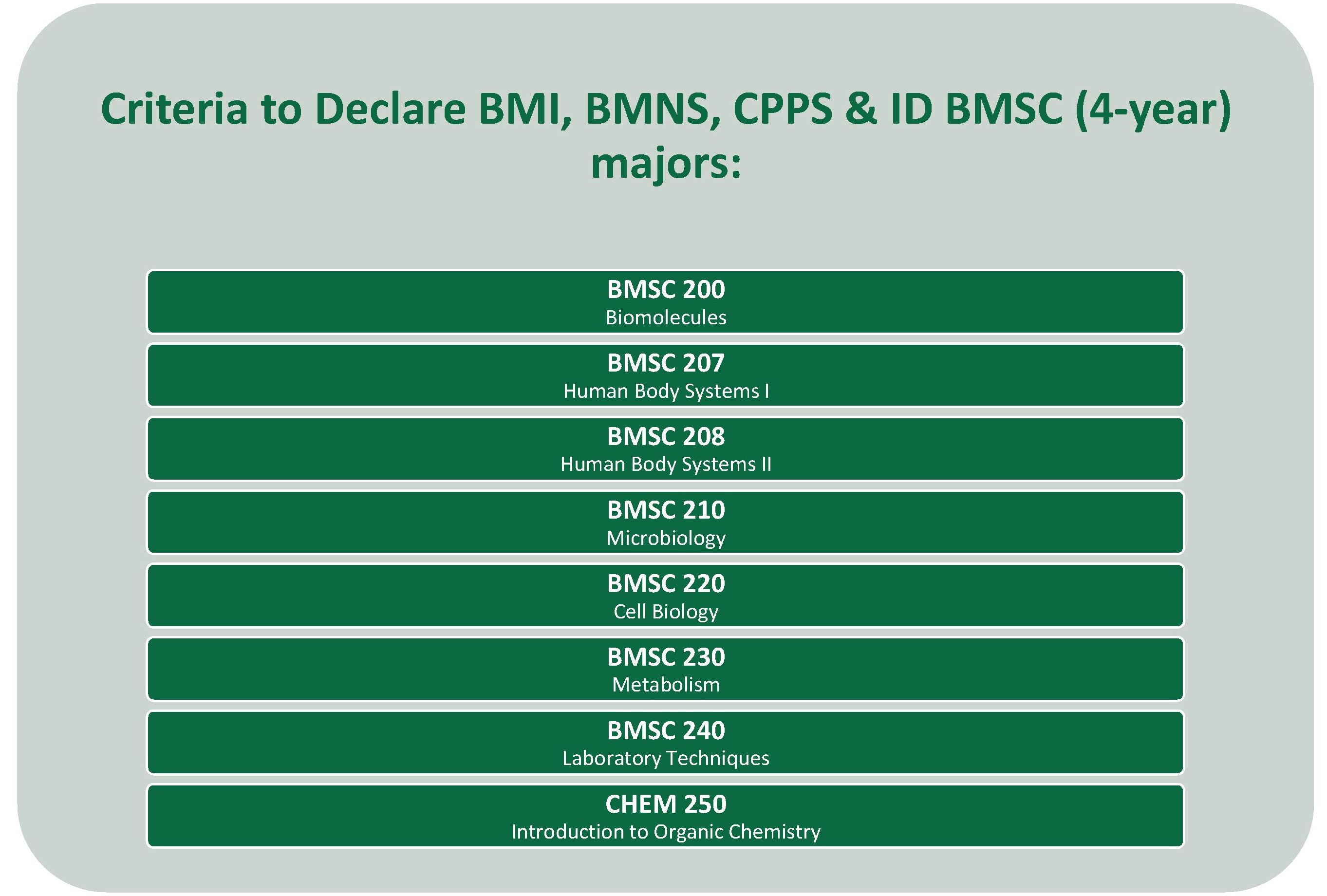 * These classes must be completed by April 30th, 2023 to declare for the 2023-24 academic year. 
What if I do not meet the requirements to choose a major?
We encourage you to follow the BMSC 2-year Common Core program requirements laid out here and declare the following year once all criteria are met. You can apply to transfer to the BSc BMSC program before you're eligible to declare intent for a major if you meet the admission requirements.  
Is space limited in the new majors?
Yes, there is limited capacity in the Biomedical Neuroscience (BMNS) and the Interdisciplinary Biomedical Science (ID BMSC) majors. If student demand is greater than the program's capacity, all eligible students will be ranked by their average in the courses included in the criteria to declare a major. The top students will be accepted into the major and the remaining placed in their second choice.  Students should not complete third year courses in ID BMSC or BMNS unless they have secured a seat in the major. 
Biomedical Sciences Major, Course and Program Announcements
The following BMSC and major specific notices include updates to courses
and
major options
to
as
sist
your degree planning.
These announcements
may
update each year
prior to June
.