The groups are collaborating on the development of health-related projects of mutual interest, including research to support the development of a First Nations primary and public health care system in Saskatchewan.
Dr. Alexandra King, MD, FRCPC, Cameco Chair in Indigenous Health and Wellness, co-leads pewaseskwan in its research and met with FSIN Vice Chief David Pratt to sign the agreement on Tuesday at pewaseskwan's new location on the USask campus.
"Our leadership across the province consistently hear concerns from our people about the current state of the public health care system and how it does not always meet the needs of our people and community," said Pratt. "This collaborative relationship will help to identify and address some of those concerns and needs of our communities. We look forward to getting to work."
"We are very excited and honoured to work with the FSIN on this important initiative. Current health systems do not reflect or accommodate the needs of First Nations people in Saskatchewan," said King, a citizen of the Nipissing First Nation in Ontario.
"We will collaborate with the FSIN to create the framework and policies for First Nations people in Saskatchewan to facilitate and achieve self-determined wellness, at the individual, family and community levels."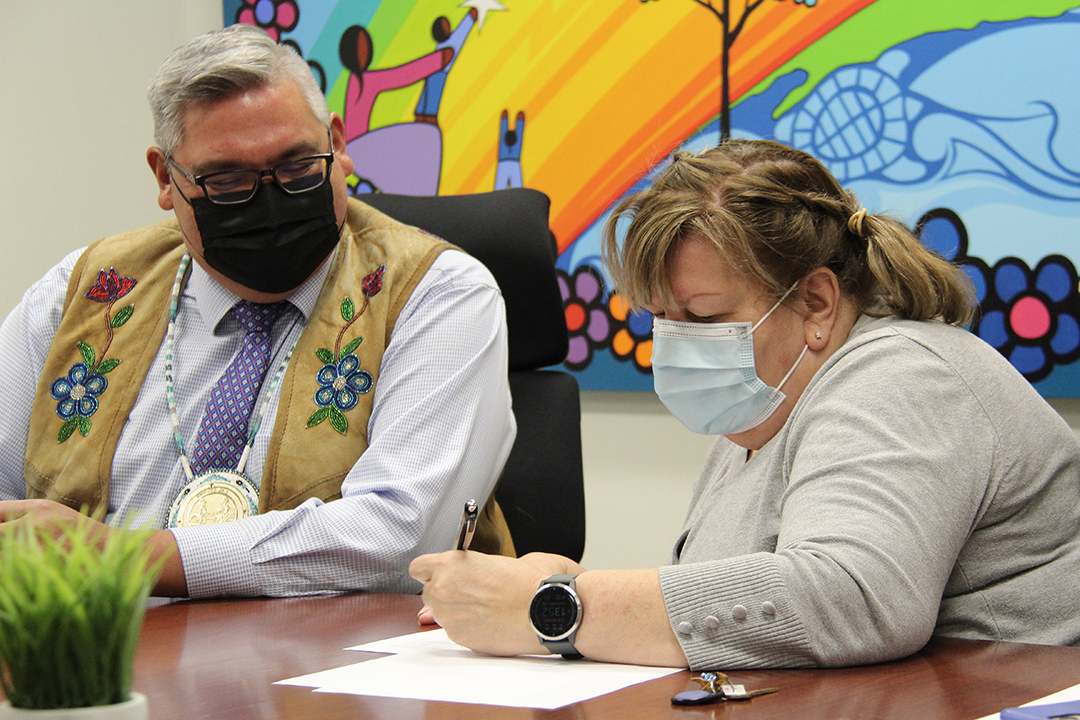 Pewaseskwan was approached to assist the FSIN in work relating to co-ordinating the development of a primary and public health system for Saskatchewan First Nations, work mandated by the Chiefs-in-Assembly in May 2021.
Pewaseskwan and the FSIN are committed to increasing Indigenous leadership of, participation in and benefit from community-driven and -centric Indigenous health research across the province. The partnership will explore opportunities for collaboration in academic and community research.
Pewaseskwan focuses its research on Indigenous health and wellness, with teams at Simon Fraser University in Vancouver and USask led by Dr. King and Prof. Malcolm King. The teams collaborate with Indigenous communities, supporting them as they undertake their own health and wellness research using a different approach to engagement, relationships, research and research services—all of which will better enable Indigenous communities to do their own health and wellness research.
Pewaseskwan is a Cree term that means "the sky is starting to clear" or "the weather is improving." The term reflects an opportunity to get out on the land after a storm for Indigenous communities. For Dr. King and the IWRG, it reflects optimism for a healthier future, bringing together the best of Indigenous and Western worldviews through etuaptmumk, a Two-eyed Seeing approach utilizing Indigenous and Western knowledges together.
The FSIN is the political organization of the 74 First Nations of Saskatchewan, representing the Dene, Cree, Dakota, Lakota, Nakota and Anishinaabe peoples. The FSIN is mandated to protect the Inherent and Treaty Rights of the 74 First Nations and their citizens within the numbered Treaty Territories.