"Research plays an essential role in keeping us safe and healthy," said Baljit Singh, vice-president research at USask. "This funding from CIHR will fuel the efforts of our talented researchers as they combat diseases that threatens quality of life for people in Saskatchewan, in Canada, and all around the world."
Scott Widenmaier, an assistant professor of anatomy, physiology, and pharmacology in the College of Medicine, was awarded a five-year, $807,000 project grant to study how a relatively benign liver condition linked to obesity—which affects more than a quarter of all Canadian adults—transitions to a severe disease in about a million people, leading to liver failure, liver cancer, cardiovascular failure, and stroke.
"The big question we are asking is what are the molecular mechanisms that can prevent a benign fatty liver from transitioning to a sick fatty liver," said Widenmaier.
The findings of the study not only could help develop drugs to prevent liver disease progression, but also mitigate diabetes since the liver plays a key role in balancing insulin and glucagon to maintain blood sugar levels. 
"If we can figure out the pathway and the defence systems that are able to keep the liver from getting sick, we may also learn how to make them work better so that people don't transition to that severe pathology called non-alcoholic steatohepatitis (NASH)," he said. "There are currently no approved treatments for NASH, so we are hopefully going to make a dent in this area." 
His team is employing innovative genetic technology, molecular biology, and systems biology to trace how the liver defends itself against metabolic stress that results from accumulation of toxic levels of lipids such as cholesterol and bile, which damages liver cells and causes inflammation.
Researchers are investigating the workings of a pair of molecules—technically known as transcription factors NRF1 and NRF2—that have evolved to protect cells from day-to-day damage. 
"We want to know if these two transcription factors work independently or if they work together to protect the liver cells," said Widenmaier. "There's some strong evidence they do, and we predict we can pharmacologically boost their activity so that the liver doesn't get sick even when it's exposed to that type of stress."
Drugs are available already for NRF2, but targeting NRF1 has been trickier, Widenmaier said. His group is the first to identify a natural compound that can activate both molecules simultaneously. As it turns out, this compound is already being clinically evaluated for multiple diseases, suggesting they are on the right track.
Co-applicant on the project is Mohan Babu, associate professor in systems biology at the University of Regina.
The other award recipients are: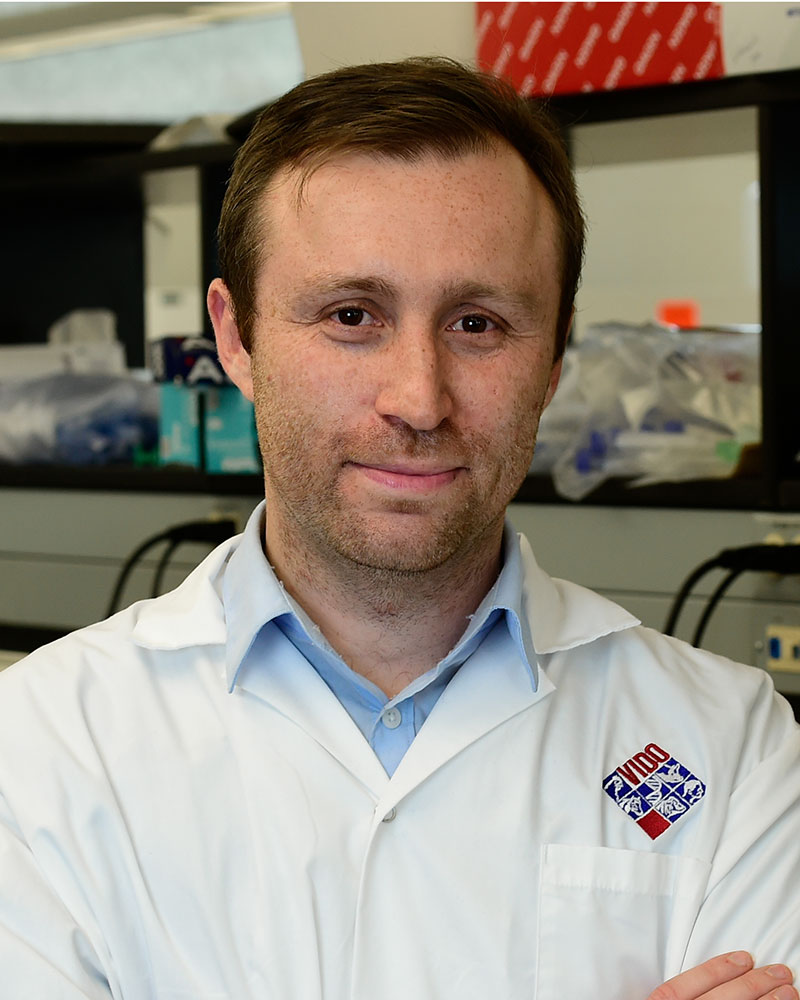 Vladi Karniychuk, research scientist at the Vaccine and Infectious Disease Organization (VIDO) and adjunct professor at the Western College of Veterinary Medicine and School of Public Health, was awarded a $581,000 project grant. Karniychuk will study the lifelong impact on offspring born without readily identifiable birth defects to mothers who were mildly infected with the Zika virus during pregnancy.
CIHR also awarded Karniychuk its $12,500 Bhagirath Singh Early Career Prize in Infection and Immunity for the highest-ranked early career investigator awarded a CIHR Spring or Fall 2020 Project Grant.
Zika virus is an emerging pathogen that caused a global epidemic in 2015 and is currently circulating worldwide. Karniychuk's project focuses on how Zika virus causes pathology in fetal hematopoietic stem cells—primitive cells that mature into different types of functional immune cells that protect us against infection. The research will also examine how this stem cell pathology acquired during fetal development persists after birth.
By understanding how stem cell pathology acquired in utero is sustained after birth, he hopes to identify biological markers that can help with early diagnoses and treatment of babies soon after birth or while still in the womb.
PhD student Daniel Udenze works under Karniychuk's supervision on this project. Collaborators are: Brian Cox, University of Toronto; Volker Gerdts and Yan Zhou, VIDO; and Jocelyne Martel, Royal University Hospital, USask.
Philip Chilibeck, professor in the College of Kinesiology, was awarded $487,000 for a three-year project to determine if stretching is superior to walking for reducing blood pressure—a leading factor for heart disease and stroke that affects seven million Canadians.
Chilibeck is building on an earlier smaller study of eight weeks involving 35 people with moderately high blood pressure that showed stretching may be better than aerobic training for reducing hypertension. 
The new project will assess a larger sample of 96 participants in a supervised stretching or walking program over six months. Researchers are also measuring changes in vascular function resulting from both types of intervention, as well as how parts of the nervous system that increase or decrease blood pressure are activated in response to exercise or stretching.
Team members are Heather Foulds, a cardiovascular physiology expert at the college, and Stephan Milosavljevic from the medical college's School of Rehabilitation Science.
Learn more on USask's news site.