"I don't know where it is going to be or when it is going to be, but I am very much looking forward to it," said Samad. "It is what I have trained for and I am in for the long haul."

Samad has spent the past four years working with the Saskatchewan Health Authority as a general internist and hepatologist, while also teaching USask medical students on a part-time basis since 2019. But in July of 2020, he decided he wanted to do more, and joined the Canadian Armed Forces as a medical specialist (internist) and trained as a flight surgeon. Samad now holds the rank of major, and can be called to deploy anytime and anywhere in the world that Canadian forces are needed.

"Since I now work for the military full-time, my military role always takes precedence, so I try to book my civilian schedule around my military commitments," said Samad, who is officially based out of 1st Canadian Field Hospital in Petawawa, Ont., but also lives, works and teaches in Saskatoon.

"We are always on call. The way it works for us as specialists, we always are available for the military because the military is our primary employer. But the military also wants us to maintain our clinical skills. For example, I am an internist, so the military expects me to maintain these skills through my civilian work. And when needed, I am available."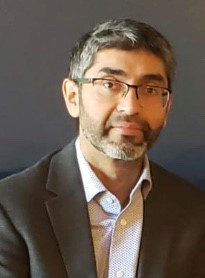 For Samad, who grew up in India and Saudi Arabia, serving his country is his way to give back for the life he and his family enjoy in Canada. He also wants to serve as a role model for others, on campus and in the community.

"My personal reason is I was not born in Canada, I moved to Canada with my family many years ago," he said. "And as a Muslim immigrant Canadian, I wanted to give back to this country and to portray people like myself in a positive light. So, that is one reason for me to join the forces. And from the professional side, being in the military offers me job security, benefits, pension, disability, health coverage, which, honestly speaking, most physicians in Canada don't have because we are basically private contractors. So, those are my personal and professional reasons for serving."

Having studied in Nepal and worked as a doctor in the Middle East, Samad speaks multiple languages including Arabic, and has experienced a variety of cultures, offering a skill set highly sought after by the Canadian Armed Forces for deployment in peacekeeping, humanitarian or military missions.

"The military, when they hire somebody, they look at the whole package, including your academic credentials," said Samad, who has completed basic training and field exercises, and is now classified as operational as a medical officer and flight surgeon. "But definitely, I am sure they also look at the non-academic qualifications that somebody brings, such as if they speak a particular language or if they are familiar with a particular culture, and that kind of thing."

As he awaits deployment, Samad splits his time between his private practice in Saskatoon and teaching at USask, sharing his unique training and experience with future physicians. He also hopes to be a role model for other medical students and newcomers to Canada.

"Whenever I am working with medical students and with residents, I always try to talk to them about the military aspects of medicine in particular, and I try to incorporate that into my civilian practice," said Samad, who completed his general internal medicine fellowship through USask, prior to becoming an assistant professor.

"And I seriously hope with my unique experience and unique career path, that I am able to inspire others like myself. My message to the newcomers to this country is to be grateful, be thankful to this country and what they have offered us and whatever way you can give back to this country, please do your part."
Remembrance Day ceremony on campus
The University of Saskatchewan (USask) will host its annual Remembrance Day wreath-laying ceremony on Thursday, Nov. 11 at 1:30 pm, at the Memorial Gates on campus. 

USask's annual ceremony has been held for 93 years since the opening of the historic Memorial Gates on campus in 1928. The annual ceremony recognizes the military contributions and sacrifices of our university community and honours all who served in the Canadian Armed Forces, in times of war and peace. The event is open to USask students, staff, faculty and alumni, as well as members of the community. 
 
Visitors to campus will be required to follow USask's vaccination measures and mask requirements.
Article re-posted on Nov 8.
View original article.