Sixteen CoM students volunteered at the FSIN Spirit of Our Nations Cultural Celebration & Powwow from Oct. 26-28 at the SaskTel Centre in Saskatoon. They offered basic assessments, shared stories and positively engaged with Indigenous families, children, dancers, Elders and students.
 "Volunteering at the powwow was a very enriching experience for me, so thank you for the opportunity," a student said.
Another student added that it was, "great to be part of such a special event."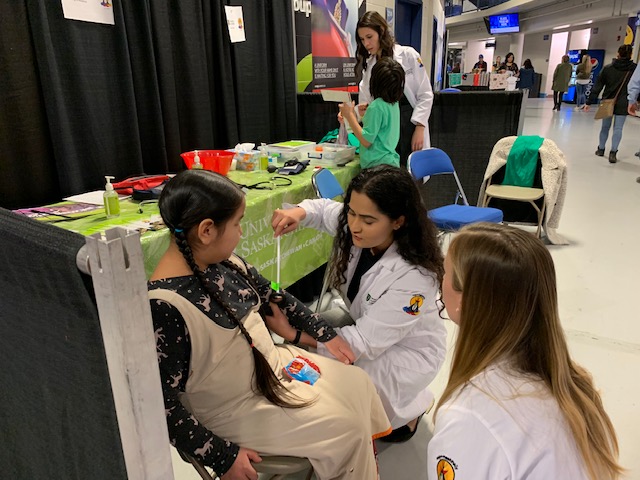 To prepare for the event, students also received powwow teachings from U of S cultural coordinator Bob Badger.
CoM aboriginal coordinator Val Arnault-Pelletier, who organized the CoM's participation at the powwow, has already received requests for more information from Saskatchewan First Nations communities and individuals regarding admissions processes to the college and Aboriginal education programming.
"On behalf of the college, thank you to everyone who volunteered their time and engaged with Indigenous people in a celebratory and healing capacity," Arnault-Pelletier said.
The cultural celebration and powwow was held in honour of the FSIN institutions, and was attended by Indigenous people from across Canada and the United States. The event included the Miss FSIN Princess Pageant, tradeshow, auction, dancing and singing competition. More than 10,000 people attend Spirit of Our Nations each year, making it one of the largest powwows held in Saskatchewan.