Fall Formal
September 28, 2023
Prairieland Park, 503 Ruth Street West
Saskatoon

Doors open at 6:30 pm
Program
The Fall Formal is a celebration of undergraduate medical student achievements.
6:30 pm – Doors open
7:00 pm – Emcee introduction - Mimi Moustapha and Natisha Thakkar
7:30 pm – Elder blessing and dinner
8:00 pm – Program begins
Welcome from the College of Medicine
Dean Preston Smith
Welcome from the Student Medical Society of Saskatchewan
Mimi Moustapha and Natisha Thakkar

8:30 pm – Undergraduate Medical Education Awards
Dr. Greg Malin (UGME academic director) announces, Dean Preston Smith hands out/photos on stage
9:15 pm – Office of Career Advising and Mentorship Awards
Dr. Ginger Ruddy (associate dean, student services), Flinn Herriot, Natisha Thakkar, Dr. Devin Edwards
9:20 pm – Student Medical Society of Saskatchewan Awards
Mimi Moustapha and Natisha Thakkar

9:45/10:00 pm – Dance
---
Dr. R. Neil Beck Memorial Scholarship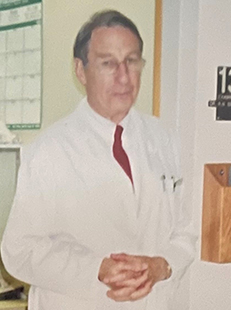 Dr. R. Neil Beck was born in Belfast, Northern Ireland, attending Queen's University Belfast where he received his MB, BAO, BCh (Honours) 1948 and MD (internal medicine and pediatrics) 1952. He worked as a Resident in several hospitals in the UK including Royal Victoria Hospital, Belfast. His fellowship in endocrinology was completed at New England Medical Center in Boston, Massachusetts. As a young endocrinologist, Neil accepted a position at the University Hospital in Saskatoon becoming a full professor. He offered high-quality, meticulous, honest, hands-on compassionate care to his patients. His areas of greatest clinical interest were the management of diabetes, thyroid and pituitary disease. During his career he was instrumental in establishing the Diabetic Education Center at University Hospital which championed a team approach to diabetic care. Neil took great joy in teaching medical students and residents, becoming Program Director for Internal Medicine.

Neil had diverse interests including arts, literature, athletics, nature, architecture and bird hunting. His wife Irene, daughter Dr. Maxine Beck (husband Kelly Prodanuk, Dr. Michael, and Alexandra) and son Brian Beck (wife Jennifer, Matthew, and Justin) survive him. He taught us the importance of being honest, working hard and respecting others. Traits we hope you embody as you move forward in your training and into your career.
This award is presented to a deserving second-year medical student who has excelled in the area of endocrinology, in memory of Dr. R. B. Beck, by his wife, Irene Beck. Dr. Beck came to be a full professor at the University of Saskatchewan, College of Medicine, in the late 1950s from Belfast, Northern Ireland and for many years was its only endocrinologist. He practiced with great academic knowledge and compassion. He was known for always going the extra mile for his patients. Dr. Beck demanded perfection from himself and all those who worked with him. His patients greatly appreciated this, and he was considered a mentor by many physicians in training.
Award recipient: Carl Pinter
---
Arthur Lyle Bell Memorial Scholarship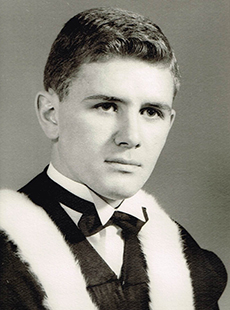 "As a United Church Minister, Dad often visited people in hospitals to support their spiritual and emotional needs. When he later became a patient dealing with his own life-threatening illness, he experienced first-hand both the positive and negative impact doctors can have on patients' spiritual and emotional health. Today, a holistic approach to practicing medicine is much more common. This award was created in memory of Dad and in support of the medical students who are learning how to balance the physical, emotional, spiritual and intellectual needs of the patient."
The late Reverend Bell, during his illness, talked with junior medical students and stressed the importance of approaching the patient as a whole person. In his memory, a scholarship was established for a student who gives evidence of understanding the patient-physician relationship and demonstrates interest and potential talent in caring for the person, as well as treating the illness, from the moment of first contact.
Award recipient: Rubia Ahmed
---
Reuben Brant Scholarship in Medicine
This scholarship has been donated by the estate of Mr. Reuben Brant. Three awards shall be presented this year with the selection based on academic achievement in Years 1, 2 and 3. 
Award recipients: Madeline Owens (Year 1), Claire DuVal (Year 2), Calista Lytle (Year 3)

---
College of Medicine First-Year Student Award
This award is presented to the incoming first-year student who is admitted with the highest admission score, as a welcome to the Doctor of Medicine Degree (MD) program in the College of Medicine.  
Award recipient: Abd Alras
---
Dr. Gertrude Crabtree Undergraduate Scholarship in Medicine
Given in honour of a person with great compassion, empathy and integrity. Trudy made a positive difference in so many people's lives. This award is intended to pay tribute to her gift of making a difference in a person's life. Pass it on. And now these three remain: faith, hope and love. But the greatest of these is love. 1 Corinthians 13:13
This scholarship is made possible by a gift from Ms. Shivon Crabtree in honour and memory of her sister-in-law, Dr. Gertrude Crabtree, who graduated from the University of Saskatchewan with an MD degree in 1977. This award will be made on the basis of academic achievement as well as consideration of a statement outlining strong ties to the province of Saskatchewan.
Award recipient: Luke Ruchotzke
---
Dean's Award in Medicine
The Dean's Award was established to recognize a student who has made an outstanding contribution in an area not evaluated by traditional methods. It recognizes achieved national distinction through activities outside the College of Medicine, such as theatre, writing, athletics, music or the visual arts. 
Award recipient: Riley Plett
---
C. J. Houston Prize in Medical History
This award was established by Dr. C. J. Houston and is award annually to a first-year medical student who submits the best essay on the History of Medicine.
Award recipient: Meet Patel
---
Jon N. Lambi Memorial Scholarship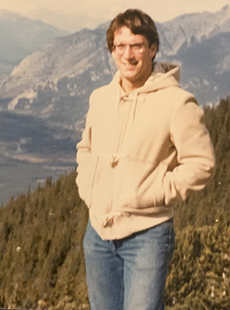 "Jon Lambi was a 21-year-old from Saskatoon excited to face his future. He was entering his first year of medical school (and had recently become engaged) when his life was tragically ended in a car accident. Ivo and Jackie Lambi created this award to honour Jon's memory. The Jon Lambi scholarship has been awarded to a deserving first-year medical student for 40 years."



Jon Lambi was admitted to first-year medicine in 1979 and was killed in a car accident on October 9, 1979. Jon was held in high esteem by all who knew him and in his memory, a scholarship was established. The recipient is chosen from students entering second year in the upper one-tenth of their class who have demonstrated aptitude for the study of medicine combined with a contribution to the undergraduate life of their classmates.
Award recipient: Sameer Rathnayaka Koralage
---
Dr. Ernest McBrien Award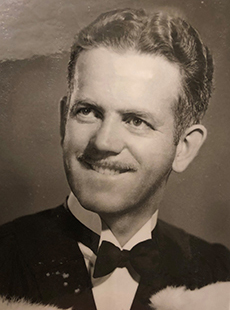 "Ernie was born in Hafford Saskatchewan, the eldest of three children. After high school, Ernie went to teacher's college and taught in rural Saskatchewan, as well as Saskatoon. Ernie joined the Air Force, and after the war, he applied to USask for medical school. The Department of Veteran's Affairs paid the tuition for qualified applicants. Two hundred twenty people applied for 24 seats. In Ernie's second last year, he won the silver medal, followed by the gold medal in his last year. After his death, I returned these two medals to the university.
USask did not have final courses for medical school, so Ernie applied to the University of Toronto. He applied to intern at the Toronto East General Hospital (TEGH) in 1951. That same year I graduated in nursing from TEGH. He opened his office for general practice and enjoyed it very much. Ernie was always proud of the university. After his death I wanted to do something that I thought he would like. I hope these funds make life a little easier for someone else."
An award has been established in memory of Dr. Ernest McBrien. The award is presented to students participating in rural medicine experiences including their community experience and rural externship and who also demonstrate an interest in family medicine as a career choice.
Award recipient: Luke Ruchotzke
---
Saskatchewan Medical Association (SMA) Prize

"One of the Saskatchewan Medical Association's values is excellence. This award acknowledges excellence in learning in clinical sciences, and the SMA is proud to recognize dedication and exacting standards at this level."
The SMA annually provides a prize to the student who obtains the highest average in the clinical sciences component of the curriculum.
Award recipient: Jae Newton
---
The Shirley Anne Bergman Award in Integrative Medicine
To honour their mother and to support the advancement of integrative medicine, the children of Shirley Bergman have created this award, to be presented annually to a third- or fourth-year medical student who has shown an interest in, or aptitude for, the area of integrative medicine.
Award recipient: Zainab Sultan
---
Gregory A. Stilwell Memorial Scholarship
Dr. Gregory Stilwell was a faculty member in the Department of Microbiology for four and a half years. In his memory, a scholarship is awarded annually to the student who receives the highest mark in the medical microbiology courses.
Award recipient: Amy Li
---
Gary L. Stoik Memorial Award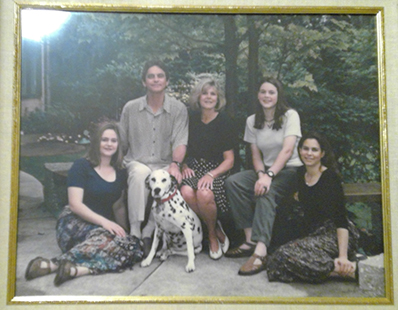 "Dr. Gary Lentis Stoik was a thoracic surgeon to the medical community, but to me he was my adored brother-in-law. Dr. Stoik graduated from the U of S in 1969 as an MD with distinction. He became a surgeon working in the fields of cardiovascular, thoracic, colon and rectal and laparoscopic surgeries in Toronto, Dallas Texas, Coventry and Leeds, England before returning to Toronto. There he became the Head, Division of General Surgery at Toronto's East General Hospital from 1987–1997. 
As surgeries became increasingly curtailed in Ontario, Dr. Stoik took a leap of faith, applied for and was granted the position of Chief, Division of General Surgery at Shaikh Khalifa Medical Center in Abu Dhabi, the United Arab Emirates. There he was able to do the work he loved above all, surgery. In the fall of 2001, Dr. Stoik became ill with pancreatic cancer.  He flew home to Toronto where his colleagues performed the whipple surgery. Upon recovery, Dr. Stoik returned to Abu Dhabi to finish out his contract. Only a few short weeks later, home in Toronto, Dr. Stoik passed away. Before his passing Dr. Stoik gave his blessing to the establishment of this scholarship and I know he would have loved to see how it helps future surgeons."
Dr. Gary Stoik was a well-respected general surgeon who worked extensively in the Middle East. This award, donated in his memory by the Stoik Family, is presented to a medical student who is a graduate of a Saskatchewan high school and who has demonstrated an aptitude for surgery.
Award recipient: Rubia Ahmed
---
Sylvia Turner Scholarship in Medicine
Sylvia Louise Turner was born in Estevan in 1929. Sylvia believed in lifelong learning and passed this love on to her children, all of whom went on to pursue higher education at Canadian universities. This award is intended to help others pursue their education goals.
Award recipient: Claire DuVal
---
John Hall Wedge Scholarship in Medicine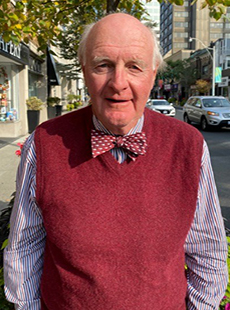 Dr. John Hall Wedge (O.C., MD, FRCSC) funded the scholarship for two reasons. He wanted to recognize his gratitude to the College of Medicine for his outstanding education and to provide funding to students who excel academically but are not eligible for other scholarships or financial support.

This award rewards the academic achievement of students entering the second year of the MD program at the College of Medicine.
Award recipient: Maya Berscheid
---
Dr. Werner Wohlfarth Memorial Leadership Prize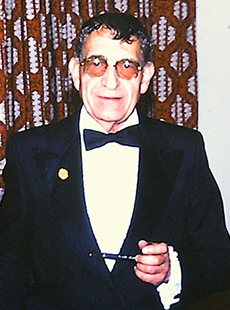 "When Dad passed in 2005, we wanted to do something in his memory, as he had such a distinguished career as a family physician in Melville. It was 1977 when Dad was the President of the Saskatchewan College of Physicians and Surgeons. He served for many years on their Board, but I do not have the exact dates. The photo of him was from that time; he used to travel with my Mom to Saskatoon to attend the College meetings."
Family and friends of the late Dr. Wohlfarth have provided this award to encourage leadership among undergraduate students in the College of Medicine, who wish to participate in the College of Physicians and Surgeons of Saskatchewan Council. Preference will be given to students who intend to practice family medicine.
Award recipient: Samantha Mannala
---
Dr. Harold Prokopishyn Scholarship
Dr. Harold Prokopishyn (MD'59) grew up in a large family in small-town Saskatchewan. The son of Ukrainian immigrants, he pursued a teaching certificate and taught for several years before re-entering university to pursue medical studies.
After graduation, Dr. Prokopishyn remained in Saskatchewan to complete his residency and post-graduate training. A few years later he moved to Richmond, Virginia to further train in general surgery. In 1966, Dr. Prokopishyn was recruited by Dr. Brian Haig to return to Canada and take over the surgical practice of the Haig clinic in Lethbridge, Alberta.
Dr. Prokopishyn practiced as a surgeon for over 50 years. He was one of the first general surgeons in Lethbridge, going on to become the chief of surgery and eventually the chief of staff at Lethbridge Regional Hospital. 
"This University of Saskatchewan is where I got my start. I'm happy I'm able to help out students at a time when they need it the most." This annual award is a bequest from the estate of Dr. Prokopishyn and is presented to students based on academic achievement. 
Award recipient: Amy Li
---
The Flowers Bursary
This award was created through a bequest from the estate of Lilian Louise Flowers. She designated it be awarded annually to a student entering the second year of the MD program in the College of Medicine.
Award recipient: Ala'a-eddeen Swidan
---
Neurology Education Fund
The purpose of the Neurology Education Fund is to enhance the education experience of the undergraduate medical students in the College of Medicine, University of Saskatchewan.
Award recipient: Gloria Sun
---
Drs. Shashi and Pravesh Suri Award
Drs. Shashi and Pravesh Suri have established this award to show their appreciation of the University of Saskatchewan medical school, promote academic excellence, and provide opportunities to future physicians. This is awarded to a first-year and a second-year student in the top 10% of their class.
Award recipient: Zanab Hassan (Year 1), Sonya Mannala (Year 2)
---
Manju Khandelwal Memorial Scholarship
Manju L. Khandelwal was a university student who died in the crash of Air India flight 182 off the coast of Ireland on June 23, 1985. The Khandelwal family established a scholarship in her memory to the College of Medicine and recognizes a student's performance in Biochemistry courses prior to admission.
Award recipient: Hadia Mujahid
---
Dr. Janet Markland Memorial Scholarship
In memory of Dr. Janet Markland, this prize is intended to recognize and award students in the College of Medicine for their research projects and presentations, and to encourage careers in rheumatology.
Award recipient: Zainab Sultan
---
Kalepsi-Zavery Family Medical Indigenous Medical Award
To recognize a University of Regina female, Indigenous alumni who is pursuing a medical degree at the College of Medicine, University of Saskatchewan.
Award recipient: Michelle Desjarlais
---
Wardman Family Scholarship for Indigenous Students in Medicine
To recognize the academic achievement of an Indigenous student completing second-year at the College of Medicine, University of Saskatchewan.
Award recipient: Travis Black
---
University of Saskatchewan Scholarships and Awards
Award recipients: Claire DuVal (Year 2), Calista Lytle (Year 3)
---
University of Saskatchewan Undergraduate Scholarships 
Award recipients: Maya Berscheid, Jae Newton, Stephanie Bigsby, Erinna McMurtry, Teagan Holt
---
Spirit of the Class Award   
Award recipients: Clayton Brazier (Year 1), Zoher Rafid-Hamed (Year 2), Nigel Hey (Year 3) 
---
Student Participation Award
Award recipients: Eriq Marleau (Year 1), Anya Sigurdson (Year 2), Pavlo Zerebecky (Year 3) 
---
MVP Saskatoon
Award recipient: Clayton Brazier (Year 1), Richard Williams (Year 2), Aishwarya Gannamani (Year 3)
---
MVP Regina   
Award recipient: Brooke Baxter (Year 1), Lauren Fraess (Year 2), Nina Wingate (Year 3)
---
College-Wide Awards
Award recipients: 
Honourary President: Dr. Meredith McKague
Student Group of the Year: U of S Ultrasound
Global/Community Health Award: Ryan Krochak
Pre-Clerkship Teacher of the Year: Dr. Michael Moser
Clerkship Teacher of the Year: Dr David Petrishen