"The College of Medicine has so many hard-working and passionate educators, so it was a special honour to be selected for this award," he said. "The college has been so supportive in terms of professional development, spreading knowledge, and providing opportunities for quality improvement. Thank you!"
Brose was nominated by Dr. Jennifer Chlan (PhD), assistant professor in the Department of Anatomy, Physiology, and Pharmacology and Year 1 co-chair undergraduate medical education (UGME); Dr. Greg Malin (MD, PhD), associate professor in the Department of Academic Family Medicine and academic director UGME; and Dr. Meredith McKague (MD), associate professor in the Department of Academic Family Medicine and associate dean UGME.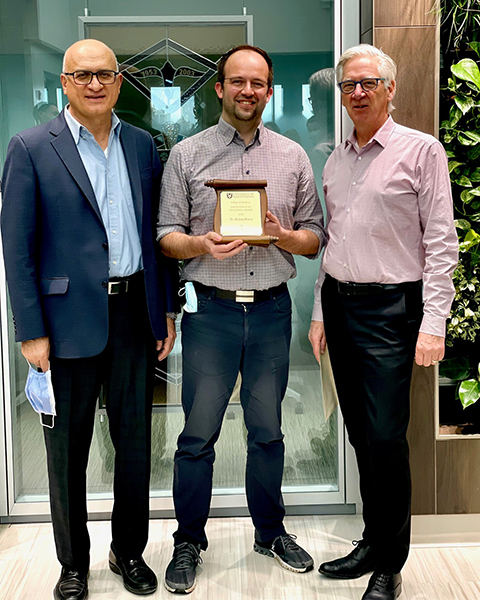 In Malin's words, "Dr. Brose embodies the intent of the Excellence in Teaching award in all aspects of his engagement with learners, curriculum planning and delivery, and assessment. However, what makes him stand out is his rigorous and systematic approach in these domains. Within this systematic approach, he is willing to try innovative approaches to teaching to try to offer the best learning experience for students. Yet, if you ask the students, they won't tell you his course is easy – in fact they will likely tell you it is quite challenging. But they will also say it is fair, because the expectations are clear, and the experiences provided have helped them to prepare."
For Brose, teaching is a way to give back, "I love getting to know students early in their careers and to watch their skills grow over time. I had many great teachers during training, and I hope that, at least a little, I can honour my past teachers by carrying on the tradition!"
The college wishes to thank Brose for his dedication to excellence in teaching and his nominators for taking the time and effort to recognize their colleague. Please think about nominating your well-deserving colleagues for an award or consider other ways of recognizing and showing your appreciation.