The University of Saskatchewan (USask) graduate student went undefeated in each of her three trips to the U Sports national wrestling championships, winning all 12 of her matches to earn three straight gold medals in 2018, 2019 and 2020. Remarkably, she did it while being named an Academic All-Canadian in each of those years, for her equally outstanding work in the classroom.
With an academic average of better than 90 per cent, Schell graduated with a Bachelor of Science in Kinesiology (Great Distinction) in 2019 and completed the first year of her Master of Physical Therapy program in 2020 while also garnering gold again at nationals in her fifth and final year of wrestling.
"That was my goal coming back for my final year of eligibility, so to have it work out like that three years in a row was pretty special," said Schell. "It was a great experience."
Not to mention an historic achievement, according to Huskie wrestling coach Daniel Olver, who was named men's coach of the year at the Canada West conference championships and women's coach of the year at U Sports nationals.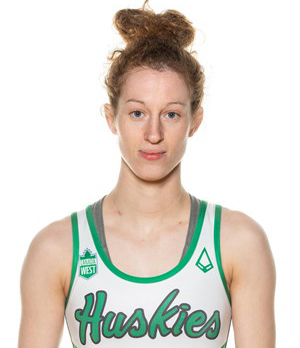 "What Alex did in her career was truly remarkable," said Olver. "I can't recall having another Huskie wrestler who not only won every single match at nationals that she ever took part in, but also never had a point ever scored against her at nationals. It was a truly outstanding achievement for Alex and just as importantly, her prowess on the mat was matched by her work ethic in the classroom, since she has been an Academic All-Canadian in every single year at USask."
The epitome of the student-athlete, Schell has excelled in both academics and athletics during her five years at USask, balancing full class loads with demanding weekly training and weekend competition schedules as a Huskie competitor.
"The coaches fully support the whole student-first approach," said Schell. "My goal pretty much from the beginning when I knew I was trying to get into physiotherapy, I knew it was a very competitive program, so I definitely put a lot of time and focus into trying to maintain my average."
Like all USask students, Schell wrestled with the additional challenge of completing her first-year master's courses and final exams on-line this spring, after returning home to Smithers, B.C., located 700 kilometres north of Vancouver.
"It was an adjustment studying online and a little difficult, but everybody had to do it, and being at home with family definitely helps," she said. "For us in physio, we had some practical final exams postponed until we come back, because obviously we were not able to do them at this time.
"I was supposed to be on practicum as well. So I think they are trying to give us some content that we can do over the summer at a reduced load, because there will be no hands-on learning. And hopefully we will go back in September to start up again."
Looking back on her Huskies career, Schell said coming to USask to study and compete was the best decision she could have made.
"There was a great team dynamic and that was very important for me coming from B.C.," she said. "I definitely like the individual aspect of wrestling, but the team aspect is also very important because your teammates push you every day in training and support you in every competition, and that's what made it even more special. It was definitely great to be a part of it."
While she is one of the best young wrestlers in the country in her weight class, Schell does not plan to continue to compete nationally, but is hoping to remain involved in the sport, possibly by helping coach the next generation of young Huskie athletes.
"Wrestling has been a big part of my life, but I am at that point of time in my program that my education has to be the priority," said Schell, who was runner-up for the Valerie Girsberger Trophy as the top all-around female athlete in the Huskie Athletics year-end awards announced in April. "But I definitely would still like to be involved in wrestling in some way, so it will just be figuring out what that will be." 
Huskie football and men's and women's soccer have been cancelled for the fall semester after the Canada West conference—in consultation with medical professionals—voted June 5 to cancel first-term team sports due to the ongoing COVID-19 pandemic. A decision on cross-country will be made before July 15, while basketball, volleyball, hockey, wrestling, and track and field would start no sooner than January 2021.
USask men's hockey goalie Taran Kozun became only the sixth Huskie in school history named Canada West Male Athlete of the year. He is now a finalist for the June 25 national Lieutenant Governor Athletic Awards, honouring the nation's top male and female student-athletes.
Huskie women's basketball associate coach Claire Meadows has been named head coach of the Queen's University Gaels, starting in April 2021. Meadows will remain with the 2020 national champion Huskies for one more season.
Former Huskies track and field star and Olympian Diane Jones Konihowski was inducted into Canada's Sports Hall of Fame on May 27.