This is the second in a series of #MyMD blog posts Josh has written about his experience at the Indspire Awards - read the first here.

A beautifully lit, vibrant set, themed around the birch tree, so integral to the Algonquin way of life. Every single tiny intricate detail had been tended to at the 2017 Indspire Awards on traditional unceded Algonquin Territory in Ottawa.
This is what I saw at the rehearsal for the awards ceremony in Ottawa. It was clear to me that the producers of Indspire did not hold back a penny when it came to production quality. When I commented on how magnificent everything looked, I remember being told, "Just wait for the actual show!"
 First thing on the agenda today was the Suncor Luncheon at the Westin Ottawa. I was really excited for this event because I knew we'd finally get the opportunity to speak with the youth. At this luncheon, Indigenous youth from around the country would be sitting at tables, while all the award recipients would be rotating through.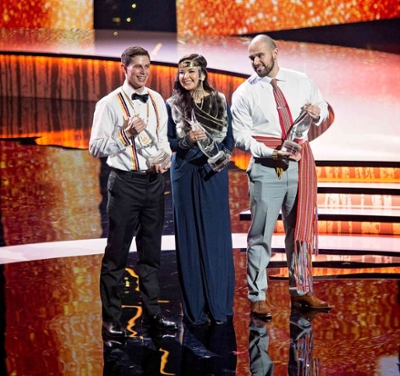 There are a few reasons that I'm so passionate about speaking to the youth. Reason one, is that it's a great opportunity to find out where their heads are at. I want to know what kinds of things they want to be when they grow up, and whether or not they're passionate about it. In the medical field, there's currently a big push to train more aboriginal doctors, as there aren't many and we've already established there's certainly a need for them. Before this recent push, it was recognized that very few aboriginal students were applying to be in medicine. One of the reasons is thought to be that students are much less likely to aspire to be something, if they don't have role models in those fields to look up to and model themselves after. Reason two I'm passionate about it is that I want to connect to these kids and show them that as a fellow Indigenous person, I'm proud of the good things they're doing in their lives. I want to show them that, just as the rest of our people are, I'm rooting for them and I care about their success. Reason three is simple; I think our culture is really cool! I feel awful for Indigenous kids who have been made fun of or have been affected by people around them who have propagated stereotypes or spoken negatively about our culture and our people. So many Indigenous kids, including myself, grew up hiding our culture, not disclosing our Indigenous ancestry, or even being ashamed of our culture because we were scared of being judged or being associated with one of those negative stereotypes. So I just hope that by outwardly showing how proud I am to be Indigenous, and still being fairly young (not much longer), that they can relate to me enough and want to follow suit. It also gave me an opportunity to make sure I'm still using the same new lingo as the kids so I can remain relatable #ItsLit.
After the luncheon, we were off to a quick cocktail reception and recipient dinner where everyone's favorite character from my first blog, Momma Butcher, was able to join me. Here, I was recognized on stage, where I received my Indspire medallion. As soon as I stepped off stage, it seemed like the drama began… "Mr. Butcher, please come with me…", said a man bearing an Indspire nametag. Not really knowing what to expect, I followed… (Prepare for a few lines of overly dramatic filler).
"What about my mom?" I asked.
"Don't worry, she'll be taken care of," said the mysterious man.
I was whisked away through the back doors of the reception hall and out onto the cold, wet Ottawa streets where a large black van with tinted windows was waiting. The man gestured to me to enter. Hesitantly, I followed commands…
I sat in the back of the dimly lit van, on soft 100% Polyester seating, I could tell by the texture… One by one, the other recipients entered the van, all with the same unsure, but concerned look on their face. Lastly, I saw Momma Butcher enter the van.
"Momma Butcher! I thought I'd lost you forever!" We embraced…
"What happened?" I asked.
"Josh, it's time…" she said.
"For what?" I exclaimed! Still as confused as ever…
"The awards ceremony silly!" said Momma Butcher, in disbelief that her medical student son could be so absent-minded. (End of overly dramatic filler. With a little extra practice, maybe I'll one day be a great storyteller, just like CBC radio host, journalist, author, and fellow award recipient Duncan McCue).
Within minutes, we had arrived at the National Arts Center, the home of the 2017 Indspire Awards. All the recipients and our guests were taken to a room backstage to relax and take pictures before the show. Soon enough, the time had arrived, and the show had begun…
We marched in to the deep sound of a powerful drum that resonated, creating a warm, low hum inside your head, powered by every beat. The lights were bright, the crowd was on their feet, and the applause was loud. We made our way to our seats and the show began.
Throughout the show, I recall feelings of joy, laughter, anger, astonishment, and most of all, pride. The entertainment was unparalleled by anything I'd ever seen before. The performances were breathtaking. The dancers were so in sync, perfectly coordinated, incredibly athletic, and beautifully clothed in their traditional regalia. The colors and patterns they donned had such beauty to them. Buffy Sainte-Marie amazed the crowd with her words of inspiration. Plus so many other talents, not to mention the awe-inspiring Inuit throat-singing performance that was so intense, it literally left you with the hairs standing on the back of your neck.
The 2017 Indspire Awards Ceremony was a monumental night for me. I had never in my life been more proud to be an Indigenous person. It wasn't just a night to celebrate success; it was something so much more than that. It was the first time in my life I truly felt immersed in my culture. We had created a place for Indigenous people to be happy and proud of who we are. It highlighted to me what I already knew; there's nothing wrong with our people, and our culture is not broken. Let's imagine for one second what life as an Indigenous person in Canada would be like, had the Europeans and Canadian government respected us and the land we were willing to share, all those years ago. I imagine that we'd see a lot of what I saw that night: a beautiful culture, endless smiles, happiness, laughter, an incredible amount of love, and an even greater amount of pride.
I want to thank Val Arnault-Pelletier, the aboriginal coordinator with the College of Medicine, for nominating me and travelling to Ottawa to support and watch me receive my award. The work you do is incredible Val.
I also want to acknowledge and thank Roberta Jamieson; the CEO of Indspire who I believe is creating a massive cultural shift towards respect for Indigenous people, and is changing the face of Canada.
This year, Canada is celebrating 150 years of Confederation. Unfortunately, Indigenous people as a collective don't have a lot to celebrate. With the Indspire Awards, we're celebrating our successes in how far we've come and how hard we've fought. We're celebrating that, despite the enormous atrocities that our people have historically faced, we're still here, we're still kicking, and we're not going down without a fight.
Catch the broadcast of the 2017 Indspire Awards on Global or APTN July 1st!