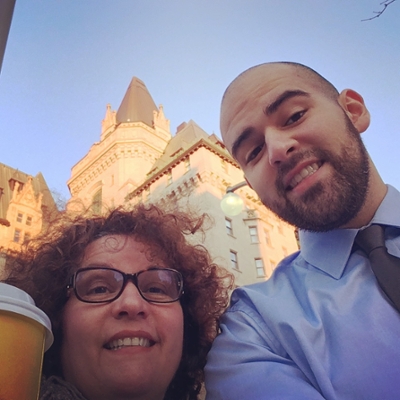 My three days in the country's capital from March 22-24th are three days I'll never forget. I had the honour of being named the 2017 Indspire Award recipient for the category of Métis youth, and boy was I in for an exciting couple of days!
The night of the 22nd, I arrived in Ottawa where I met up with my parents who flew in from Edmonton. We had the fortune of staying at the beautiful Château Laurier overlooking Parliament Hill and the rest of downtown Ottawa. On the way to the hotel, my driver took me on the scenic route through the city. I have to say, Ottawa is breathtakingly gorgeous. It's densely populated with older style buildings that give it a bit of a European feel, which based on who you talk to, can be either pleasant, or a painful reminder of Canada's harrowing colonial past. I got to spend that evening exploring Ottawa's ByWard Market with my mom and dad. Living away from home, I don't see them often, so it was fun to be able to adventure with them.
The first morning, I was up bright and early to prepare for a packed day that would include meeting some pretty impressive people, including the other award recipients. I met a few back in October for the announcement of the recipients in Toronto, but this was my first time meeting Murray Sinclair, the former Justice, current member of the Canadian Senate, and Chief Commissioner of the ground-breaking Truth and Reconciliation Commission. That was a mouthful… As you can imagine, having my name mentioned in the same sentence as a man who's done such incredible work for Indigenous people is quite humbling. Have you ever gotten the opportunity to meet a rockstar? You're super excited because you actually get to meet them, but then the opportunity comes, and you forget how to act and talk like a normal human being. Yeah… But I eventually managed to gather myself, and was able to have some meaningful conversation.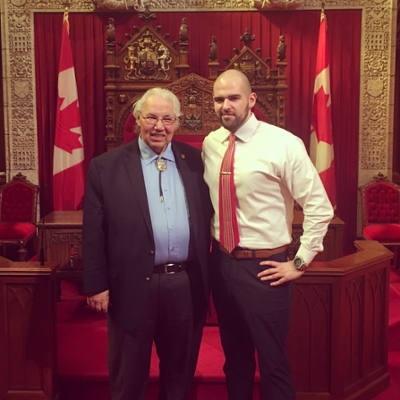 I also got to reunite with Doreen Spence, who I met in Toronto. Doreen, from the Cree Nation of Saddle Lake, Alberta, was one of the first Indigenous women to obtain a Practical Nursing Certificate in Canada. When you applied for nursing school, you never had to provide a picture, and with a name like Doreen Spence, who would suspect a thing? When Doreen showed up the first day, they asked her "How'd you get here?" She said, "The same way you all did". They said "We'll make your life a living hell if you don't leave". She said, "Bring it on". Doreen is probably one of the kindest, most genuine, and sweetest people I've ever met. She has a massive heart and I really enjoyed getting to know her and hear some of her stories over the three days.
Later that morning, we were off to the House of Commons to attend Question Period. It also happened to be the day after the federal government released the new budget. This made for a fairly entertaining afternoon as we listened to the politicians debate over different matters facing Canadian society. Some of them were quite well spoken and eloquent, while others were more… rambunctious dare I say?
I certainly recognize the important work that all our politicians and policy-makers do here in Canada, but as formal as they are, I hardly expected the level of chaos, and back-and-forth jabs. However, I suppose that's the fun of it, as they clearly are all extremely passionate people who fight for what they believe in. It was very cool to see, first-hand, that process of our Canadian government, and I was very grateful for that opportunity. Towards the end of the period, the Right Honorable John Bercow, Speaker of the House of Commons, announced to all parties the presence of the Indspire Award recipients. He listed off our names as we all stood and received a standing ovation from the entire House of Commons. I remember Senator Sinclair leaning over to me saying "It's not very often you have all the parties standing and applauding for the same thing in the House of Commons".
By this time, it was mid-afternoon, and we had all been formally invited to attend a lunch reception at Rideau Hall with His Excellency, the Right Honorable, David Johnston. For such a high-ranking official, I was impressed with how personal and charming he was. I was able to bring two guests, so I naturally brought my mom and dad. When I first introduced the Governor General to my parents, the first thing he said to my mom was "Oh you must be this young man's sister!". Naturally, my mom blushed and giggled like a little schoolgirl while my Dad and I stood back and laughed.
Once the reception had cleared out, it was just about dinner-time. Thankfully, we were being hosted by the Minister of Indigenous and Northern Affairs, Carolyn Bennett. We each had the opportunity to meet with her and introduce our guests, which was a great opportunity for me to express my gratitude to my parents for being such excellent role models to me growing up.
After a long day of commitments, exploring the city, and meeting some of the country's finest, we retired back to our hotels to get some sleep and get ready for the next day, when we'd be introduced at the 2017 Indspire Awards!
Stay tuned-in to #MyMD blog for my next blog post over the next couple of days on my 2nd day in Ottawa, along with some BEAUTIFUL pictures from the 2017 Indspire Awards. Check out some of the pics below highlighting some of the events from Day 1.