My first year of medical school was full of enriching experiences and memories to last a lifetime. Many of these revolved around my work as GAAC (aka political advocacy rep for the Saskatchewan Medical Student Society). I was fortunate to travel to Ottawa to lobby the Federal Government on a national pharmacare program with colleagues from coast to coast. Moreover, organizing both federal and provincial election forums, a panel discussion on physician assisted dying, and the Health Innovation and Public Policy Conference were among the highlights of my year.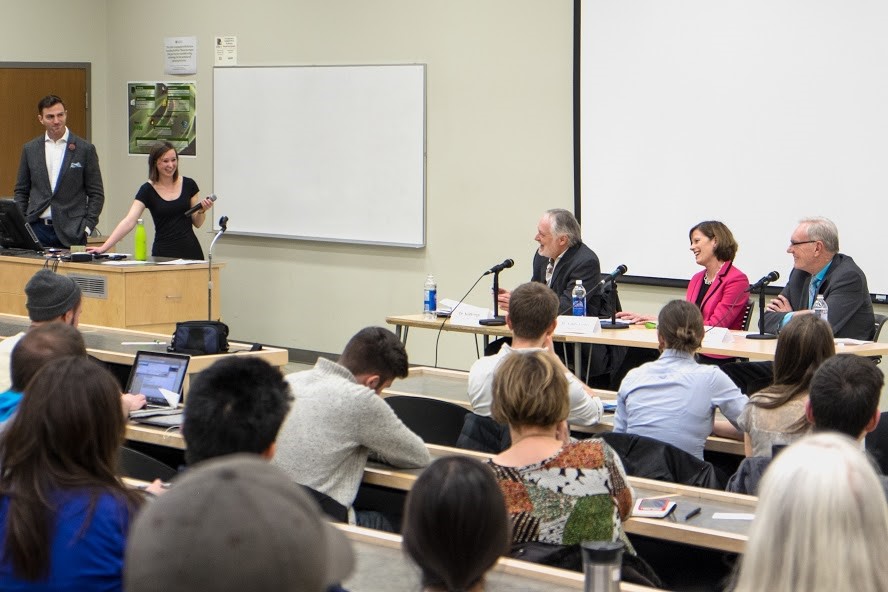 Moderating a panel discussion on physician assisted dying. From L-R: Paul Robinson (Class of 2018), myself, and panelists: Dr. Keith Ogle, Dr. Cindy Forbes (CMA President), and Mr. Bryan Salte.
Politics and current affairs have been a passion of mine since my high school debating days, and more recently I've been able to integrate this into my role as a medical student. As we all know, medical school involves long hours, so keeping up on the latest health news can sometimes be a challenge. In order to stay informed, find inspiration, and balance the science aspect of my studies, I spend a part of each day reading articles, books, or listening to podcasts. I thought I would share with you my favourite twitter accounts, books, and podcasts in the hopes that you too may find yourself stimulated by some of the following.  
Twitter Accounts to Follow
1. The best source for health-related news: @picardonhealth
André Picard is a health columnist for The Globe and Mail. He tweets often, always posting articles related to a wide array of heath issues, and never missing the most poignant or controversial of issues. If you have to follow one person, follow André Picard!
2. The insider's scoop on health care: @kevinMD
Dr. Kevin Pho is the founder of kevinmd.com – a website that amalgamates the voices of clinicians, medical students, health policy analysts, and patients through articles and stories. Follow him on twitter for samplings of interesting features and an insider's take on medicine.
3. Everyone's favourite medical writer: @Atul_Gawande
Dr. Atul Gawande is an American surgeon, a staff writer for The New Yorker, and the author of four New York Times bestseller books. His twitter offers a good mix of articles he has penned as well as others he considers must-reads.
4. The myth de-bunker: @CaulfieldTim
Timothy Caulfield holds a Canada Research Chair position in Health Law and Policy and is a professor at the University of Alberta. Many of his posts focus on exposing health claims that are not rooted in scientific evidence. His tweets are always honest, often funny, and definitely worth a follow.
5. The healthy society warrior: @UpstreamAction
Founded by Saskatoon physician Dr. Ryan Meili, Upstream is "a movement to create a healthy society through evidence-based, people-centred ideas." If you're interested in health policy and how it addresses the social determinants of health, then this account is a must-follow. You can also follow their work by 'liking' their facebook page.
6. Everything health policy and more: @Health_Affairs
Health Affairs is a peer-reviewed journal focusing on research in health policy. From health care affordability to vaccines, they've got articles on a broad array of topics.
Must-Read Books
There are so many medically related books on the market, but if I had to recommend a couple, here's what they would be:
Being Mortal by Atul Gawande
In the Realm of Hungry Ghosts by Gabor Mate
Cutting for Stone by Abraham Verghese – this novel was recently recommended to me by a friend. Although I haven't read it yet, the reviews seem promising!
Podcasts Everyone Should be Listening to
… one of the best inventions for busy people on-the-go! Here are my top two podcasts/radio shows that I listen to on a regular basis – and you should too! Both can be found on CBC radio or the CBC radio app.
White Coat, Black Art with Dr. Brian Goldman
The Current with Anna Maria Tremonti