My week in Melfort as part of my Community Experience can be summed up in 3 words: enriching, eye-opening, and inspiring.
Since this was my very first clinical placement (albeit only one week) and my first time in Melfort, I had no idea of what to expect. I was looking forward to leaving most of my books back in Saskatoon and applying the knowledge I had learned this past year to the 'real world' of medicine. I was most fortunate to spend the week with Dr. Pierre Hanekom, both at the Melfort Hospital and in his clinic. In just one week's time, I gained a newfound appreciation for the breadth and depth of work that rural doctors perform in their communities. As family physicians (there are about a dozen in Melfort), they run the ER, both the Outpatient and Inpatient Services at the hospital, and their own individual clinics. In Dr. Hanekom's case he also performs C-sections.
My daily schedule consisted of getting up at 6:30 a.m. so that I could be ready to go at the hospital by 8 a.m. Each morning from 8-10 a.m. we would usually have outpatient procedures (e.g., re-casting a leg, removing a large mole, taking a biopsy of a lesion) and then we would round on Dr. Hanekom's patients who had been admitted to the hospital. From there we would rush over to his clinic where we would see patients from 10 a.m.-6 p.m. (although Dr. Hanekom usually stayed well past 6 p.m. finishing up with patients).
Having spent a few half days in a Family Medicine clinic in Saskatoon, it was interesting to observe the dynamic of both the clinic and hospital setting in Melfort. The approach to medicine in the rural/small-town setting was more personalized in a certain sense – likely related to the reality that physicians in Melfort are also the neighbours, customers, and fellow club-members to the patients for whom they provide healthcare.
It seemed to me that the small-town setting afforded the physicians with opportunities to interact with their patients in a more casual and holistic way, without sacrificing professionalism, than sometimes seems to be the case in larger urban settings. It wasn't uncommon to have a conversation with a patient about their farming operations, their daughter's upcoming wedding, or the fact that Dr. Hanekom actually delivered them 20 years prior. There certainly was no such thing as a ten-minute/one-issue appointment, and I witnessed the benefits of this. The medicine that I experienced in Melfort was down-to-earth and personable – it reaffirmed for me why I chose to pursue medicine in the first place. 
During my week in Melfort I was fortunate to receive excellent teaching and mentorship from Dr. Hanekom, gain lots of hands-on experience, and meet some wonderful people in the process. I would go back in a heartbeat!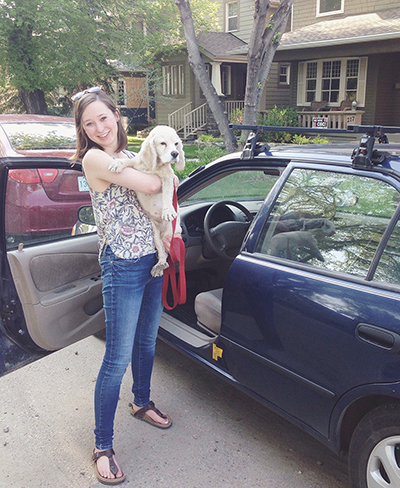 Happy that first year medicine is complete and ready to head to Melfort. Dr. Dog (Ella) wanted to come too!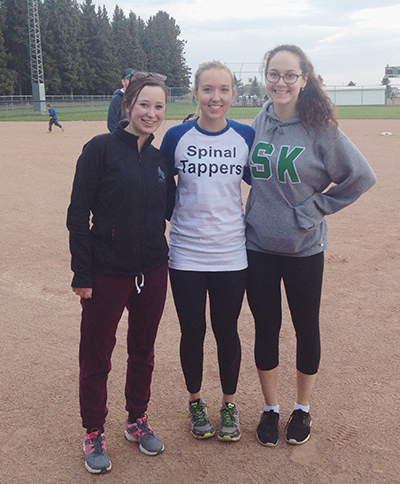 In the evenings we played softball with the local physicians. Their team was aptly named the 'Spinal Tappers' – from left to right: myself, Lexi (2nd year Medicine), & Candina (2nd year Medicine).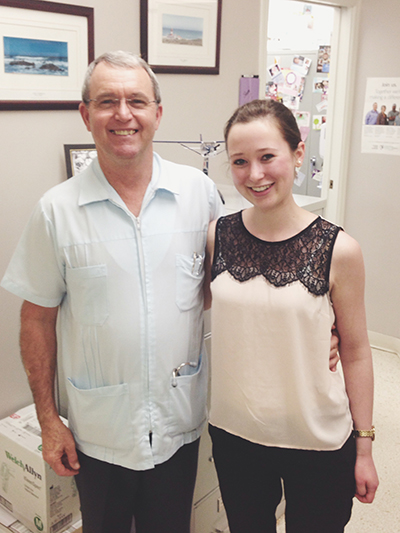 Myself and Dr. Hanekom on my last day in Melfort.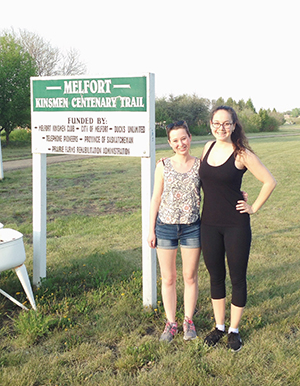 Candina & I discovered the Melfort walking trail one evening.