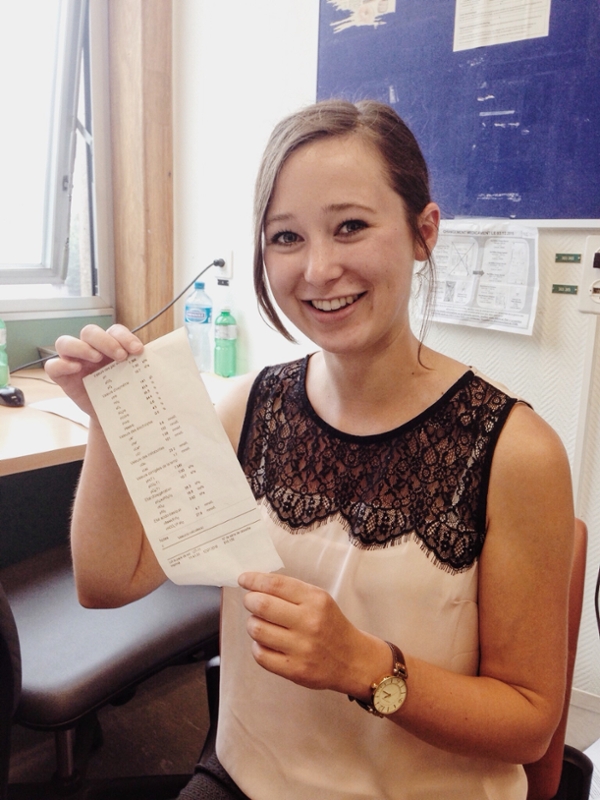 I'm not much of a journal writer, but during my time in Europe I decided to put the 'Notes' app to good use on my phone. I started documenting my weekend trips and other memorable experiences. During a flight from Switzerland to Poland, I jotted down my reflections on the four weeks I had just spent in Internal Medicine in Geneva. The following is a curated selection of my notes … and my top 5 lessons learned:
1. Trust in your training and don't give up. I arrived on the first day of my placement only to find out that the Internal Medicine Department thought I was in 6th year Medicine (I had only just finished 1st year!). To add to this, my placement was 100% in French (although I am fluent, I barely knew any French medical terminology), and it essentially mirrored a clerkship rotation back in Canada (something I won't do for another year). I would be lying if I said I wasn't overwhelmed for the first part of my placement. I tried not to let myself get discouraged though and relied on the training I already had as well as focusing on day-to-day improvements (instead of fixating on what I didn't know ... hello nephrology and neurology!). Sure enough, as my placement progressed I got more comfortable with my surroundings, my proficiency with French medical terminology improved drastically, and the quality of my admissions got better with each one I did. Although I still have a long ways to go, focusing on the small successes motivated me to work harder and build on my abilities each day. In the end, I have nothing but positive feelings about my placement and the tremendous amount of knowledge and practical experience that I gained. I must credit my wonderful team of residents and attending for facilitating this through their incredible patience, guidance, and mentorship.
2. A good team makes the world of a difference. During my placement in Switzerland I witnessed the benefits of a cohesive, respectful, and highly functional unit team. Not only did this apply to my core team of residents and attending, but it also extended to our unit nurses and administrative staff. This made for a safe & effective learning environment, a positive workspace, and overall better patient care. Being a good team member in a clinical setting is something I'll always be conscious of after reaping the benefits of such an atmosphere. If you're ever in Geneva, go check out Unité 6-EL … they know how to do it right!
3. Don't be afraid to admit when you don't know something. Admitting when I didn't know something led to opportune teaching moments and better learning outcomes for me – it's as simple as that!
4. Never underestimate the power of human kindness. For some of our patients there unfortunately wasn't much we could do from a medical perspective to improve their health outcomes. Such patients would ultimately leave our unit so that they could be followed by Palliative Care. That being said, I experienced on a couple of occasions the gratitude that patients had when my resident and I took the time to sit on their bedside and listen to their stories – even if for only 5 or 10 minutes. Small gestures sometimes go a long way. It's about human connections and relationship.
5. A sense of humour is everything. I laughed every single day of my placement – with my patients, my residents, and the unit nurses. It made me love my time at the Geneva University Hospital, it helped to make the frustrating moments easier to get through, and it probably added 1-2 years to my lifespan (just kidding … I don't think there's any medical evidence for that!).
This post was brought to you by the cheese sandwiches and free libations served on the KLM flight from Geneva to Warsaw.