We found joy in patient interactions, learned the stories of the sick and strove to deliver the best care that we could. However, when the COVID-19 pandemic swept the world in early 2020, our classroom learning and time in clinics and hospitals came to an abrupt end.
As our days passed in quarantine, we began to wonder: What is going to happen to our education? Why are we staying at home while other physicians are working tirelessly to combat the pandemic? Who are we, when we previously spent upwards of twelve hours a day providing patient care, and now we yearn for even the briefest of patient interactions?
These uncertainties were the inspiration behind this series of illustrations. By interviewing my classmates about their experiences, four themes emerged from the narratives: identity loss, helplessness, the value of human connection, and a sense of community. I portrayed these themes through four illustrations, respectively.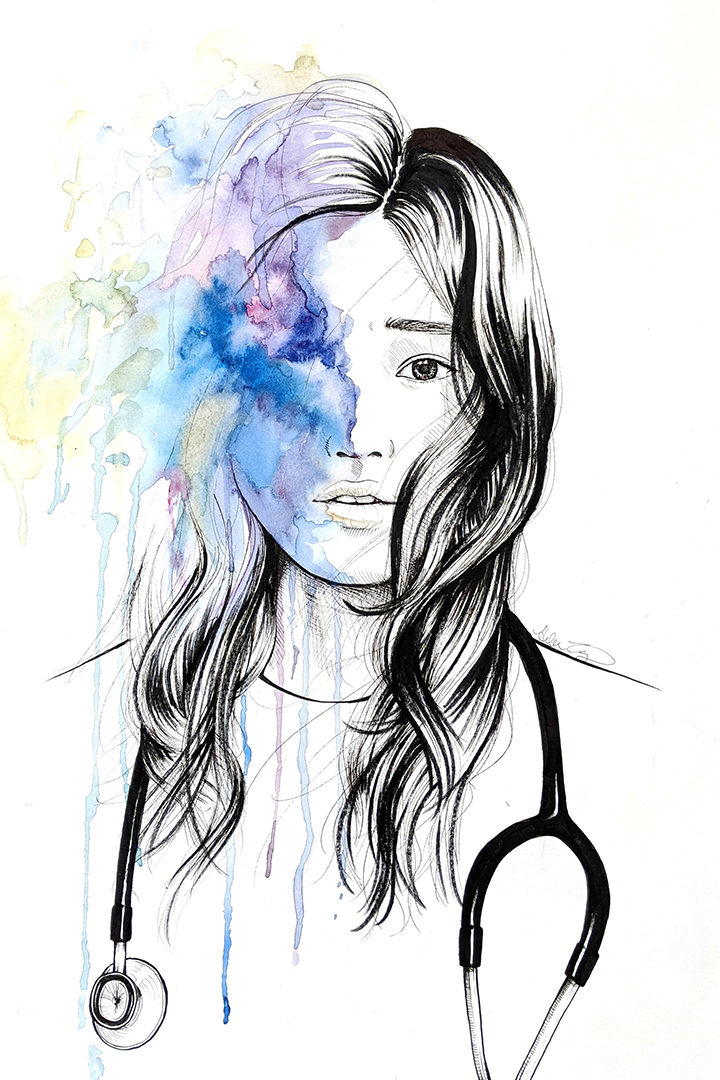 "Singularity" describes our loss of identity. The woman, representing a medical student, faces head on, as if posing for a hospital identification photo. However, her expression signals uncertainty; she has spent the majority of her time thinking, living, and breathing medicine, and now, her role is a shadow of what it used to be.
To not be studying and not seeing patients, especially when the whole world is focusing on medicine, has been devastating. The watercolor paint obscures half her face and drips down the paper, symbolizing her identity loss. She is forced to ask, "Who am I, if not a medical student?"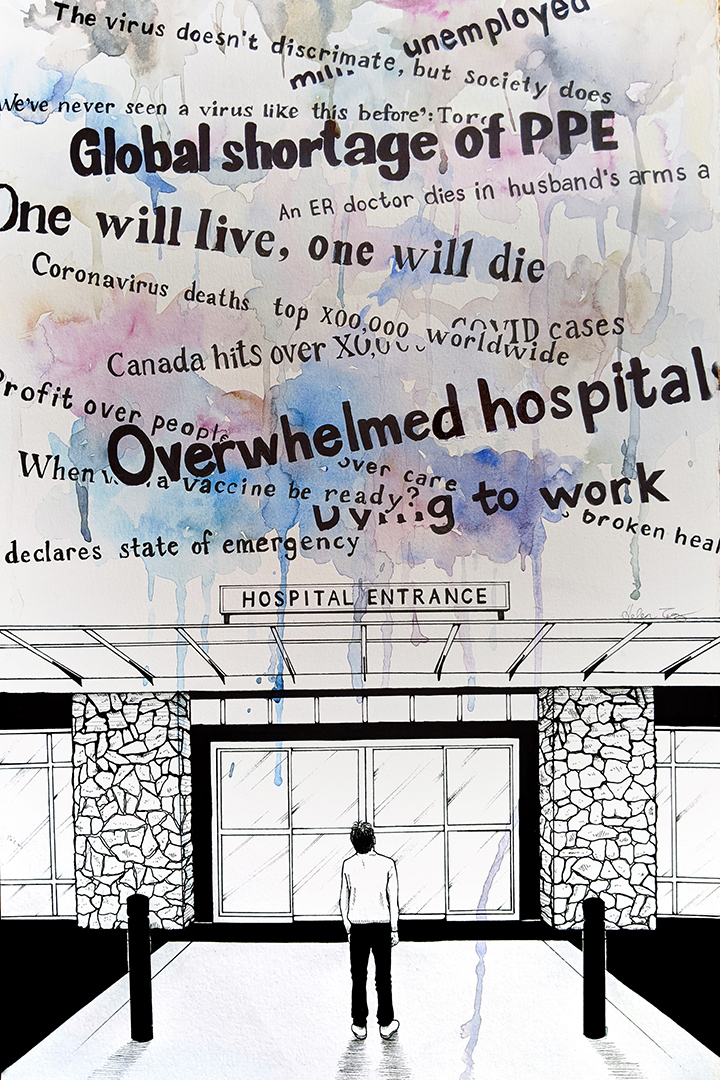 "Sidelined" captures the feeling of being helpless and overwhelmed. As medical students, we are caught somewhere between being a member of the general public and a part of the healthcare team. Though we possess more knowledge than the average individual, we are forbidden from practicing our skills and serving our community frontline.
We are overwhelmed as we watch the crisis unfold, as symbolized by the ominous cloud of headlines above the hospital. The hospital doors in the illustration are closed as well, depicting our inability to help alongside the frontline.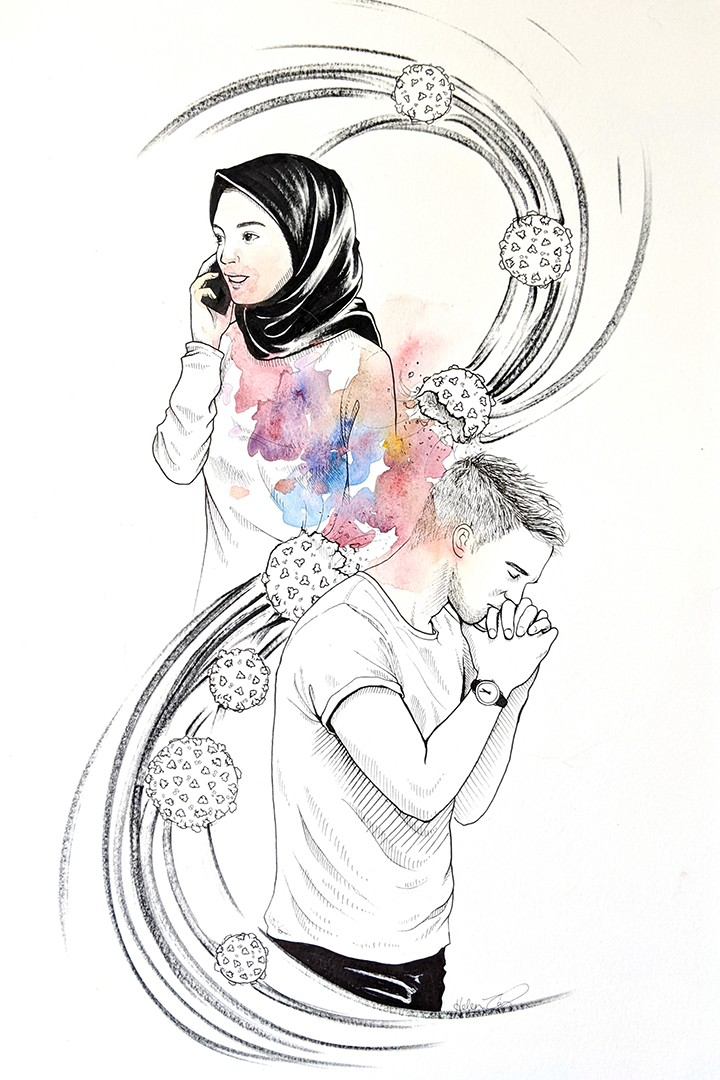 "Connection" illustrates how we have meaningful communication with patients, despite not having any direct human contact.
This illustration is based off a classmate's experience with volunteering at a public health phone line, where she called patients to inform them of their negative Covid-19 results.When she told a patient that he was negative, he began tearing up, explaining that the only reason he wanted to be tested was to visit his dying mom.
While the disease has ceased all in person interaction, as symbolized by the viral particles separating the student and the man, human connection prevails. The watercolor breaks through the storm of the virus, symbolizing the resilience of this connection.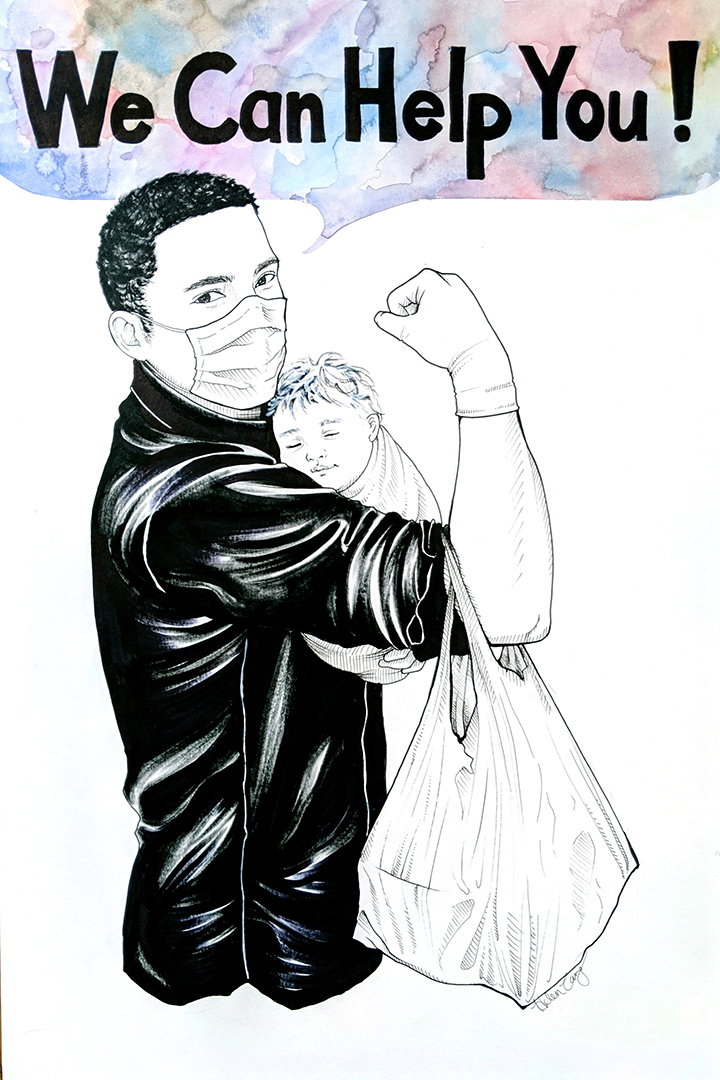 Finally, "Solidarity" represents our willingness to contribute to our healthcare community. Though we cannot be frontline workers, we can assist with their lives. Many students are helping with childcare relief and errands for healthcare workers.
The medical student is holding a baby and a bag of groceries, representing how we are giving back to the supervisors and mentors that have spent so much time with us. The illustration is inspired by "Rosie the Riveter," a wartime poster that encouraged women to work while men left to fight in the war. We feel similar to Rosie: we are not the protagonists of the battle against Covid-19, but we provide crucial support to ensure the continuation of frontline efforts.
Covid-19 has unexpectedly changed our roles as medical students. These illustrations capture some of the emotions, narratives, and challenges that we have experienced.
Though the pandemic has created conflict in our identity and ability to help, we are finding meaning in giving back through other avenues. We are uncertain of how the next few months and years will unfold, but we are hopeful that the turmoil may produce a sense of belonging and common purpose.