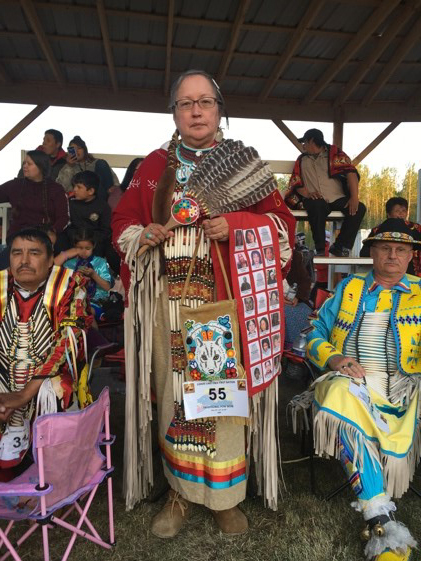 The panic I feel is all in my head and working through this will strengthen my mind. I let out a loud sigh.
Elder James finds my shoulder in the darkness of the sweat lodge and guides me to lay on the ground. "Pray harder my girl", he says, "This is to teach us that sometimes in life, we have to suffer to make it through. You'll be okay. I promise."  And I trust him that I will be.
His drumming begins and he belts out a glorious prayer that vibrates throughout the entire lodge. I close my eyes and allow my breathing to match his song as I reflect on lessons in scarcity and abundance, celebration and hardship, teaching and learning.
This summer, myself and some colleagues made the long drive north to Dillon, Sask. as part of the College of Medicine's Making the Links. The program prepares students for work in underserved communities and involves course-based learning, volunteering at an inner-city health clinic, and practicums in rural Indigenous communities and abroad.
After a term of academic night classes, I was ready and excited to delve into some community-based learning.
Dillon is situated on Treaty 10 and the reserve territory of Buffalo River Dene Nation. Here, a lot of healing happens outside the white walls of the health clinic.
We were warmly embraced by our host family: Martha, Warren, and their two teenage daughters. Martha took us to a weekend Pow Wow, where we cuddled under blankets with warm drinks and watched dancers praise the Creator and pray for their people with every step.
I was moved by one particular dancer who carried the photos of Missing and Murdered Indigenous Women over her arm. "I dance for them," she exclaimed. She knew every name, the community they were from, when they went missing, and what was happening with their cases.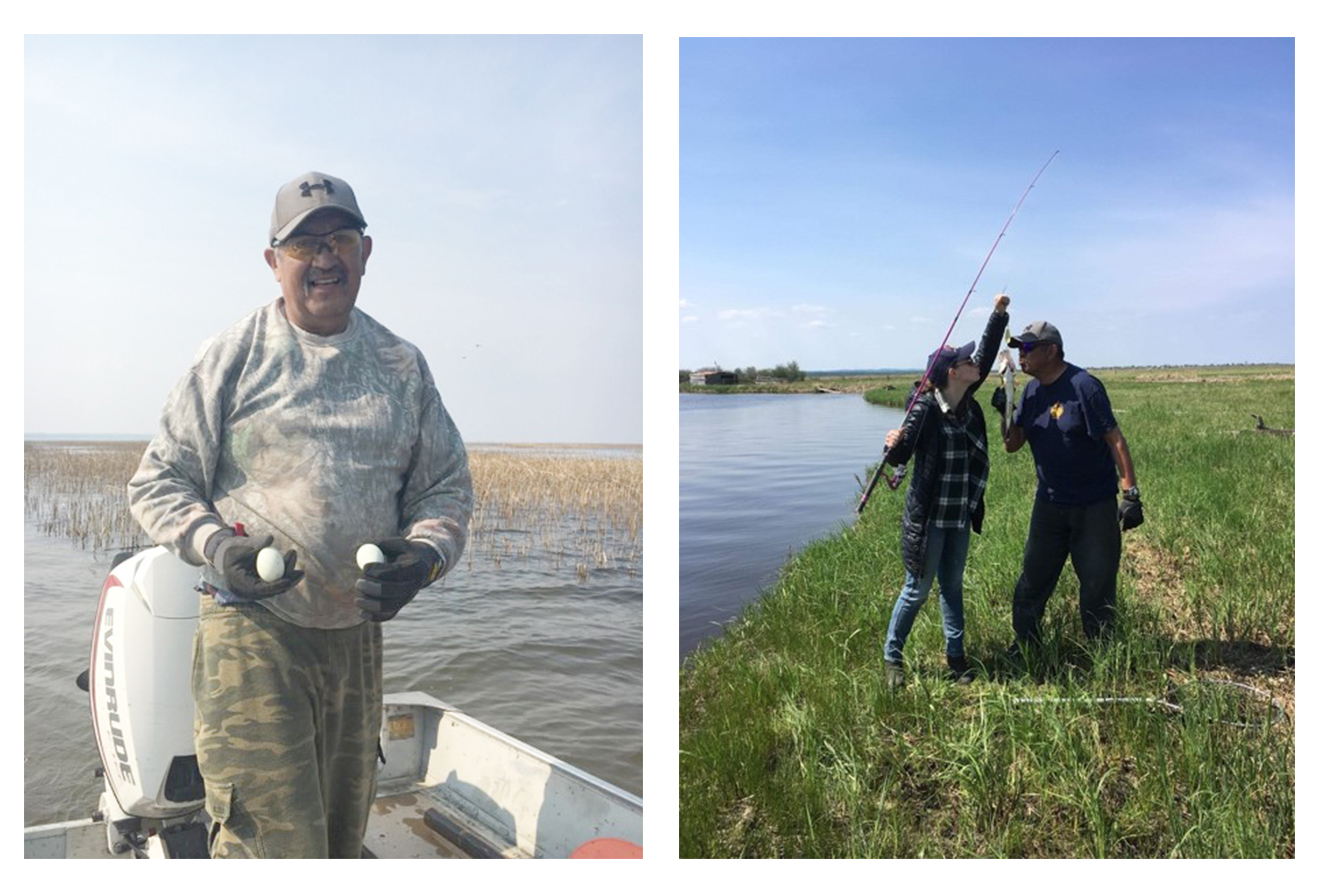 In the coming weeks, we worked with the Île-à-la-Crosse doctors who fly in to Dillon every Wednesday and learned about some of the joys and barriers of rural medicine.
We presented on various health topics to the school children and hosted community events for them to attend. We went duck egg hunting, quadding along the river, attended Treaty Days, met with Chief and Council, played bingo, fished, and attended more sweats.
I ate all of the bannock, fried fish, and moose stew that my belly could hold. Martha even taught us how to make her special bannock recipe.
As I always say, food is love. In Dillon, food is medicine too. It is a way to honour the abundance of the land, thank the Creator, and provide care to one another in times of happiness and in times of pain.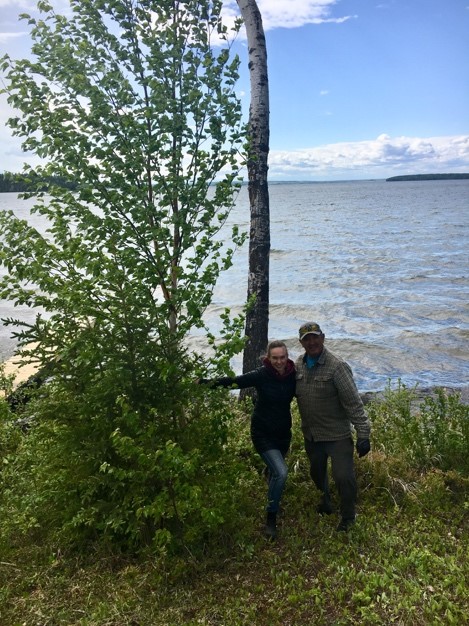 Towards the end of our stay we were invited to spend the night at James' cabin on Vermette Lake. The lake water was so clear we could drink it, and we were told it was sacred healing water.
In reflection, all water is healing when we take proper care of it. It reminded me of some earlier conversations I had with James about treaty rights, hunting, and use of the land. He had given me an 80-page legal document to read which detailed the importance of these treaty rights in Dillon.
We picked our favorite trees, a habit that's becoming tradition for Making the Links students. Mine, a small birch, was in honor of my grandfather who used to joke about using the bark as post it notes.
In the dark around the campfire, James shared stories of the Beauval Residential School and the Canadian government's compensation process with all the difficult court proceedings and legalities that went with it.
Most early mornings were spent enjoying coffee alone with Martha before the house got busy. She shared of growing up in Dillon, attending the Beauval Residential School, and caring for her two daughters and elderly parents.
I loved hearing about Dillon's history and exchanging stories with her. Sometimes our discussions were solemn when topics such as poverty, violence, addiction, and suicide came up. I was moved by everything she revealed in our morning talks.
"Our community doesn't have time to heal before there is another tragedy. We can't start healing because there is always something else that happens too soon after," Martha said.
Dillon is a community that has faced a lot of colonial trauma and ignoring that would not do justice to the growth and resilience of these people. "Every house here has a story like that," she told me.
One of my last and favorite memories in Dillon was cutting up a moose with Martha. I struggled to tear the fascia off of smaller chucks, while she on the other hand had dismantled as entire leg.
She didn't think she was very good at it, and shared that due to her childhood being spent at a Residential School, she had to teach herself traditional practices on her own.  But I thought she had done amazing and joked that she'd make a great orthopaedic surgeon.
Both of her parents, who also attended residential schools, are well beyond their 80s and still took part in family gatherings and helped cut up the moose with us.
When we finished and had bleached down the kitchen, we spent the rest of the day fishing late into the evening. I finally spotted the infamous Dillon wild horses which frequently visit our favorite fishing spot.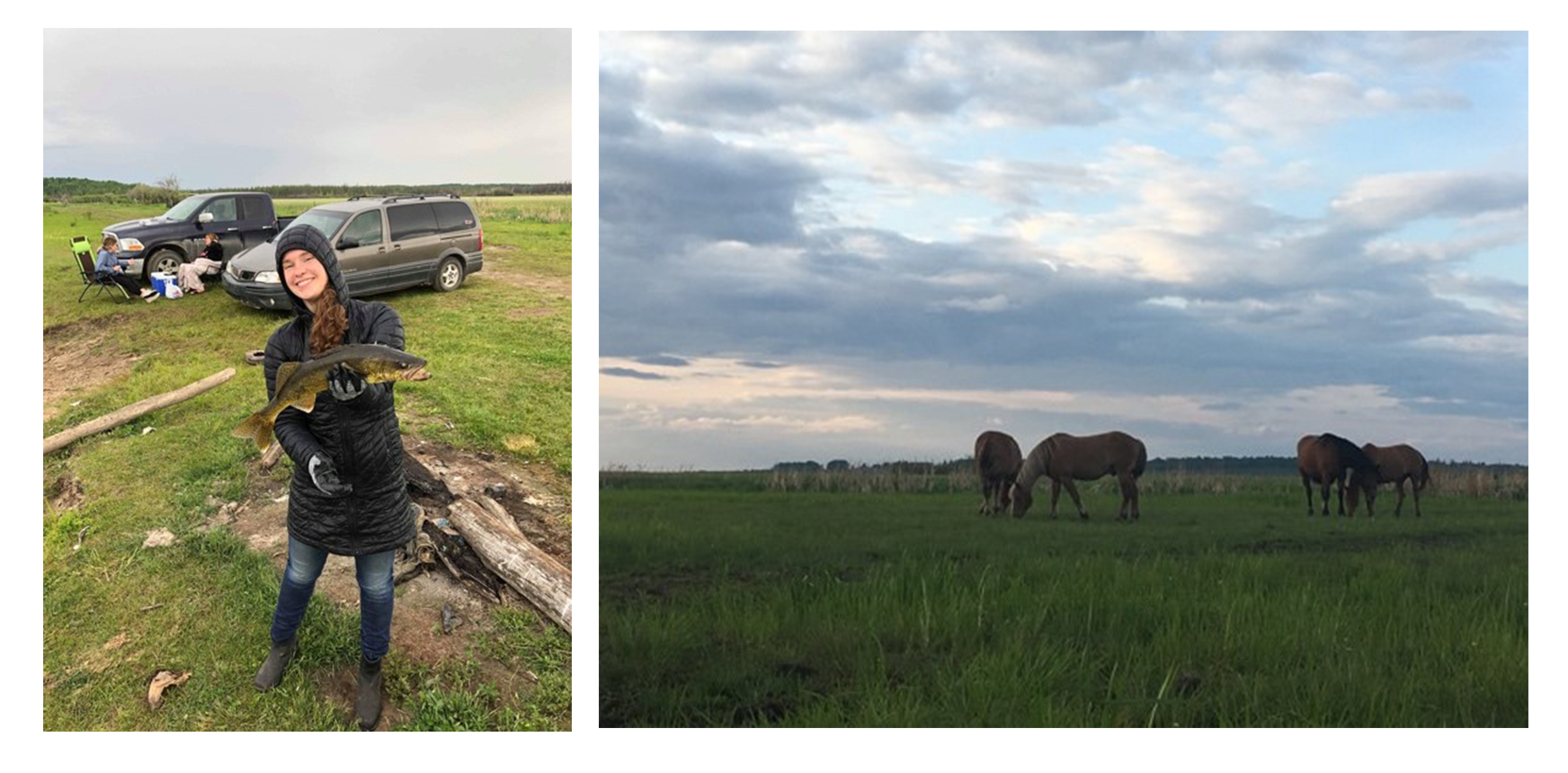 I have no doubt that the lessons I have learned here will be treasured throughout my career in medicine. I understand the importance of knowing the community one is working within and that healing and medicine come at many times and in many forms.
To practice medicine in a community such as Dillon, understanding where healing comes from is as important as any other clinical skill. It means not only learning to understand what is most important to the patients you are seeing, but what their everyday lives encompass and what is integral to their very being.
It means knowing how to hunt for the perfect shaped rocks for a sweat and leaving tobacco in thanks. It means knowing that music and laughter are the best kind of medicine around here.
Healing happens when an entire community comes together to celebrate the most graduates they have ever had. It happens on the fishing dock, whether casting a line or jumping in the lake. It happens in cultural ceremonies.
The strength and love within this community is the basis for healing from historical and ongoing trauma which has drastically impacted the health of these residents.
Dillon taught me how living in community is a clinical skill. Building relationships is a clinical skill. Understanding what medicine and healing means to a person is a clinical skill. Learning medicine here has been one of my greatest honors.