Spirit of the College Award
The Louis Horlick "Spirit of the College of Medicine Award" was established by the Alumni Association in honour of Dr. Louis Horlick, Professor Emeritus, Department of Medicine, for his contributions to the College of Medicine.
The annual award is presented to an individual associated with the college who has contributed over and above the call of duty and shows the spirit, dedication and enthusiasm that Dr. Horlick has exemplified over his career. The first presentation of this award was made to Dr. H.J. Spooner at the College of Medicine 50th anniversary celebrations.
Congratulations Dr. Trustin Domes on being named the 2022 Spirit of the College Award recipient!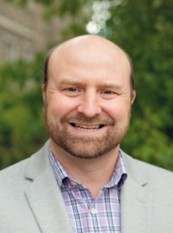 Dr. Domes is an Adjunct Professor of Surgery, Director of Undergraduate Surgical Education, and Director of Admissions at the USask College of Medicine.  He sits on numerous College of Medicine and Royal College committees.  His academic and research interests include developing and evaluating strategies to improve the delivery of medical education, including competency assessments, surgical simulation, and team-based learning.
Here is what his nominator and supporters had to say about him:
"Dr. Domes has gone above and beyond the call of duty during his 11-year career in the College of Medicine. His spirit, dedication and enthusiasm to inspire and empower others, to improve ways of teaching and to reform medical education to improve access and meet the needs of the province."

"He has been consistently ranked by undergraduate students as well as residents, as a superb teacher."

"Above all, Dr. Domes is a role model for the surgeon-educator and has inspired countless medical students to choose surgery as a career. He also is an inspiration for all our faculty members to become committed undergraduate educators. I can truly say that Dr. Domes embodies the spirit of the College for his dedication and enthusiasm for undergraduate medical education in Saskatchewan."

"Time and time again, Trustin has gone above and beyond the call of duty in every aspect of his College activities. He gracefully accepts feedback from students and colleagues 

and is always improving to better serve the student body and faculty. He is a dedicated 

and humble clinician and educator and is wholeheartedly deserving of this award."
---
Nominations for the 2023 Spirit of the College Award are now open
Do you know someone who goes above and beyond in the College of Medicine? Nominate them for the Spirit of the College Award! All college faculty, alumni, residents, students and staff are eligible for nomination. Submit your completed nomination form to medicine.alumni@usask.ca by May 1, 2023.
2021 – Dr. Rachel Asiniwasis (MD'09)
2020 – Dr. Kathy Lawrence
2019 – Dr. Annette Epp
2018 – Dr. Jose Francisco Lopez
2017 – Dr. William (Bill) Albritton
2016 – Dr. George Pylypchuk
2015 – Dr. Garth Bruce
2014 – Daphne Tkachuk
2013 – Dr. Don Stefiuk
2012 – Dr. Jack Haver
2011 – Dr. David Keegan
2010 – Dr. Ian Holmes
2009 – Dr. Earl DeCoteau
2008 – Dr. Robert Card
2007 – Dr. Lorne Hansen
2006 – Dr. George R. Armitage
2005 – Robert A. Hickie
2003 – Dr. H.J Spooner
After medical studies at McGill University, Dr. Horlick joined the faculty of the College of Medicine at the University of Saskatchewan in 1954. A cardiologist, Dr. Horlick pursued extensive teaching and research mainly in the area of hardening of the arteries. In 1962 he became Professor of Medicine, and from 1964 to 1971, he was head of the Department of Medicine. After retirement in 1989, Dr. Horlick was appointed professor emeritus and continued an active program of research and publications. He was also involved in preventive medicine and lifestyles programs for seniors.

An internationally known authority on cardiology and cholesterol, Dr. Horlick made a significant contribution to the understanding and prevention of heart disease. In addition to his professional career, he volunteered extensively with the Saskatchewan Heart and Stroke Foundation, serving as a member of the board, on various committees and as president. Dr. Horlick was the leader in establishing a cardiac rehabilitation program for patients of all three Saskatoon hospitals. He is known in Saskatoon as the "father of 9-1-1" for his role in the introduction of the emergency telephone number.
In 1988 Dr. Horlick received a National Volunteer Award, and in 1991 was the recipient of the prestigious James Graham Award of the Royal College of Physicians and Surgeons of Canada. Dr. Horlick was named an Officer of the Order of Canada in 1994.
A selection committee comprised of the Dean of Medicine, President, Past-President and Vice-President of the College of Medicine Alumni Association will select a worthy recipient of the "Louis Horlick Spirit of the College of Medicine Award".
The award will be open to nominations from the all alumni, faculty, staff and students of the College of Medicine.
All of the College of Medicine alumni, faculty, residents, students and staff are eligible for nomination.
The individual must have exemplified service and dedication over and above the call of duty.
The award will be made once a year at a time and place to be set by the College of Medicine Alumni Association.
Spirit of the Class Award
The Spirit of the Class Award is presented annually to a member of the College of Medicine graduating class that has clearly epitomized their class spirit over the entire four-year program. 
The College of Medicine Alumni Association is thrilled to present the Spirit of the Class Award in 2022 to Dr. David Luu (MD'22). 


Throughout his journey as a student in the College of Medicine, Dr. Luu exemplified the true spirit of what it means to be a dedicated student, supportive classmate, and compassionate physician.  He is highly respected by his peers and has shown incredible fortitude in the face of adversity, particularly during an unforeseen and disruptive pandemic. Despite these challenges, Dr. Luu has been a source of inspiration and positivity for his classmates.
Here are what Dr. Luu's classmates had to say about him: 
"Always smiling, always friendly, always approachable. If we needed a spokesperson, he was it!"

"He truly exemplified class spirit. I don't believe there was ever a time I saw David where he did not have a smile on his face. His enthusiasm for medicine was contagious, even during tough clinical rotations. David was someone I always enjoyed speaking with regardless of the topic and I always left the conversation with a smile!"

"Collegial and selflessly provided students with study resources throughout the years."

"He was always a positive spirit in our class. Professional, humble, and friendly."

"David has always epitomized the class spirit throughout all four years of medical school. He is someone that classmates look up to."

"David made amazing flash cards for all the lectures in first and second year and shared them with the class. During clerkship he was always upbeat, helpful and friendly."

"David Luu is an excellent representation of someone who works to better himself and shares the resources along the way.  He was a source of relief finding and developing study resources in our first two years.  Throughout the preclerkship and clerkship years he was a friendly guy, and seemed very down to earth with respect to his day-to-day work.  I know he will be a pleasure to have on any team in the future."

"He was quite instrumental in helping his classmates study for exams and tests."
Congratulations, Dr. Luu! The College of Medicine Alumni Association is proud of you! 
2021 – Kate Morrison
2020 – Odell Tan
2019 – Steven West
2018 – Nolan Rau
2017 – Taylor Oliver
2016 – Ronelle Calver
2015 – Crombie Maltman
2014 – Navid Robertson
2013 – Lynsey Martin
2012 – Julie Baxter
2011 – Shandy Fox
2010 – Susan Bobbitt
2009 – Rachel Gough
2008 – Leslie Chatterson
2007 – Jennifer Cram
2006 – Helen Lowry, Alistair Wall
2005 – R.A. Schubert
2004 – Dallas Pearson
2003 – Morgan L. Brown
2002 – Sapna Makhija
2001 – Julie L. Stakiw
2000 – Anthony Chad
1999 – Andrea J. Lavoie
1998 – Jenny Wong
1997 – Teddy Braun
1997 – Patrick O'Keefe
1996 – Philip Clark
1995 – Gordon Goplen
1994 – Kathrine Lawrence
1993 – Lara Gamelin
1992 – 
1991 – Rashmi Bhargava
1990 – Michael Nicholls
1989 – Patrice Pollock
1988 –  
1987 –   
1986 – Gary Goplen
1985 – Shirley Bell
USask Alumni Achievement Award
The Alumni Achievement Awards are presented annually to USask graduates who advance the reputation of the University of Saskatchewan and the Alumni Association. Award recipients are chosen for their outstanding achievements and innovation; commitment to excellence; community engagement and leadership; and contributions to the social, cultural and economic well-being of society.
Established in 1978, the University of Saskatchewan Alumni Association Awards honour the outstanding accomplishments of our alumni and attest to the excellence of the University of Saskatchewan educational experience. 
Nominations for the 2023 USask Alumni Achievement Awards are now open.
Do you know a USask graduate who deserves public recognition for their career accomplishments, impact on their community, or do they bleed green in their commitment to USask? Nominate them for an Alumni Achievement Award! View the online nomination form and terms of reference. 
2022 – Dr. Sherine Gabriel (MD'82), Alumni Lifetime Achievement Award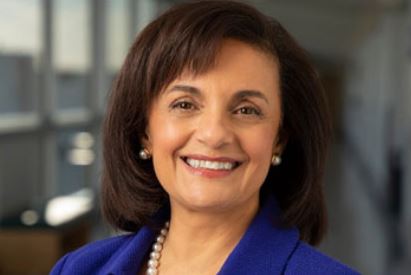 Called a "triple threat" by her peers for her excellence in clinical practice, research and education, Dr. Sherine Gabriel is a leading physician in the United States, a Fellow of the National Academy of Medicine and an elected member of the Association of American Physicians and Surgeons. 
Emigrating from Egypt to Canada as a child, Dr. Gabriel challenged cultural and gender roles in the College of Medicine at USask and stood out as a leader among her peers. She started her career at Mayo Clinic as a resident physician and continued there as a physician, researcher, educator and leader for nearly 30 years, culminating in her appointment as dean of Mayo Clinic College of Medicine in 2012.
Dr. Gabriel's research has resulted in more than 250 publications addressing rheumatic diseases. In 2019, she became the President of Rush University in Chicago, where she is preparing the next generation of healthcare professionals to thrive in a changing environment. 
Congratulations, Dr. Gabriel!
USask Honorary Degrees
Honorary degrees are the highest honour USask can award, acknowledging the worthy and unique contributions recipients have made to their community and to the world. The university recognizes individuals who have achieved outstanding accomplishments in research, scholarly and artistic works; performed exceptional public service; contributed greatly through their professional or philanthropic activity; and demonstrated extraordinary athletic prowess. 
2021 – Dr. David Mulder (MD'62), Honorary Doctor of Laws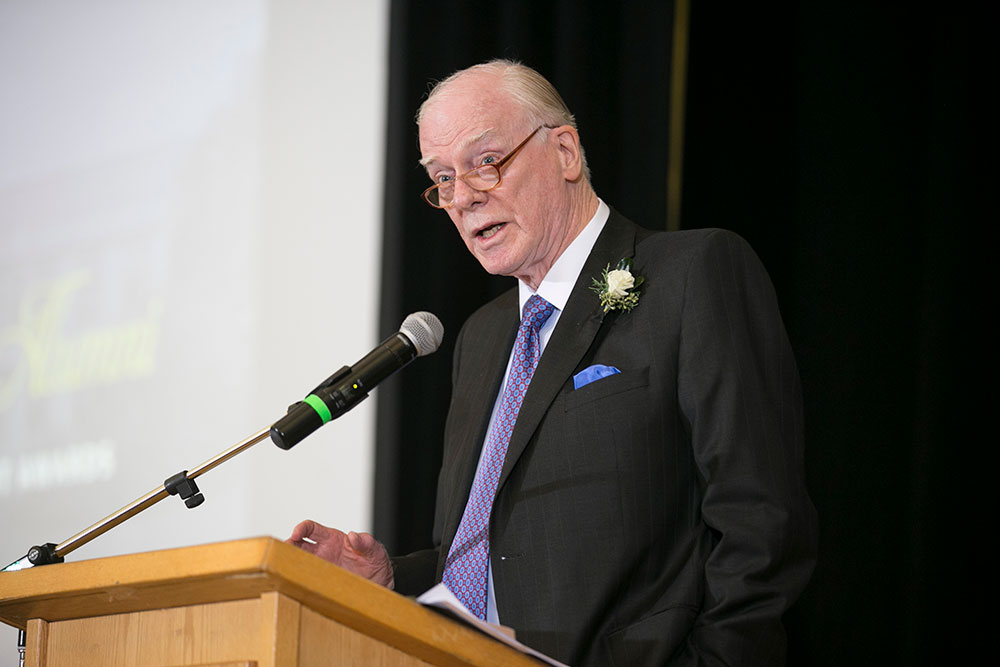 Dr. David Mulder received an Honorary Doctor of Laws degree at 2021 Fall Convocation. Congratulations, Dr. Mulder!
One of the most highly respected surgeons of his generation, Dr. David Mulder is renowned across the country.
A pioneer in trauma surgery in Quebec, Mulder has served as the team physician for the National Hockey League's Montreal Canadiens for more than 50 years, was the chief surgeon at Montreal General Hospital from 1977 to 1998, and has worked with the McGill University Sports Medicine Centre since 1994.
Born in Eston, Sask., Mulder graduated with a medical degree from the University of Saskatchewan in 1962 and a year later began his training in general surgery at Montreal General Hospital. After spending two years specializing in chest surgery at the University of Iowa, Mulder returned to Quebec where he has practiced medicine ever since. In addition to being the surgeon-in-chief of the Montreal General Hospital, Mulder was the chair of the McGill Department of Surgery, and the director of the Division of Cardiovascular and Thoracic Surgery at McGill.
An outstanding scholar, researcher and health-care leader, Mulder has been the recipient of major awards and tributes, including being made a Member of the Order of Canada in 1997, earning the James H. Graham Award of Merit from the Royal College of Physicians and Surgeons of Canada, and being selected for the USA National Safety Council Award.
Mulder has received a number or prominent professional appointments during his career, including having McGill University name a research chair in surgery in his honour. McGill also paid tribute to Mulder in October of 2015 by renaming the university's trauma centre at Montreal General Hospital as the Dr. David S. Mulder Trauma Centre.
Mulder is credited with being the driving force in developing a province-wide trauma treatment system in Quebec in the 1980s, an advancement that helped to reduce the trauma-related mortality rate in the province by 50 per cent. He has also served as only the second Canadian to be president of the American Association for the Surgery of Trauma. Mulder was also a founding member of the Pan American Trauma Society and president of the International Trauma Group.
In 2015, the Canadiens celebrated his 50 years serving as the NHL team's physician by honouring him during a ceremonial puck drop at the opening faceoff during a nationally televised game between Montreal and Toronto at the Bell Centre. Among his many achievements, Mulder was instrumental in advancing early awareness in diagnosis, treatment and prevention of head injuries, and served as president of the NHL Team Physicians Society from 2003 to 2006.