The Office of Career Advising and Mentorship's programs are dedicated to enhancing and supporting the undergraduate experience by establishing a culture of mentoring at the College of Medicine. We achieve this by empowering students to source and form strong mentoring relationships with students, residents, physicians, and community members. 
The OCA&M endeavors to support students to form strong mentoring relationships. The best mentorship outcomes will occur if students are actively involved in the recruitment and selection of their mentor and the maintenance of the mentoring relationship. The OCA&M role is to support, rather than mandate or lead, the processes. Mentors and mentees are autonomous individuals, responsible for the success of their relationship.
Student-to-Student Mentorship
The PM2 Peer Mentoring Program is a peer support program designed to match first-year students with upper-year students, with a goal to create a supportive community among students.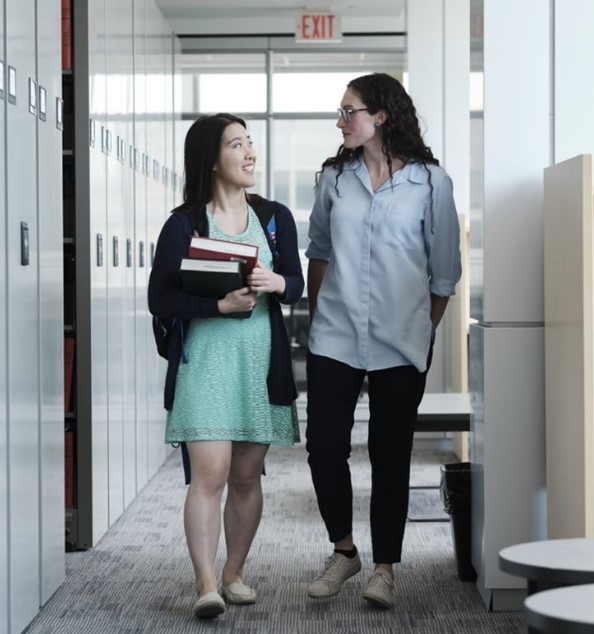 Often new students confronted with an academic or personal problem will seek out advice first from a Peer Mentor and only with encouragement will that student contact others in the university, such as counselors, faculty, or administrators.
Benefits of Being a Mentor
The opportunity to make a difference in the lives of first-year students
Enhanced professional and leadership development through an expanded network of colleagues among other mentors and students
Increased self-esteem, self-confidence and affirmation of leadership competence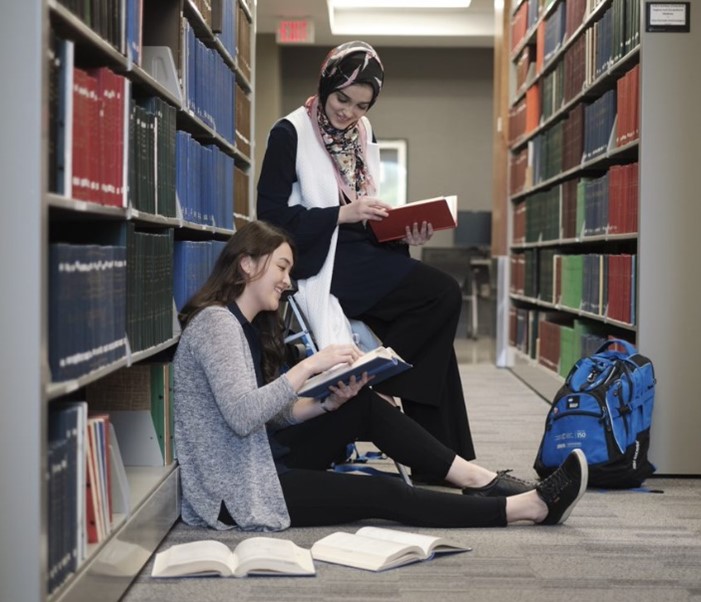 Benefits of Being a Mentee
PM2 Peer Mentoring is dedicated to engaging and empowering first-year students to successfully navigate their College of Medicine experience.
Camaraderie and better opportunity to feel a sense of belonging
Access to a support system during critical stages of their academic and leadership development
Increased self-esteem and confidence when dealing with new people and situations that come with the college experience.
How do I become a Peer Mentor?
Most mentors and mentees are recruited and onboarded via emails from the OCA&M in the summer months. If you are interested in getting involved in this mentorship program, please contact med.mentoring@usask.ca
Peers United by Leadership and Skills Enhancement (PULSE) gives undergraduate medical students the opportunity from various years to collaborate. It also empowers students who want to learn the art of teaching and educating others, as well as giving/receiving quality feedback. Considering these skills are an expectation of students entering residency, and highly important abilities used every day by physicians, PULSE helps to meet that need for student mentorship/teaching initiatives.
PULSE is the College of Medicine's student-run, peer-to-peer clinical skills mentorship program. PULSE was created specifically with students' interests and needs in mind. It was designed to provide a valuable opportunity for medical students in different years to connect and share knowledge, to gain skills in mentorship, and to foster a sense of camaraderie in the College of Medicine at the University of Saskatchewan. PULSE will allow all interested first-year medical students to connect with and learn from second-year medical students in the MD program, and facilitate confidence-building and clinical skills enhancement (history taking, physical exam, imaging interpretation, oral presentations, and more), while promoting meaningful peer connections. In turn, PULSE doubles as an excellent opportunity for interested 2nd year medical students to engage in teaching and mentoring, and to practice/review relevant material for their own learning.
If you are interested in participating in PULSE or would like to learn more about this program, please contact pulseusask@gmail.com.
Pre-clerkship Introduction to Specialties in Medicine (PRISM)
The Pre-clerkship Introduction to Specialties in Medicine (PRISM) program is a two-week program in the summer that offers first-year medical students the ability to learn about medical specialties that are currently underrepresented in the pre-clerkship curriculum. This program is highly student oriented. It is meant to help reduce stress and to guide career-minded decisions. Additionally, specialties represented in the program are flexible based on the interests of the current student cohort.
A survey will be sent out each year to measure student interest in the program. It will allow students to identify specialties that they would like to learn more about. Based on this information, PRISM directors will organize appropriate specialty-specific workshops, skills circuits, shadowing experiences, simulations, and lunchtime discussions for the students to participate in during their two-week experience. 
Benefits of PRISM
Getting increased exposure to specialties of interest before starting clerkship
Networking with other physicians and residents
Trying new hands-on skills
Participating in various organized shadowing experiences
Below is an example of the two-week schedule students will rotate through: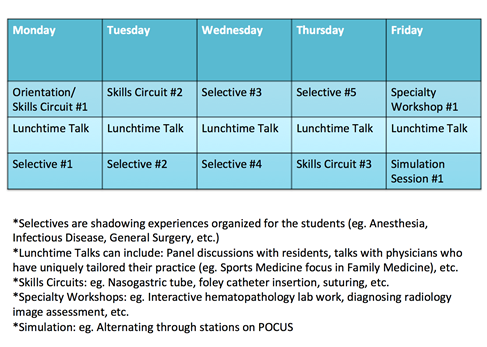 For more information, contact prism.usask@gmail.com
Physician-to-Student Mentorship
Effective June 2022 – Synergy will prioritize matching 2nd year medical students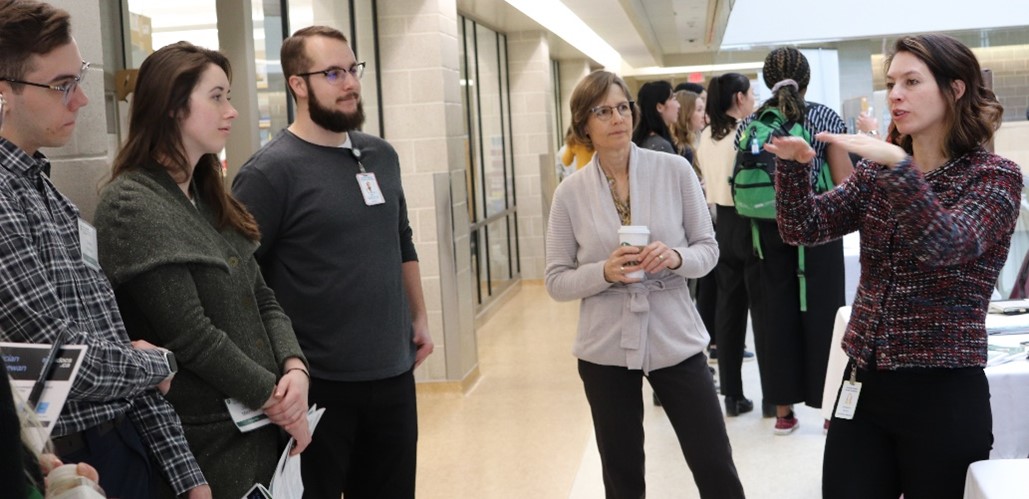 The Student-Physician Synergy Mentoring Program pairs a USask MD student with a practicing physician in a formalized mentoring relationship with an expectation to meet one hour per month from August to May.
Mentors not only have the opportunity to influence the future of healthcare but both research and experience suggest that mentoring relationships lead to increased job satisfaction, a newfound interest in one's work and self-development.
The goal of the program is to inspire learning, help students develop their CanMEDS competencies, and encourage lasting relationships by facilitating mutually beneficial interactions between the students of the College of Medicine  and the physicians of Saskatchewan.
The following changes have been made to the Synergy Mentorship Program for the 2022-23 year:
The mentoring relationships will now have a defined term from August to May.
We have created a Canvas course with optional orientation resources to help onboard mentors and mentees.
Students will now be responsible for selecting their own mentor from either the list of available mentors, or recruiting them independently through shadowing experiences or faculty profiles on the website.
I'm a physician, how do I get involved?
You can register to be a mentor by filling out this form.
We will add your form responses to a list, from which students can select their own mentors.
I'm a student, how do I get involved?
Second-year students will be invited to sign up for the program by email from the OCA&M in the summer months. The interested students will be added to the Synergy Canvas course, which will contain the list of available mentors, from which they can select their own mentor.
1, 3, and 4 year students can contact the OCA&M to be added to a waiting list in case there are additional mentors. Students can also recruit their own mentor separately from the OCA&M and then register the match to gain access to our onboarding and orientation resources.
Questions
Please direct all questions to med.mentoring@usask.ca.      
The 2SLGBTQIA+ Mentorship Program is a student-run initiative for 2SLGBTQIA+ medical students, residents, and physicians. It aims to create a safe space for 2SLGBTQIA+ individuals in medicine to meet, share experiences, and provide each other with mutual support. The program facilitates mentorship through organized large group meetings in Saskatoon and Regina. Members are encouraged to use these meetings to arrange informal one-on-one mentorship if they so choose.
Benefits
Navigating the medical profession can be uniquely challenging for 2SLGBTQIA+ individuals at all levels of training. A safe space to freely discuss issues relating to gender/sexual identity, as well as an opportunity to meet 2SLGBTQIA+ peers, can help combat feelings of isolation. Resident and physician mentors will serve as positive role models and will have the opportunity to share their experiences and knowledge with the mentees.
Medical students involved in this program will receive guidance and support from the mentors. They will be exposed to a variety of 2SLGBTQIA+ perspectives and medical specialties in the large group meetings, which will promote personal and professional development. They will have a supportive environment in which they can explore their own 2SLGBTQIA+ identity, while also gaining lifelong connections and a sense of community.
Confidentiality
Many 2SLGBTQIA+ medical students, residents, and physicians are not "out" to their peers and they may wish to remain this way for personal or professional reasons. For this reason, we ask that all members maintain confidentiality pertaining to group membership.
If you have any questions or would like to sign up, please contact rainbow.mentors@gmail.com.
The USask BMSA (Black Medical Students Association) in partnership with the Canadian Association of Nigerian Physicians and Dentists (CANPAD), is excited to introduce a mentorship opportunity for black medical students! 
The CANPAD Mentorship Program (CMP) is meant to foster professional development and academic opportunities by establishing new connections between mentees (students and members in early stages of their career) and mentors (more established CANPAD members). 
You may contact USask BMSA with questions uofs.bmsa@gmail.com
For more information and to register: https://canpad.net/Mentorship_Program
Student-to-Community Mentorship
In-School Mentorship
USask MD students have the opportunity to make a difference in the life of a Saskatoon child and to contribute to the community outside of the university. The program involves mentoring in a student's elementary school and being a positive role model in their life. Mentors are asked to commit to a visit once a week, but it can be flexible if something prevents a mentor from attending on a regular day. A mentor's chosen time during the week can also vary based on their availability and what is arranged with the student's teacher. Many mentors from the College of Medicine are located at St. Michael's on 33rd Street, which has an amazing staff and numerous activities for mentors and mentees.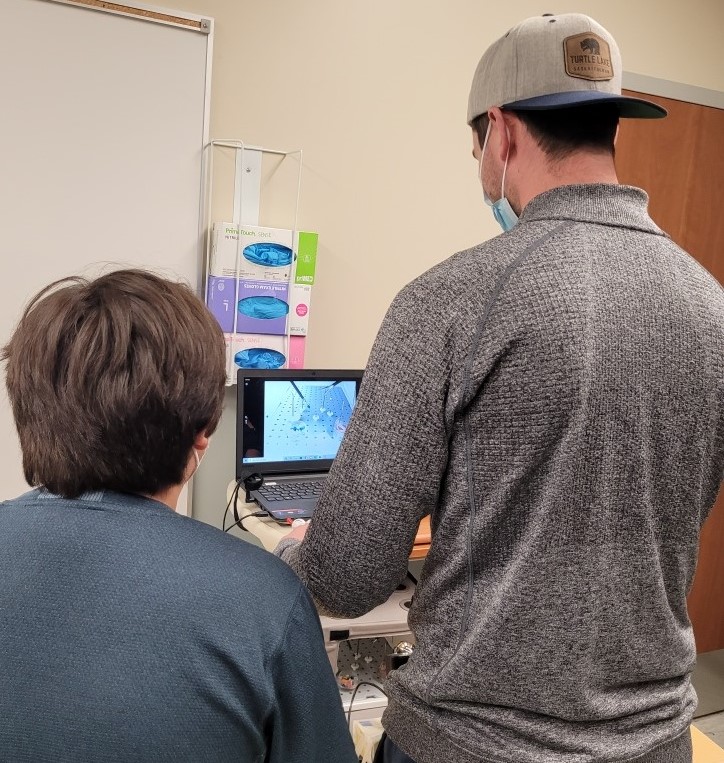 Possible activities include going outside to play sports, board games, gym activities, cooking, crafts, computers, joining them on field trips, reading, etc.
Sign up today as there are many more children still waiting for mentors! Not only do mentors impact the lives of children in a tremendous way, having volunteer and leadership experience in the community is important when applying for the residency match.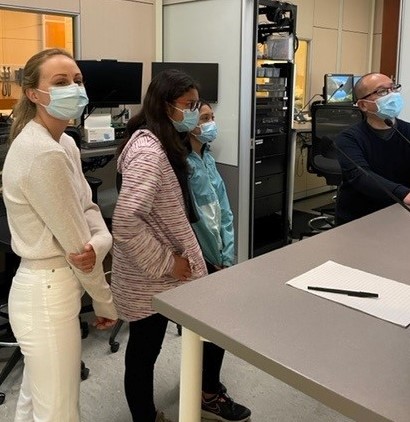 To sign up for the BBBS mentorship program or for more information, email school mentoring caseworker, Jennifer Humble. Please indicate that you are an MD student at the College of Medicine.
Traditional
Become a mentor in the Traditional Match Program and have some fun! For a small commitment of minimum 2 hours a week, you can hang out with a child that needs a mentor.  After the enrollment process, we'll provide training and match you with a child who shares your interests. You and your mentee get to choose the activities on a timetable that works for both of you Studies show that 81% of volunteers mentoring children are more optimistic about their lives.  If you've ever wanted to be a kid again, your mentee will be happy to help you out. That's the magic of the program – you learn from each other. Children who spend time with a mentor gain confidence, acquire new skills and competencies and develop an enhanced capacity to care for others. Mentors experience a sense of discovery and enjoyment as they see the world of possibility open up through a child's eyes.
In-School Mentorship (ISM)
Become a mentor to a child in a school environment in our In-school Mentoring Program.  You'll help build a child's self-esteem and school performance while having a lot of fun. It only takes one hour per week during the school year.
In-School Mentoring is our fastest growing program. It involves spending one hour a week with one child, doing non-academic activities in the child's school. It's about being someone a child can talk to and learn from – sharing interests with them, encouraging them, building on their strengths, all of which can lead to improved self-esteem and a more positive outlook on their life.
To get involved, please contact info.regina@bigbrothersbigsisters.ca.
The College of Medicine Wahkohtowin Indigenous Mentorship Program brings together University of Saskatchewan undergraduate medical students and mentees and mentors in the community to be positive catalysts in each other's lives. This program connects Indigenous students with other Indigenous students and physicians.
For more information, or to be connected with the program, please contact med.mentoring@usask.ca.
Contact
Sara Bryson
Administrative Assistant 
Student Services/Career Advising & Mentoring 
Tel: 306-966-7275
Note: Career Advisors meet with current MD students. If you have questions regarding Admissions, please contact USask College of Medicine Admissions.