About Dr. Linda Chelico
Areas of Expertise
HIV restriction factors, DNA deaminases, mutagenesis, enzyme mechanisms
In the News
Q5 with Dr. Linda Chelico and her team
U of S researchers hope to harness human DNA to fight HIV
Finding a cure for HIV a balancing act
Research Interests
Retrotransposons and endogenous retroviruses have been genomic parasites in organisms throughout evolution and have contributed to both species evolution and disease. The APOBEC (Apolipoprotein B mRNA-editing enzyme-catalytic polypeptide) family of enzymes present in their earliest form in bony fish acted as a defense to retroelements. Due to expansion of retroelements through evolution there was a corresponding expansion in the APOBEC family. The most recent expansion in placental mammals formed the APOBEC-like 3 (APOBEC3) family in response to ancient pathogenic retroviruses. Humans contain seven APOBEC3 (A3) enzymes (A3A, A3B, A3C, A3D, A3F, A3G, and A3H).
The A3 enzymes act as host restriction factors to inhibit retroelement replication through either RNA binding ability or activity as single-stranded (ss) DNA cytosine deaminases that catalyze the formation of promutagenic uracils. Our lab studies from a biochemical perspective how A3 enzymes restrict the replication of the retrovirus HIV-1.
Restriction of the replication of HIV-1 by A3 enzymes occurs through the deoxycytidine deamination activity of A3 enzymes which results in hypermutated and inactivated viral genomes. HIV can overcome A3 restriction factors by encoding the accessory protein Vif that hijacks the host ubiquitination system to induce polyubiquitination and proteasomal degradation of A3 enzymes.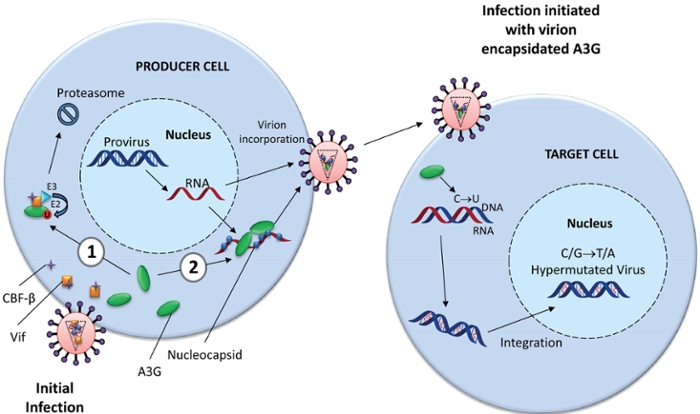 Inhibition of HIV-1 by A3G that escapes Vif mediated degradation. In an HIV-1 producer cell, the HIV-1 virus infectivity factor (Vif) interacts with the cotranscription factor CBF-β and a cellular ubiquitin ligase complex to become the substrate recognition subunit of an E3 ubiquitin ligase. (1) The Vif-E3 complex recruits an E2 enzyme that transfers ubiquitin molecules to A3G, thereby signaling it for degradation through the proteasome pathway. (2) A3G that escapes this fate, either fortuitously or in the presence of a Vif-defective HIV-1 strain, can enter an assembling virus particle through interactions with RNA (host 7SL RNA or HIV-1 genomic RNA) and the nucleocapsid portion of Gag. Then, A3G travels with the HIV-1 particle to a target cell where it waits for reverse transcription of the HIV-1 genomic RNA to (-)DNA to ensue. A3G, a single-stranded DNA deaminase is able to deaminate cytosine (C) to uracil (U) in (-)DNA, which causes the reverse transcriptase to introduce guanine (G) to adenine (A) mutations upon using uracil-containing (-)DNA as a template to synthesize (+)DNA. This creates a hypermutated and likely inactivated virus. Other A3 enzymes, such as A3D, A3F and A3H, can restrict HIV replication in the same manner, although not all A3 enzymes are equally sensitive to Vif-mediated degradation.
Figure credit: Robin P. Love.
---
Our lab studies:
(1) The biochemistry of A3 enzymes and how A3 enzymes scan nascently produced single-stranded DNA during HIV reverse transcription for cytosines to deaminate.
(2) The biochemical interface of Vif and A3 enzymes and the biochemical determinants of Vif-mediated degradation of A3 enzymes.
Selected Publications
Adolph MB, Ara A, Feng Y, Wittkopp CJ, Emerman M, Fraser JS, Chelico L. Cytidine deaminase efficiency of the lentiviral viral restriction factor APOBEC3C correlates with dimerization. Nucleic Acids Research, Feb 1. doi: 10.1093/nar/gkx066 (2017).
Ara A, Love RP, Follack TB, Ahmed KA, Adolph MB, Chelico L. Mechanism of Enhanced HIV Restriction by Virion Coencapsidated Cytidine Deaminases APOBEC3F and APOBEC3G. Journal of Virology, 91, pii: e02230-16 (2017).
Wittkopp CJ, Adolph MB, Wu LI, Chelico L, Emerman M. A Single Nucleotide Polymorphism in Human APOBEC3C Enhances Restriction of Lentiviruses. PLoS Pathog 12(10): e1005865. (2016)
Starrett, GJ, Luengas, EM, McCann, JL, Ebrahimi, D, Temiz, NA, Love, RP, Feng, Y, Adolph, MB, Chelico, L, Law, EK, Carpenter, MA, Harris, RS.  The DNA cytosine deaminase APOBEC3H haplotype I likely contributes to breast and lung cancer mutagenesis. Nature Communications. 7: 12918 (2016).
Feng Y, Love RP, Ara A, Baig TT, Adolph MB, Chelico L. Natural polymorphisms and oligomerization of human APOBEC3H contribute to single-stranded DNA scanning ability. Journal of Biological Chemistry. 290: 27188-27203 (2015).
Baig TT, Feng Y, Chelico L. Determinants of efficient degradation of APOBEC3 restriction factors by HIV-1 Vif. Journal of Virology. 88, 14380-14395 (2014).
Feng Y, Baig TT, Love RP, Chelico L. Suppression of APOBEC3-mediated restriction of HIV-1 by Vif. Frontiers in Microbiology. Volume 5, Article 450, doi: 10.3389/fmicb.2014.0045 (2014).
Ara A, Love RP, Chelico L. Different Mutagenic Potential of HIV-1 Restriction Factors APOBEC3G and APOBEC3F Is Determined by Distinct Single-Stranded DNA Scanning Mechanisms. PLoS Pathog 10(3): e1004024. doi:10.1371/journal.ppat.1004024 (2014)
Adolph MB, Webb J, Chelico L. Retroviral Restriction Factor APOBEC3G Delays the Initiation of DNA Synthesis by HIV-1 Reverse Transcriptase. PLoSONE 8(5): e64196. doi:10.1371/journal.pone.0064196 (2013)
Feng, Y, Love, R.P., Chelico, L. HIV-1 Viral infectivity factor (Vif) alters processive single-stranded DNA scanning of the retroviral restriction factor APOBEC3G. Journal of Biological Chemistry. 288: 6083-6094. (2013)
Love R.P., Xu H., Chelico L. Biochemical Analysis of Hypermutation by the Deoxycytidine Deaminase APOBEC3A. Journal of Biological Chemistry. 287:30812-30822 (2012).
Senavirathne G, Jaszczur M, Auerbach PA, Upton TG, Chelico L, Goodman MF, Rueda D. Single-stranded DNA Scanning and Deamination by APOBEC3G Cytidine Deaminase at Single Molecule Resolution. Journal of Biological Chemistry, 287:15826-15835. (2012)
Feng Y. and Chelico L. Intensity of deoxycytidine deamination of HIV-1 proviral DNA by the retroviral restriction factor APOBEC3G is mediated by the non-catalytic domain. Journal of Biological Chemistry. 286, 11415-11426 (2011).
Chelico, L., Prochnow, C., Erie, D.A., Chen, X.S., and Goodman, M.F. A structure-based model of APOBEC3G-catalyzed C deamination on single-stranded DNA. Journal of Biological Chemistry. 285, 16195-16205 (2010).
Chelico, L., Pham, P., Petruska, J. and Goodman, M.F. Biochemical basis of immunological and retroviral responses to DNA-targeted cytosine deamination by AID and APOBEC3G. Journal of Biological Chemistry. 284, 27761-27765 (2009)
Rausch, J., Chelico, L., Goodman, M.F. and Le Grice, S.F.J. Dissecting APOBEC3G substrate specificity by nucleoside analog interference. Journal of Biological Chemistry. 284, 7047-7058 (2009).
Chelico, L., Pham, P. and Goodman, M.F. Stochastic properties of processive cytidine DNA deaminases AID and APOBEC3G. Philosophical Transactions of the Royal Society of London. B, Biological Sciences. 364, 583-593 (2009).
Holden, L.*, Prochnow, C.*, Chang, Y.P.*, Bransteitter, R., Chelico, L., Sen, U., Stevens, R.C., Goodman, M.F. and Chen, X.S. The crystal structure of the anti-viral APOBEC3G catalytic domain and functional implications. Nature. 456, 121-124 (2008). * These authors contributed equally.
Chelico, L., Sacho, E.J., Erie, D.A. and Goodman, M.F. A model for oligomeric regulation of APOBEC3G cytosine deaminase-dependent restriction of HIV. Journal of Biological Chemistry. 283, 13780-13791 (2008).
Chelico, L., Pham, P., Calabrese, P. and Goodman, M.F. APOBEC3G DNA deaminase acts processively 3' to 5'on single-stranded DNA. Nature Structural and Molecular Biology. 13, 392-399 (2006).