Research Areas
Antimicrobial resistance, Cell division, Sexually transmitted infections, International health, Molecular technologies for microbial diagnostics
About Dr. Jo-Anne Dillon
Dr. Dillon received a BSc from the University of Toronto and an MSc and PhD in Microbiology and Immunology from Queen's University (Kingston, ON). She completed postdoctoral research with Dr Charles C. Briton Jr (Department of Biophysics and Microbiology, University of Pittsburgh) where she first began research on Neisseria gonorrhoeae.
Dr Dillon has held the following positions: Chief, Antimicrobials and Molecular Biology Division,  Laboratory Centre for Disease Control, Health Canada; founding Chief, National Laboratory for Sexually Transmitted Diseases, Health Canada; Chair, Department of Microbiology and Immunology and Interim Chair,  Adjunct Professor, Department of Biochemistry, Microbiology and Immunology (College of Medicine, University of Ottawa); Inaugural Director, Centre for Research in Biopharmaceuticals and Biotechnology, University of Ottawa; Dean, College of Arts and Science, University of Saskatchewan; and, Head, Department of Microbiology and Immunology, College of Medicine, University of Saskatchewan.  She leads the World Health Organization endorsed Gonococcal Antimicrobial Surveillance Program in Latin America and the Caribbean. She has led several national and international organizations and has consulted widely on STIs and public health with national and international institutions. Dr Dillon has been awarded distinguished career awards by the Canadian Society of Microbiologists and the American Society for Microbiology. She is also a Fellow of the Royal Society of Canada and the Canadian Academy of Health Sciences.
RESEARCH INTERESTS
Our research has focused on sexually transmitted infections with emphasis on antimicrobial resistance and the biology of Neisseria gonorrhoeae.
1)    Antimicrobial Resistance: Our laboratory has investigated antibiotic-resistance trends, molecular epidemiology and mechanisms of resistance, especially in N. gonorrhoeae, for over 30 years. Specific projects include:
Antimicrobial surveillance, antibiotic resistance mechanisms and molecular epidemiology of  N. gonorrhoeae (and other pathogens)
Development of molecular and point of care test (POCT) approaches for diagnosing STIs and antimicrobial resistance.
Developing a disruptive platform for the clinical characterization of sexually transmitted infections using Whole Genome Sequencing (WGS).
As the focal point for the WHO-led Gonococcal Antimicrobial Susceptibility Program in Latin America and the Caribbean, we collaborate with many countries in the region to ascertain the antimicrobial susceptibility of N. gonorrhoeae isolates. This program started in 1990.
Development of a pig model for studying N. gonorrhoeae pathogenesis (collaboration with Heather Wilson – http://vido.org/research/bacterial-vaccine-development/chlamydia-trachomatis)
2)    Cell Division: Our laboratory pioneered the study of cell division in Neisseria gonorrhoeae. We identified and characterized the gene organization of both the division cell wall (dcw) cluster as well as the min cluster, which includes the min genes- minC, minD and minE, responsible for mid-cell site selection Using targeted mutagenesis to alter the structure we have been able to ascertain important functional domains on the Min proteins. We are currently investigating the cell division interactome of N. gonorrhoeae as well as the function of FtsI in cell division.
We also study cell division in Enterococcus faecalis. We identified a DivIVA homologue in Enterococcus faecalis, a bacterium that lacks Min proteins. DivIVA from E. faecalis is essential and plays important roles in chromosomal segregation. We are currently characterizing a novel DivIVA binding protein in E. faecalis.
Bacterial biology and antimicrobials
Laboratory address: Rm A233, 120 Veterinary Road Vaccine and Infectious Disease Organization University of Saskatchewan Saskatoon, SK S7N 5E3 Tel: (306) 966-1553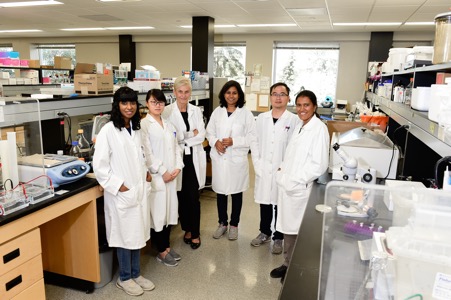 Current Lab members (from left August 2, 2017): Sumudu Perera, Cherry Wang,
Jo-Anne Dillon, Kusum Sharma, Yinan Zou and Reema Singh (missing Nidhi Gohil)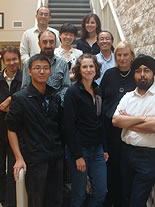 Current lab members (from left September 1, 2010): Front: G. Liu, A. Storey, J.R. Dillon, R. Parti. Middle: S. Vidovic, A. Havaei, Y. Li, M. Liao. Back: S. Dev, S. Starnino.
Laboratory members:
Selected Publications
SELECTED PUBLICATIONS
Perera SR, Khan NH, Martin I, Taheri A, Parti RP, Levett PN, Horsman GB, Kusalik A, Dillon JR (2017). A Multiplex RT-PCR Assay for the Simultaneous Identification of Neisseria gonorrhoeae and its Ciprofloxacin Susceptibility Status. Journal of Clinical Microbiology. Doi:10.1128/jcm.00855-17.
E. Alirol. T.E. Wi, M. Bala, M. L. Bazzo, X-S Chen, C. Deal,J.R. Dillon, R.Kularatne, J. Heim, R. Hoft van Hurjsduijnen, E.W. Hook, M.M. Lahra, D.A. Lewis, F. Ndowa, W.M. Shafer, L. Tayler, K. Workowski, M. Unemo and M. Balasegaram (2017). Multi-drug-resistant gonorrhea: a research and development road map to discover new medicines. PLOS Medicine 14(7):e1002366.
T. Wi, M.M. Lahra, F. Ndowa, M. Bala, J.R. Dillon, P. Ramon-Pardo, S.R. Eremin, G. Bolan , and M. Unemo M (2017). Antimicrobial resistance in Neisseria gonorrhoeae: Global surveillance and a call for international collaborative action. PLoS Med. Jul 7;14(7):e1002344.
Y. Zou, Y Li, and J.R. Dillon (2017). An Escherichia coli expression model reveals the species-specific function of FtsA from Neisseria gonorrhoeae in cell division. FEMS Microbiol Lett. May 1;364 (9). doi: 10.1093/femsle/fnx078
M.A. Trecker, J.R. Dillon, K. Lloyd, M. Hennink, A. Jolly and C. Waldner (2017). Can Social network analysis help address the high rates of bacterial sexually transmitted infections in Saskatchewan. Sex Trans Dis. 66(6):338-343.
W. Demezuk, S. Sidhu, M. Unemo, D.M. Whiley, V.G. Allen, J.R. Dillon, M. Cole, C. Seah, E. Trembizki, D.L. Trees, E.N. Kersh, A.J. Abrams, H.J.C. de Vries, A.P. van Dam, I. Medina, A. Bharat, M.R. Mulvey, G. Van Domselaar, and I. Martin (2017). Neisseria gonorrhoeae sequence typing for antimicrobial resistance (NG-STAR): a novel antimicrobial multilocus typing scheme for tracking the global dissemination of N. gonorrhoeae strains. J Clin Microbiol. 55(5):1454-1468.
S.D. Thakur, P. Araya, G. Borthagaray, P. Galarza, A Llop Hernandez, D. Payares, O.M. Sanabria Cruz, M.E. Trigoso Carvallo, A.H. Corredor, and J.R. Dillon(2017). Resistance to ceftriaxone and azithromycin in Neisseria gonorrhoeae from 7 countries of South America and the Caribbean: 2010-2011. Sex Transm Dis 44(3):175-160.
T. Kaser, J.A. Pasternak, M. Delgado-Ortega, G. Harmonic, K. Lai, J. Erikson, S. Walker, J.R. Dillon, V. Gerdts, and F. Meurens (2017). Chlamydia suis and Chlamydia trachomatis induce multifunctional CD4 T cells in pigs. Vaccine 35(1): 91-100.
M.M. Lahra, J.R. Dillon, C.R.R. George, D.A. Lewis, T.E. Wi and D.M. Whiley (2016). From zero to zero in 100 years: gonococcal antimicrobial resistance. Microbiol Austral. 10.1071/MA16058.
P. Sawatsky, G. Liu, J.R. Dillon, V. Allen, B. Lefebvre, L. Hoang, G. Tyrrell, P. Van Caeseele, P. Levett, and I. Martin (2015). Quality Assurance for antimicrobial susceptibility testing of Neisseria gonorrhoeae in Canada: 2003-2012. J Clin Microbiol. Nov,53 (11):3646-3649.
J.R. Dillon, R. Parti, and S. D. Thakur (2015).

Invited review article

. Antibiotic resistance in Neisseria gonorrhoeae isolates: Will infections be untreatable in the future? Invited review article. Culture. 35(1):1-8.
G.Q. Liu, R.P. Parti, and J.R. Dillon (2015). Suppression or ERK activation in urethral epithelial cells infected with Neisseria gonorrhoeae and its isogenic minD mutant contributes to anti-apoptosis. Microbes and Infection. Apr 17(4):317-322.