My project was, "A process for Indigenous community research through meaningful engagement with the community of Grandmother's Bay (GMB)," which was an interview-based qualitative research project.
Given the long history of institutional exploitation of Indigenous communities through research, it has been one of pewaseskwan's top priorities to ensure we are engaging in research "in a good way" that empowers the communities to be actively involved in all stages of the research process and provides meaningful benefit for the communities.
This project was focused specifically on developing good relationships with the community of GMB and conducting interviews to determine what community members felt would be most beneficial as we move forward with a research partnership. The findings from this research project will be used as guiding principles when approaching future research projects being conducted in collaboration with GMB.
I had the privilege of interviewing several USask faculty members who are involved in Indigenous research, as well as the unique opportunity to travel to the community of GMB and conduct interviews with community members.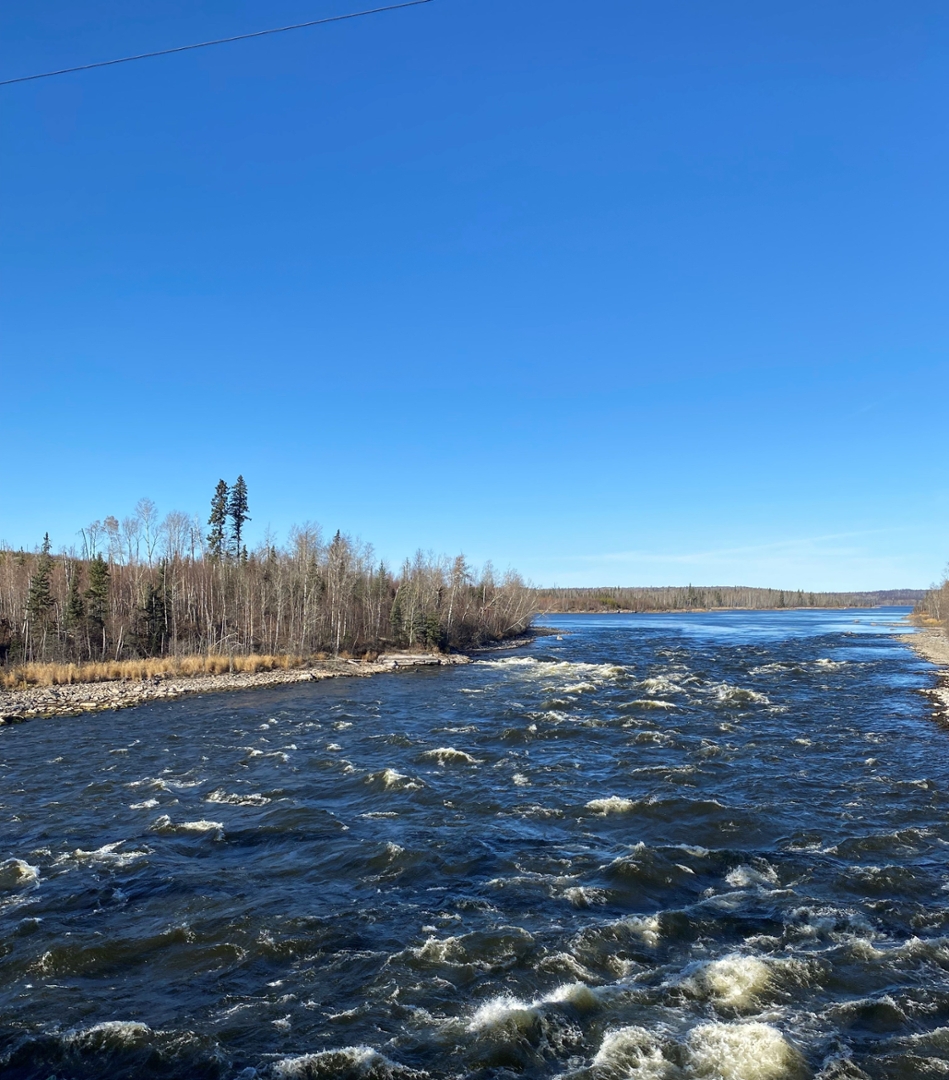 This was my first time visiting a community so far north and it was both beautiful and eye-opening. I realized how many needs this community has, which have gone unaddressed for countless years. As I sat and listened, I heard many stories of the challenging, and at times tragic, effects that many of these unmet needs have on the people of the community.
All of a sudden, any stress I had about poster presentations, publications, and other academic achievements seemed far less significant. I began to recognize even more just how important the work I was involved in was and I felt humbled and honoured to have been entrusted with building these relationships.
There is so much valuable learning to be had by sitting and listening to people tell their stories, and I was so thankful to have been welcomed into that by the community. I was initially a little nervous to conduct my interviews, as I was worried that community members may be suspicious of a stranger coming in and asking questions.
Instead, I found myself overwhelmed with the level of openness the people I interviewed displayed and how graciously I was welcomed by the community. They shared their traditional foods with me, took the time to sit and speak with me, and shared so generously from their personal experiences and wisdom.
This summer was a wonderful experience for me, and I'm thrilled that I have been able to continue to work on this project in an ongoing capacity throughout this year. This project is just the first step in establishing what we hope will be a long-term relationship which provides meaningful benefit to the community of GMB.
Trusting relationships take time and patience to build, but I believe the pewaseskwan team has made great strides so far and I am thankful to have played an important role in establishing meaningful engagement with the community.
---
Adrian Teare is a medical student at the USask College of Medicine. Learn more about pewaseskwan and Dean's summer research projects.