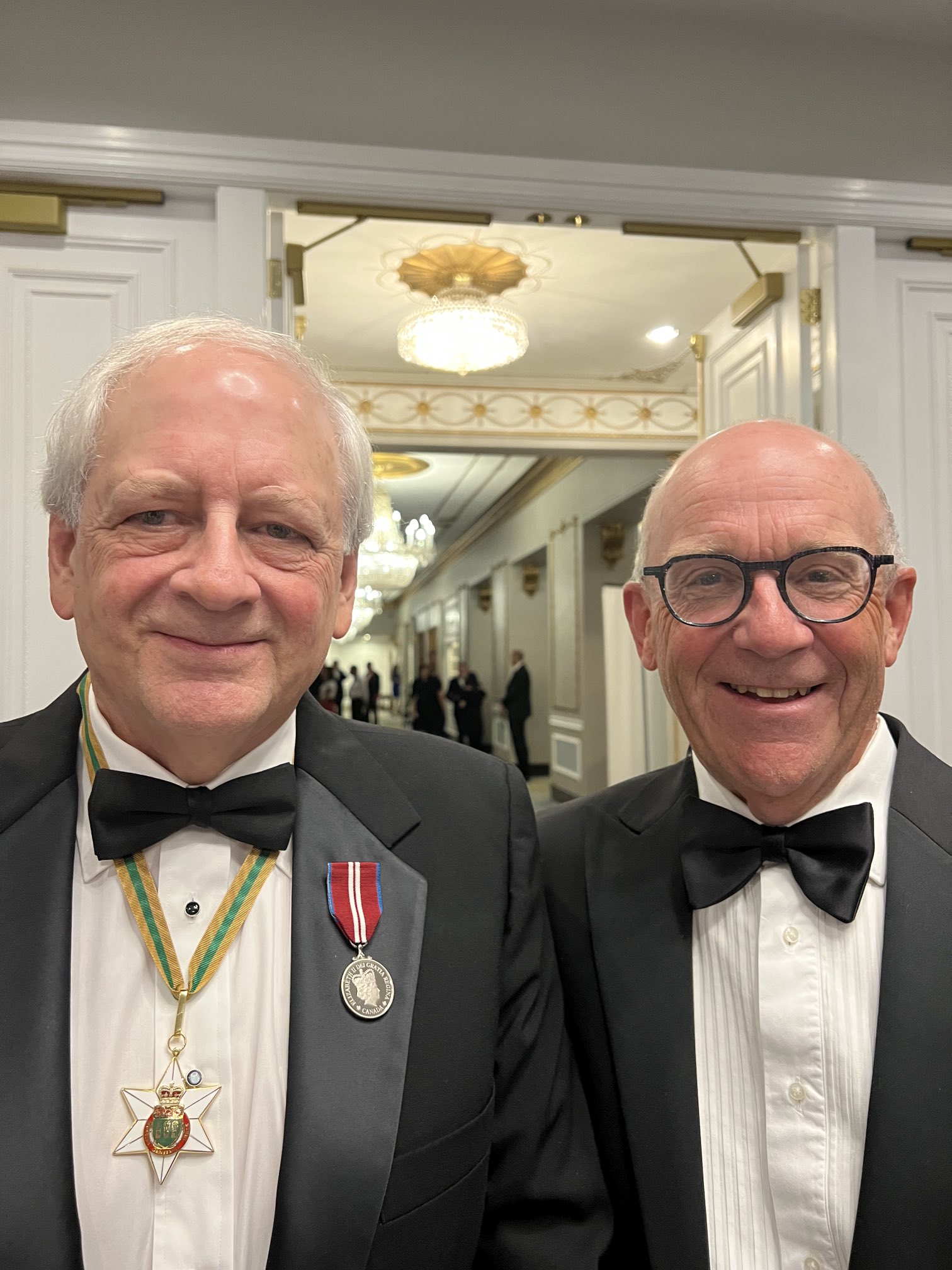 In September, Rosenberg was one of eight individuals invested at a ceremony with the Saskatchewan Order of Merit. In October, he was also one of seven University of Saskatchewan (USask) faculty members who were awarded the title of distinguished professor, which honours and celebrates exceptional achievement in research, scholarly, or artistic work.
"I certainly don't aspire to such recognition, it's not in my nature," he said of the nomination. "However, these recognitions do give me a momentary platform to highlight childhood rheumatic diseases – that children do get arthritis and related conditions, which many people don't realize. And to acknowledge the many collaborators who I work with locally, nationally and internationally, and the funding agencies and donors who have supported our program."
Rosenberg was caught off guard when he received a phone call in June from the office of the Chief of Protocol and Secretary of the Saskatchewan Honours Advisory Council.
"I was flabbergasted," Rosenberg said. "And profoundly humbled because I know there are so many others who are deserving of such recognition. It was a complete surprise to me. I didn't know I was being nominated, so it was a shock."
At the Saskatchewan Order of Merit ceremony in September, he was joined by his family – which included his wife, two children, his sister and brother-in-law.
During the evening, Rosenberg learned that a board member from The Arthritis Society had submitted the nomination for the award. Colleagues from USask's College of Medicine and the Jim Pattison Children's Hospital Foundation also provided supporting documentation
"It was a group effort to prepare the nomination material," he said. "I'm deeply appreciative of the daunting task of making the case on my behalf."
Venturing into pediatric rheumatology
Rosenberg vividly remembers the moment when he first became aware of childhood arthritis. As a second-year medical student, he and three other classmates were gathered by their mentor Dr. Don Mitchell (MD), an adult rheumatologist, to speak with a 16-year-old patient who had childhood arthritis.
"I shook her hand, and I was startled," he recalled. "Her fingers were bent; her wrist was rigid. Despite the compassionate care and the therapy available at the time it seemed to me that the child deserved more from the profession I was about to enter than it was prepared to provide."
Approximately three in 1,000 children have childhood arthritis. Only 14 per cent of people are aware that children can have arthritis, he said.
Rosenberg started his pediatric residency at SickKids: The Hospital for Sick Children in Toronto, where he remembers treating children with a variety of different rheumatic disease, including lupus, arthritis and associated eye problems, and rheumatic fever.
"Nobody knew exactly how to care for those children because there were no pediatric rheumatologists at that renowned hospital or anywhere in Canada at that time. Rheumatology wasn't an established pediatric specialty then," he said.
He completed his pediatric residency at the University of Manitoba (U of M), where he expressed his interest in rheumatology. Coincidentally, USask alumnus Dr. Ross Petty (MD'65), the first pediatric rheumatologist in Canada, had just returned to start a pediatric rheumatology program at the U of M.
During his residency, Rosenberg began studying under Petty and moved with his mentor to Vancouver to complete his subspecialty pediatric rheumatology training. Mitchell was instrumental in recruiting Rosenberg back to USask, he said.
"(Mitchell) went to the pediatric department head at the time and said, 'I'm an adult rheumatologist and I'm looking after children. Children are different, their diseases are different, their biology and physiology are different. We need a pediatric rheumatologist,'" Rosenberg said.
"I remember coming back for a recruitment visit, and said I was interested in doing pediatric rheumatology research – they took me to the lab and my name was already on the door!"
Rosenberg and his wife – who is also a physician – decided to comeback to Saskatchewan
"We expected to come back for a few years – to come back to the province that had supported our medical school education, and then move on somewhere else," he said. "But it's just such a wonderful community.
"It's a very supportive academic setting, and there was opportunity to create something new," he added. "We're still here – and we're very thankful that we stayed."
Rosenberg hadn't set out to become a researcher but working with pediatric rheumatic disease   patients and their families changed his mind.
"It was difficult to sit day after day, year after year, decade after decade, saying to families and children, 'Your joints are swollen but I don't exactly know why. We have treatments that might work but we're not absolutely sure,'" he said.
"I just felt that I couldn't be satisfied providing care for patients without also contributing to advancing knowledge about their disease," he added.
In 1981, Rosenberg established The Pediatric Rheumatic Disease Research Laboratory at USask. Over the years, the laboratory has collaborated with many colleagues and patients, and families, has mentored many students, and has been generously supported by many organizations including, The Arthritis Society, the Jim Pattison's Children's Hospital Foundation, and the Canadian Institutes of Health Research, in addition to individual donors.
"For me, working with children and their families has been most rewarding. It's inspiring to see these children thrive despite their illness, and I am grateful to them for how much they have taught me," he said.
"When children develop arthritis and rheumatic diseases as children, many will continue to have those problems as adults," he added. "We need to invest more into caring for and understanding these children's diseases to ensure that they're healthy – not just now, but into their long-term futures."