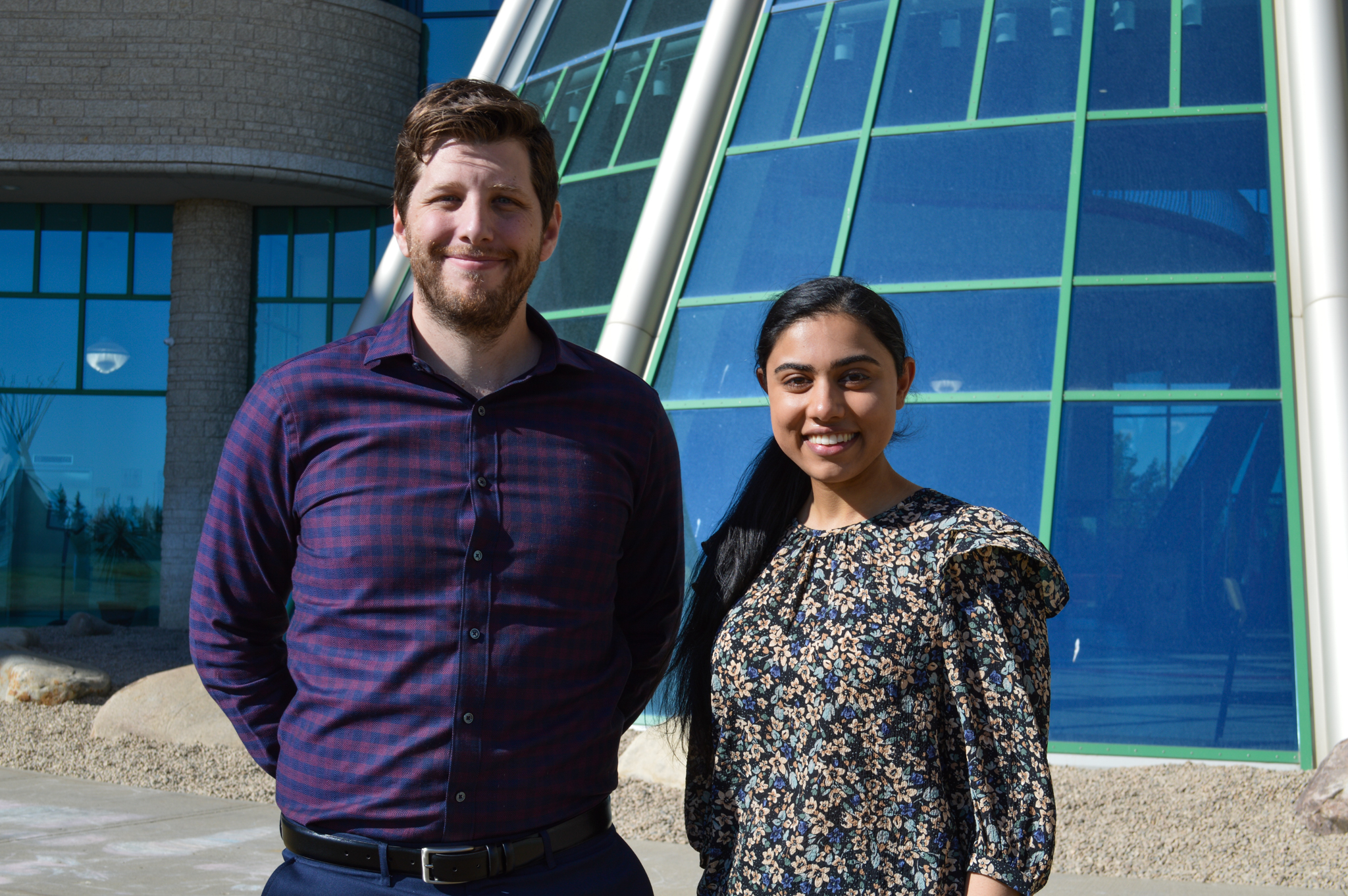 It was about 20 degrees outside, sunny and not a puff of wind. Forty first-year medical students assembled on the lawn of the First Nations University of Canada and followed knowledge keeper Lamarr Oksasikewiyin's lead in doing arm circles to get warmed up for traditional Indigenous games. Oksasikewiyin's workshop combined history with traditional games that build skills in hand-eye coordination, lung capacity and core strength.
The workshop was organized by the campus's first Indigenous Coordinator, Amanda Crowe, who is the first person in the new role on campus that connects students with cultural support and facilitates the implementation of Indigenous experiences in the curriculum.
"I would say that the treatment and understanding towards Indigenous people is not quite where it should be as health care professionals," said Crowe, whose career includes 15 years as a paramedic, primarily in Indigenous communities, and policy research. "So, I thought this (Indigenous Coordinator) position at the College of Medicine would be a great way to help train future physicians so we can provide better healthcare to our Indigenous community."
Workshops like this aim to provide history of the residential school system, Indigenous traditions, and to engage students and participate in cultural aspects of fun learning environment.
In addition to interactive workshops, the learning environment on the Regina campus is unique. The campus is in Regina General Hospital, where staff and physicians no doubt noticed more than the usual number of students, marked by their blue Canadian Medical Association (CMA) backpacks, navigating the corridors to the Health Sciences Learning Centre, classroom, or lecture theatre in search of the location of their next class, or for a caffeine jolt at Robin's Donuts.
"I really enjoy the fact that we're in the hospital as part of our courses, even though we're not interacting with patients," said Alexandre Belisle, a first-year MD student whose academic journey has taken him from studying for the MCAT while working in gold mine in Val-d'Or, Quebec to the University of Saskatchewan (USask). "You always see patients walking around and you get an idea of the flow of things."
Apart from the setting, the small class size is seen as an added perk for attending medical school on a smaller campus, and USask in general.
"The fact that there's only 40 of us here really does allow you to build those connections from very early on," said first-year MD student Sarah Bains, who moved from Vancouver, B.C. to pursue a bachelor's degree at USask. "I've, learned, if anything, (those connections) are super important just for your growth as a student and then into a medical professional."
Medical education in Regina has evolved since the first Family Medicine residency in 1974. Clerks have trained in Regina since 1975. Since then, the campus's teaching and learning presence has expanded to include five residency programs, one enhanced skills program, and the entire four-year undergraduate MD program. On Aug. 3, 2022, the campus welcomed its first cohort of Year 1 students.
"We are excited to have these future physicians start their training in Regina," said Dr. Gill White (MD), associate dean of the College of Medicine Regina campus. "This is something that we have been working toward for many years."
Timing worked out well in 2020, when the college was beginning to implement a new curriculum, which coincided with plans to expand the campus's medical education programs.
Dr. Jaqueline Kraushaar (MD), Year 1 site coordinator and assistant professor, was involved in helping to add the first year of MD programming to Regina campus's offering and making them a reality. Beginning in 2021, she and a team of administrators, faculty, and campus stakeholders began the formal planning process.
"The team has been amazing," said Kraushaar. "I think the best part has been the level of excitement that's been here. Everyone's just really excited to be a part of, I think, a really big thing for our city."
The planning team began with the high-level picture and gradually dove into the details that make the student and faculty experience. They ensured the campus had classrooms, equipment, IT support, faculty, simulated patients (SPs), even anatomy models, to accommodate the first-year curriculum.
It involved recruiting new SPs, hiring staff to facilitate the program, including a person to train SPs, a person to provide Indigenous cultural supports, and learning opportunities on campus. There was also the task of planning and developing a new learning space within the campus that has a new anatomy lab, which Kraushaar said will help to strengthen the College of Medicine experience in Regina.
Prior to 2022, students completed the first year of their program in Saskatoon, then 40 of the class of 100 students would relocate to the Regina campus to finish their degree. One of the goals of the program expansion has been to avoid the disruption to students when transitioning between campuses. 
With classes now in full swing, both Belisle and Bains are settling into medical school and life in Regina. Neither student had a preference to which campus they studied, and both relocated from Saskatoon.
"I thought that I would probably get very home sick because a new program and a new city is a lot at once," said Bains. "It did work out for the best, because I'm glad that I'm here, and I've been reassured by my experiences and interactions with everyone here. I'm really happy."