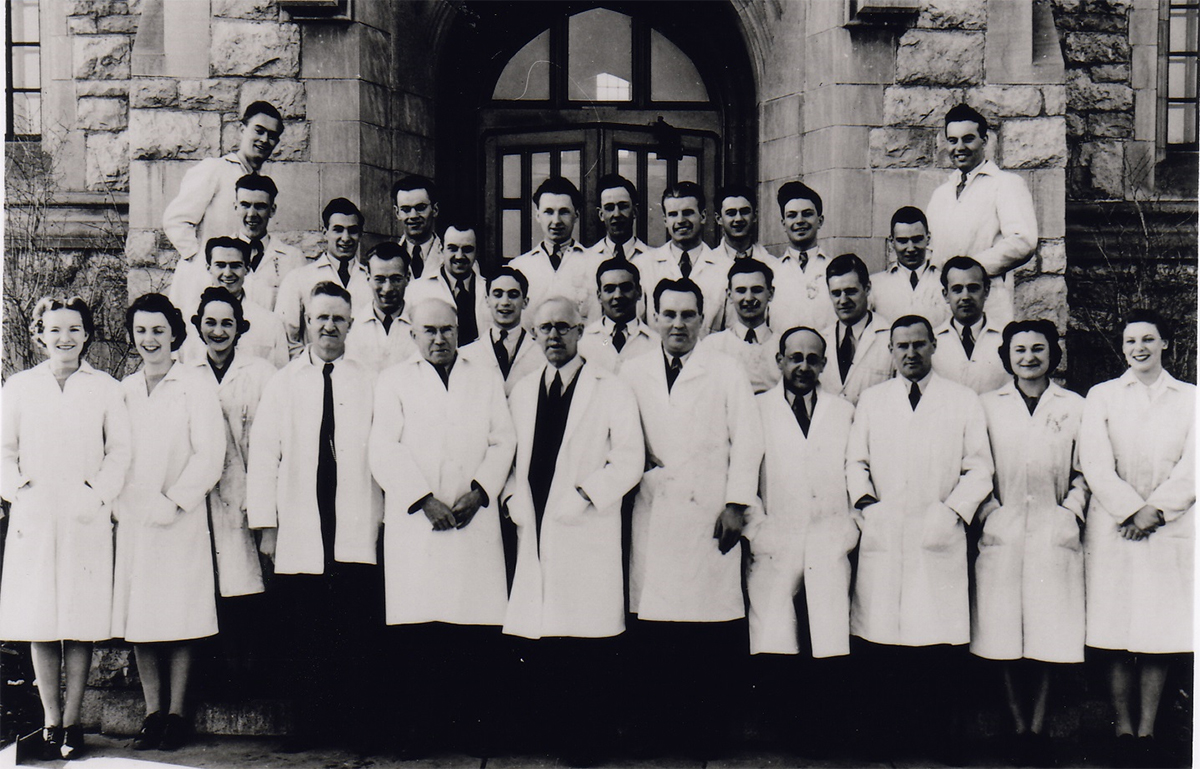 You could say becoming a doctor was always in Dr. Rhonda Collins' (MED'40) blood. She was born in 1919 in Yorkton, Saskatchewan to a physician father. However, medicine was not a clear career path for women in the mid-1930s and she faced numerous challenges in fulfilling these aspirations. 
Collins recently celebrated her 102nd birthday and despite her advanced age, she fondly recalls her time as a medical student at the University of Saskatchewan.
For as long as she can remember, Collins wanted to be a doctor. Her father believed that if she was to attend medical school, Collins would never marry.
Collins was accepted to the College of Medicine (then known as the School of Medical Sciences), where she joined a small but proud group of female medical students. Collins enjoyed her education, enrolling primarily in science and French language electives.
The university and the world were very different places at the time. World War II had broken out a few months earlier. Despite Canadians being pulled into conflict on another continent, Collins persevered and graduated with a Bachelor of Arts with a Certificate in Medicine on May 10, 1940, the day that German forces invaded France.      
Collins completed her medical degree at the University of Manitoba in 1943. She followed in the footsteps of her father, Dr. Harvey Boughton, who graduated from the same program 28 years earlier. Collins held a special interest in obstetrics and gynecology, earning the prestigious Charlotte W. Ross Gold Medal in Obstetrics for her outstanding commitment to women's health. Despite being a highly skilled and educated physician, Collins fell victim to gender prejudices of the time, when women were restricted from performing surgery. 
Looking back, the memory Collins is most fond of during her time in medical school is meeting the love of her life, Dr. Lorne Collins, who had enlisted in the Royal Canadian Army Medical Corps. He knew that his surgical expertise would soon be required closer to the front lines of war. They married in February 1943, before Lorne was again stationed overseas. The pair endured two years apart before Lorne returned to Canada in 1946.  
Soon after his return, the couple moved from Winnipeg to Pincher Creek, Alberta, where they set up a successful medical practice. Collins' love of family was strong, and she temporarily stopped practicing medicine to raise their four children, returning to the medical profession in 1963 after their youngest child was old enough for grade school. The couple were well-respected in the community and continued to provide the residents of Pincher Creek with critical medical care until they both retired in 1979. 
After Collins retired from medical practice, she continued to be an active participant in her community. She served on the Pincher Creek School Board and took on administrative roles at the University of Lethbridge, including two terms as Senator and one term as Chancellor, in addition to sitting on the university's first Board of Governors. 
Retirement gave the couple an opportunity to travel across North America in their motorhome. They eventually purchased a residence in Arizona and spent many happy winters with friends and family. 
Together, the pair built a rich life based on service to their community, humility and love of family. They were successful in instilling these qualities in their children, including Dr. Ruth Collins-Nakai, an influential Western Canada physician. Sadly, Collins' husband passed away in 2019 at the age of 101, after 76 years of marriage.
Collin's story is an inspiration to the entire College of Medicine community, including all 81 graduating classes that preceded hers, but particularly to those in need of a reminder that anything is possible. 
The College of Medicine will celebrate Collins at her 80th class reunion (as a member of the Class of 1940) during the annual Highlights in Medicine Conference and Reunion on August 27 and 28, 2021.