The New Frontiers in Research Fund (NFRF) exploration grants were awarded for:
Research by the team of USask College of Medicine neurology professor Dr. Michael Levin (MD)'s team and collaborators from the University of Waterloo to combine synchrotron technology, computational biology, and molecular neurobiology to design treatments for decreasing nerve cell deterioration in multiple sclerosis (MS) patients;
Research by the team of Dr. David Cooper (PhD), professor of anatomy, physiology and pharmacology in the medical college, along with collaborators from the University of Alberta and Queensland University of Technology in Australia, to use bone science, biomedical engineering, synchrotron imaging and computer modelling for developing better treatment regimens for osteoporosis;
Research by the team of Dr. Byung-Kook (Brian) Ham (PhD), assistant professor in biology at the College of Arts and Science and research chair in USask's Global Institute for Food Security (GIFS), to combine plant biology and plasma physics along with real-time imaging to help improve crops by studying how a live plant's vascular system distributes minerals to survive under nutrient-stress conditions.
Improving lives of MS patients
Canada has some of the highest rates of MS in the world, and Saskatchewan in particular has some of this nation's highest rates of the autoimmune disease, which causes acute attacks of neurologic dysfunction.
Current drug treatments are effective in stopping the immune system of MS patients from attacking myelin—the protective outer coating of nerve cells in the brain and spinal cord—and stabilizing symptoms such as fatigue, muscle weakness and incontinence, Levin said.
However, the immune system attack is believed to trigger degeneration of the nerve under the myelin in about half of MS patients, leading to a "slow, smouldering loss of neurologic function, which is what we are looking at," he said.
His USask team found a mutated form of a large protein, known as A1, is found in the brains of MS patients. The Frontiers award will be used to study the mutation that causes A1 to get stuck and tangled (aggregate) inside the cytoplasm of nerve cells in MS patients, contributing to cell death.
"This grant is about interrupting that aggregation, and getting the A1 untangled so it can go about its business normally, shuttle back on forth between the nucleus and cytoplasm delivering RNA," said Levin.
RNA is ribonucleic acid, which is turned into proteins that fuel the cell. Researchers aim to design small proteins, called peptides, to insert into the cell and untangle A1.
Team members Aravindhan Ganesan and Subha Kalyaanamoorthy from U of W, experts in computational protein biology and 3-D computer modelling, will study how A1 mutates to change shape.
Levin's team, which includes Drs. Patricia Thibault (PhD), Joseph Clarke (PhD), Bogdan Popescu (MD, PhD), John DeCoteau (MD), Ron Geyer (PhD) and Landon Pastushok (PhD) from the USask College of Medicine, and senior Canadian Light Source (CLS) scientist Dr. Scott Rosendahl (PhD), will use an infrared CLS beamline to track the movements of fluorescent-tagged A1 in real time to understand how the protein aggregates.
The research could lead to developing add-on drugs to save nerve cells, reduce disability, and improve the lives of persons living with MS, Levin said. The findings could also benefit others with neurologic diseases such as Alzheimer's, Parkinson's and Lou Gehrig's that involve malfunctioning RNA-binding proteins, Levin said.
Studying osteoporosis development up close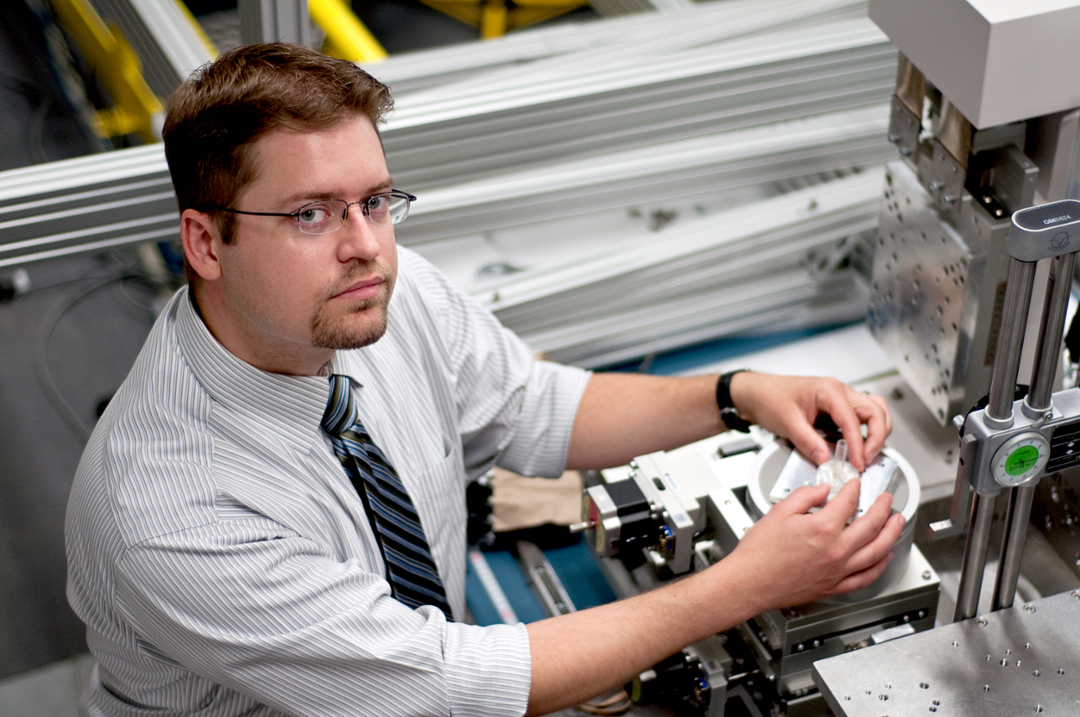 Osteoporosis (OP), a disease that causes loss of bone mass and bone deterioration, affects two million Canadians.
Cooper's lab focuses on the hard outer shell of the bone, which stores and releases calcium and phosphate as the body requires. Bone is a living tissue that accumulates microdamage over time and is renewed in a complex process called remodelling.
Remodelling occurs through basic multicellular units (BMUs). The process has one cell type boring holes in the bone and another type refilling them. However, as people age or are treated with glucocorticoid drugs (i.e. prednisone) for such as Crohn's disease, the pores don't completely fill in, leading to weakening of the bone, Cooper said.
Observing the pores forming within the bones of a live animal or human in real time is difficult because imaging pores the cross-sectional size of a human hair requires a very high dose of X-ray radiation.
"The innovation we bring to this project is using the CLS, which gives us a pathway to seeing smaller things while minimizing the radiation dosage," said Cooper.
The first big piece of Cooper's project is three-dimensional imaging of pores as they evolve over time in a live rabbit model. The second involves studying the near real-time the effect of OP drugs on the pores, thus filling in gaps in current knowledge about the process.
The final piece is employing computer simulation to predict how BMUs behave at the microstructural level and extrapolating it out to the whole bone, with expertise provided by co-applicant and QUT bio-engineering professor Dr. Peter Pivonka (PhD). 
"If you can plot out the behaviour of a BMU in the four dimensions of space and time, and scale that up in a computer simulation, you suddenly have a whole new platform for exploring treatments. You could design computer-based treatments, and then run experiments to confirm efficacy," Cooper said.
Co-applicant team members from USask's medical college are: Dr. Arash Panahifar (PhD), adjunct professor in medical imaging; Dr. Dean Chapman (PhD), professor of pharmacology; and Dr. Terra Arnason (MD, PhD), associate professor of endocrinology and metabolism. U of A pharmacy and pharmaceutical sciences professor Dr. Michael Doschak (PhD) is collaborating.
For the full story, visit USask's news site.