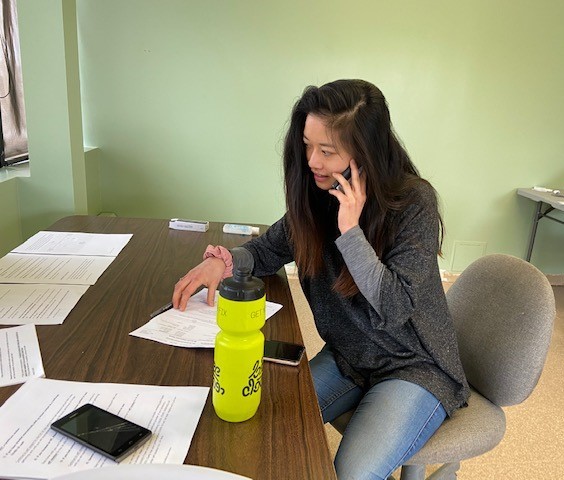 College of Medicine students have organized the University of Saskatchewan Public Health Student Task Force. The group is made up of health science students, including medical students and physical therapy students.
"When you see everyone in 'your world' mobilizing in one team effort to help, it feels impossible to not get involved, even in the simplest of ways," said third-year medical student Kate Morrison. "My teachers, the doctors and healthcare teams we work with every day, are now busy working on the frontline – so it only feels appropriate to do anything we can behind the scenes to help."
About 120 medical students (Years 1, 2 and 3) in Saskatoon, 40 students in Regina and three students in Prince Albert have volunteered to assist Public Health and Infection Prevention and Control with their needs during the pandemic. Masters of physical therapy students are expected to join in on the task force work this week.
"Being given the chance to work under, help and learn from the incredible people at public health while helping with the response to COVID-19, is an incredible opportunity as a medical student," second-year medical student Sehjal Bhargava said.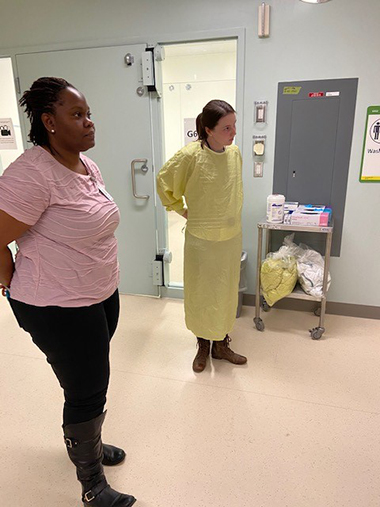 Students have signed up for four- or eight-hour shifts, working with public health officials to be trained and supervised to assist with communicating COVID-19 test results to patients and contact tracing. Contact tracing involves working with patients over the phone to determine who they may have been in contact with and when. 
"Having health science students help with these tasks is an important part of the public health response (to COVID-19)," said Dr. Mckague. 
By assisting with calls, students are helping Public Health get test results back faster to patients, so they can limit the spread of the disease among the people they have been in contact with, she added.
Students will also be coaching healthcare providers about proper techniques in donning and doffing personal protective equipment (PPE) to ensure it is done correctly to reduce exposure.
Medical students are currently pulled from all clinical learning experiences including clerkship. The CoM is supporting this initiative through coordination of volunteers. It is a brief QI pilot project to inform potentially having embedded PPE coaches in clinical units in the future (future embedded coaches would not be MD students).
"(The students are) really committed and they want to do everything possible to slow down the number of new cases," Mckague said.
Morrison said that the task force has had an overwhelming response from students – volunteer shifts are filled within minutes.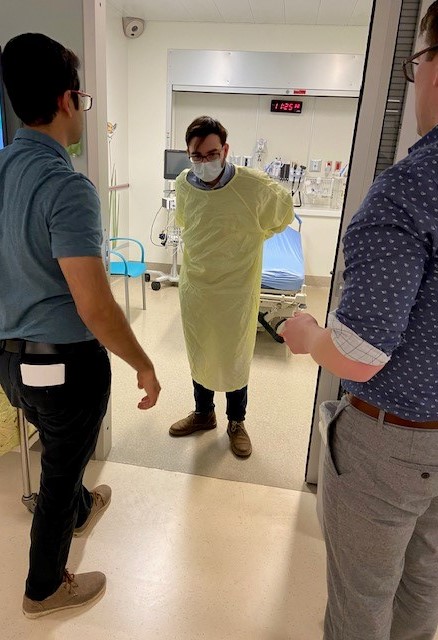 "Healthcare professionals are currently working tirelessly around the clock," third-year medical student Mackenzie Moleski said. "What has immediately struck me is the sheer amount of healthcare professionals responding to this pandemic."
Moleski added that she was proud to be a small piece of the puzzle, working virtually alongside family doctors, nurses and ICU doctors.
Third-year medical student Nick Nishikawa said he was privileged to have this volunteer opportunity.
"In this pandemic situation where all hands are on deck, I felt a strong desire to help out healthcare workers and the greater community in any way possible," Nishikawa said.
The Saskatchewan Public Health Student Task Force is being led by Sehjal Bhargava, Kate Morrison, Amira Muftah, Samuel Simonson and Shayan Shirazi (SMSS Volunteer Rep). 
They are supported by Tamara Hominuke and Kathryn Cooper (undergraduate medical education administrators) and Dr. Meredith McKague (Faculty Liaison for students volunteering with Public Health).
The Saskatoon Resident Lead is Dr. Boris Hencic (Public Health Preventative Medicine). Medical health officers and Public Health staff in Regina, Saskatoon and Prince Albert are involved, with leadership by Dr. Jasmine Hasselback. Saskatoon Infection Prevention and control staff are also involved, in collaboration with Dr. Vicki Cattell.
Students receive community support
As the students volunteer their time, local businesses, restaurants and organizations are also stepping up to support their efforts by sponsoring meals and parking for students. This task force has received generous sponsorship from The College of Medicine Alumni Association and the Saskatchewan Medical Association (SMA) Roadmap Program and local Tim Hortons owners (through the Royal University Hospital Foundation), as well as other local businesses.