As part of the third annual Medical Education Research and Scholarship Day (MERSD) on June 7, plenary speaker Dr. Sara Kim (University of Washington) was invited to talk about her research into conflict resolution, "A Year-Long Conflict Shaping a Lifetime Journey in Conflict Management Scholarship."
"We all struggle with issues in day-to-day practice in our work and learning environments," said Dr. Cathy MacLean, who is part of the Faculty Development planning committee.
"We wanted people to think about how you can solve these problems, and Dr. Kim showed us you can research and solve it all at the same time," she added.
"Dr. Kim showed us you can have an academic approach to conflict and make a difference in your life and the lives of others," she added.
Kim's presentation was one of two plenary speakers for the day. Dr. Francis Christian (Department of Surgery) also spoke about, "Surgeons and the Surgical Humanities" during his plenary session. They were two of about 40 poster and oral presentation speakers present during the day. More than 70 people were in attendance. 
MERSD is an opportunity for medicine students, residents, faculty and members from other colleges to come together to present their research and network. It's also a chance for attendees to learn about medical education topics, from conflict resolution to developing a public health approach for mental health in medical students.
MERSD on the Move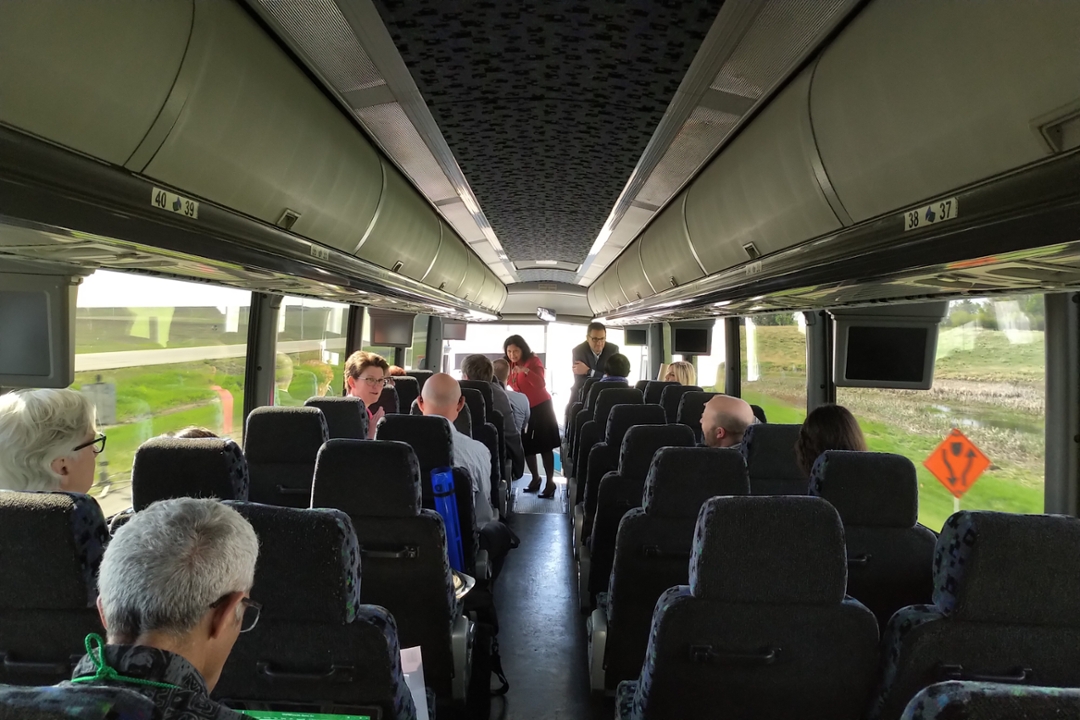 Since this was the first time MERSD has taken place at the Regina General Hospital, about 20 Saskatoon attendees travelled together on a bus before joining the rest of the group.  
Those on the bus had a chance to listen to Dr. Kim's presentation on student maltreatment. Dr. Brent Thoma conducted an interactive survey about priorities for a future educational scholarship and research unit within the University of Saskatchewan.
"The atmosphere on the bus was very relaxed," Thoma said. "It isn't very often that we get to engage each other without an agenda. While some college business was conducted during the drive, the open time and space to speak with each other was refreshing."
Medical education can sometimes be viewed as an additional task to someone's plate, MacLean said.
"When in actuality, it's that thing that gets other things done," she said. "And sometimes you're able to generate scholarship out of it when you take a rigorous approach to solve it."
MacLean noted the day wouldn't have been possible without the help of Dr. Helen Chang and the Faculty Development site planning committee located in Regina.
"We also appreciated having Vice Dean of Education Dr. Kent Stobart and Vice Dean of Research Dr. Marek Radomski who were present during the day," MacLean added.
The next MERSD event will take place in Saskatoon on June 12, 2020. In light of the enthusiastic response to MERSD on the Move, there are potential plans to have a bus to take Regina faculty members north. 
"It's a great way for people to have some time together … it may end up becoming a permanent feature," MacLean said.