Students, faculty and staff in the College of Medicine have been hard at work supporting improvements, data collection, documentation and planning to ensure a successful outcome from the upcoming accreditation visit for the undergraduate medical education program. The visit takes place October 29 to November 2, 2017.
A significant measure of success is the shift to "green" status of a large number of accreditation elements that the college will be assessed on at the visit.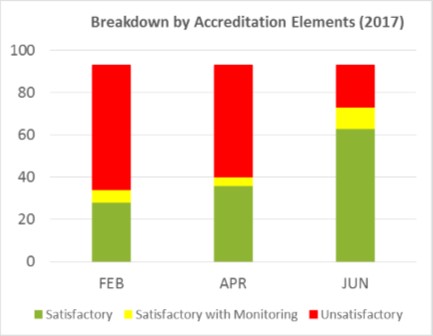 In key areas of undergraduate medical education curriculum, we have:
Augmented the research curriculum so students have more opportunity to engage in research and  knowledge translation for clinical care
expanded the patient safety curriculum incorporated in the early years of the undergraduate medical program, better equipping students for upcoming clinical experiences
added interprofessional education modules to third-year student learning to support effective collaborative and team-based health care provision.
In our college's work in social accountability, we have:
gained approval for a new Diversity and Social Accountability Admissions Program to support access to the MD program for socio-economically challenged and disabled applicants
the Division of Social Accountability has expanded its Making the Links Global Health Certificate
program with an Indigenous Health Stream
more information on social accountability achievements can be found on Preston's Page
Work continues and progress updates will be provided through the summer and fall. Planning and preparation for the accreditation visit is also well underway. The college will be reviewed on 12 standards composed of 93 elements, across curriculum, teaching, educational resources, faculty preparation, leadership and administrative processes, student services and more.