A professorship created by two former College of Medicine grads is helping to fund its third research project – and this time around the beneficiary is Dr. Yanbo Zhang.
The Indiana Smalls Professorship was created by doctors Iver (MED'51) and Joyce (MD'56) Small, who both graduated from the University of Saskatchewan before settling in Indiana to practice psychiatry in 1965.
The endowment associated with the professorship will be providing Zhang with the much-needed funds to continue his deep transcranial magnetic stimulation (Deep TMS) treatment research as an alternative to pharmacological treatments for a variety of mental health conditions.
"Repetitive transcranial magnetic stimulation (rTMS) is already a Health Canada approved treatment," Zhang said. "A probe is attached to the head (which) delivers a very intense and focused treatment to (predetermined) areas of the brain. The equipment is expensive, and also needs a technician who has been trained to deliver that treatment in the clinic."
It also requires the patient to remain immobile for 20-30 minutes, five-days a week for four to six weeks of treatment – which is a lot to ask from most patients, but even more impractical for rural and remote patients seeking treatment. And that's where Zhang's Deep TMS treatment comes in.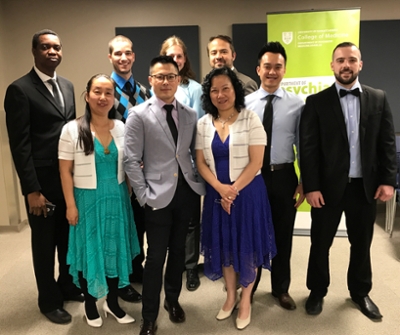 "The basic principle is similar to RTMS: to deliver a magnetic field and to change the brain functions," Zhang explained. "But (Deep TMS) is designed differently - it's like a laptop, but bigger. So we can put a pillow on it, and when patients lay their head down it delivers the transcranial magnetic stimulation.
"We don't need a technician, we don't need to really precisely refine the location (of the magnetic field), the intensity of this magnetic stimulation is only a tenth of the current one, and the patient will feel more comfortable because their head can move a bit."
But one of the biggest differences between the two treatments is the accessibility that the Deep TMS system allows for.
The original rTMS systems cost approximately $85,000 per machine, were immovable, and required a trained technician to operate, meaning rural and remote patients were forced to travel long distances to receive the treatment. But Zhang's new techniques has a unit cost of only $3,000, doesn't require a technician, and the smaller size allows for easy transportation – meaning that patients could potentially 'sign out' the machine and to use it at home.
"That can really help to improve their quality of life," Zhang stressed. "And if we can apply that to our inpatient treatments, it could potentially help us to decrease the hospital stays. So it's the optimal way. And it's not necessarily a brand new way, but it's very practical to see how we can change our practices, especially when we have a tight budget, a long waiting list, and so many patients not able to get their treatment in a timely fashion."
Zhang's work is currently still in the testing phase, despite the fact that depression treatment using this equipment has been proven to work. The funding from the professorship will help him determine which cells are being altered during the treatment, and whether that data can help to expand the number of mental health conditions Deep TMS can potentially help treat.
"And in remote areas where resources are limited and we don't have technicians, no other equipment, this could be an alternative."