The environment is a topic that's being tackled all over the world, at all levels of government and engagement – and inside the College of Medicine, a small group of students are working to make small, positive changes a daily part of the lives of their classmates.
"There's a study that came out of Yale quite recently that said if a physician talks to their patient about climate change they're more likely to believe that climate change exits than if any other person talks to them about it," explained Emily-Lauren Simms, who is helping to promote an Environmental Sustainability Awareness campaign in April alongside the Student Medical Society of Saskatchewan's (SMSS) Committee on Global Health. "And as health advocates, I think that it's especially important for us as future physicians to have passion about what we believe in because the health of our planet is intrinsically tied to the health of our patients, family and friends.
"(And) one day I was looking around one of my classes and I noticed how many disposable cups my classmates would go through in a day – we'd fill a garbage can per day, per class – and I just thought to myself 'how could I change this?'"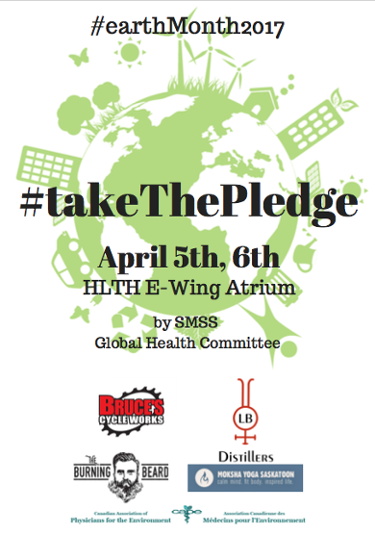 In this case, the small eco-friendly change could be as simple as encouraging her classmates to use a reusable cup for their daily coffees, instead of relying on the single-use paper cups from Tim Hortons or Starbucks.
"(But) one thing I often hear about, and not just from my classmates but my friends, is that they care about climate change and the planet, but they feel like little changes in their life won't make a difference," Simms continued. "If I use a non-disposable cup, that doesn't necessarily stop a lot of people around me from using them, so they feel like they're just putting drops of water into an ocean.
"But I think that if we (as physicians) make little changes in our lives and try to set examples, we can lead to something more long-lasting."
Students, staff, and faculty who are interested in getting involved are asked to stop by the Health Sciences Atrium on either April 5 and 6 to make a small, personal eco-positive pledge. Participants will have their names put into a weekly draw to win prizes donated by partners in both Regina and Saskatoon. For those who like to make a pledge, but cannot personally sign-up on either day, please contact Emily-Lauren Simms.