A group of College of Medicine Students have spearheaded a Canadian Cancer Fundraiser on campus called Cuts for Cancer.
And they made an appointment to part with their current hairstyles, while managing to raise over $21,000.
"Right now we have at least four women, and two men who are shaving their heads," explained Megan McDonald, a second-year MD student who has volunteered to have her hair shorn. "I've donated before a couple of times, so I was thinking I'd probably want to cut my hair – but since it's not extremely long right now it would end up quite short, so I thought 'why not just go all the way and just shave it all off?'
"Because it's either that or a pixie cut and they're not that different to me."
The fundraiser was started by second-year MD student Bonnie Liu, who also has her head shaved during the event held Mar. 27 and 28 in Lower Place Riel, and had an initial fundraising target of $10,000.
"We've actually reached (the goal) already," continued first-year Olivia Friesen before the event. "I think that every person has some sort of relationship with someone who has passed away from cancer – it affects everyone's lives in some way. I know good friends of mine who have had siblings, parents or grandparents pass away, so it's been difficult seeing (them) struggle, how strong everyone is when they're going through it.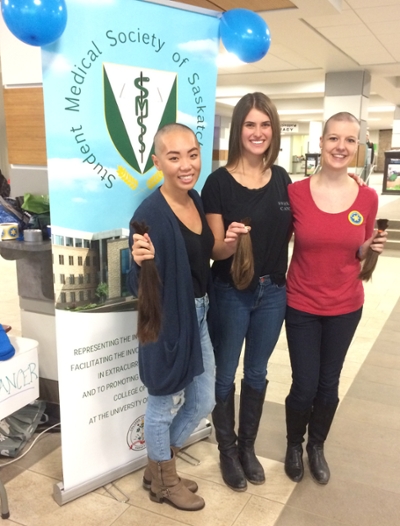 "It's so huge that we can as a community support them."
Olena, the owner of Étre Belle Hair Boutique in Lower Place had volunteered her time during the event to help gather hair donations and, if they had vacancies, accepted walk-up customers ($30 cuts for women and $15 for men) with the money going towards the campaign.
"I don't think that shaving my head is going to make me understand what people who have cancer are going through," McDonald said. "but I think that it's hopefully a good show of solidarity, and (a way to) get a piece of an understanding of what they go through daily."
"I think a lot of people think of (the Canadian Cancer Society) as solely funding research, which is huge and they do a lot of that," Friesen stressed. "But they also offer a lot of support for patients and families – like a community of people to talk to, and financial supports for people who need it for treatment and travel.
"The money is going to a good place."
For those who would like to donate, but couldn't make it to either event, donations are still being accepted through the Canadian Cancer Society website. Photos from the event have been posted on the YXE Cuts for Cancer instagram page.