The annual Saskatchewan Health Research Foundation (SHRF) Santé Awards recognized four College of Medicine researchers and their teams for their ongoing health research in the province.
Of the seven available Excellence Awards, CoM researchers earned honours in the following areas:
Biomedical research - Dr. Arash Panahifar (Anatomy and Cell Biology)
Socio-health research – Dr. Serene Kerpan (Community Health and Epidemiology)
Top strategy for patient-oriented research collaborative innovation development grant:
Dr. Donna Goodridge and team (Medicine)
Top collaborative innovation development grant in health services and population health research:
Dr. Michael Schwandt and team (Community Health and Epidemiology)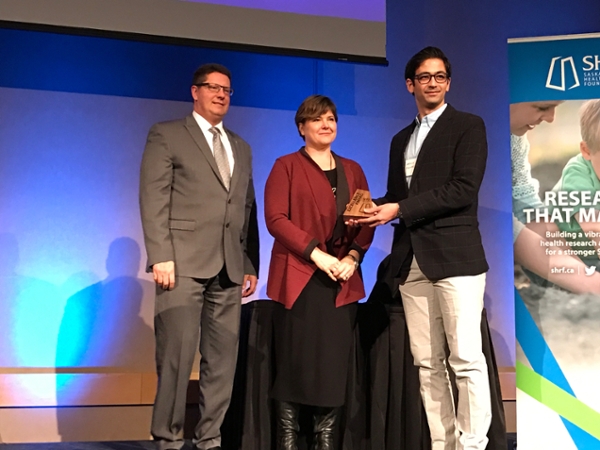 The award wasn't a new experience for Dr. Donna Goodridge, who has won several Santé Awards over the years. This year Goodridge was being honoured for research she has been working on under a 2016-17 Targeted Collaborative Innovation Development (SPOR) grant that SHRF awarded her team earlier this year.
The project, titled 'Creating a culture of patient and family engagement in health care,' is looking at making the patient experience, and interprofessional collaboration among doctors, a better one by moving interdisciplinary grand rounds to the bedside.
"Usually the professionals go off to a little room, talk about the patient, and then somebody goes out to the patient and conveys the message - but the patient is never engaged in the conversation," Goodridge explained. "We're moving interdisciplinary rounds to the patient's bedside. So they (doctors) are engaging with patients and families in the discussions about care-planning, and this is a way to promote communication between the care providers and the patients and families, and also to promote communication between the care-providers themselves.
"The expectation is that this is going to result in fewer adverse events, result in improved discharge planning, (will) improve quality of care and patient satisfaction and their experience, and we're hoping that it actually leads to improved collaboration between team members."
The project is currently being tested at both City Hospital and Royal University Hospital, and the interdisciplinary team will be following its progress from inception and at six, 12, and 18-month intervals.
At the other end of the spectrum is Dr. Serene Kerpan, who earned her first Santé Top Research Fellowship award in Socio-Health Research for her project, 'Bringing together physical activity and culture to promote mental health for Indigenous youth.'
The fastest growing demographic in Saskatchewan, Indigenous youth are disproportionately overrepresented when it comes to youth mental health issues. Kerpan's project is researching ways to help incorporate Indigenous culture into both the prevention of mental health issues at a community level.
"I work at the intersection of physical activity, mental health and cultural continuity," Kerpan explained. "There's a whole body of research that indicates that physical activity reduces rates of depression, anxiety, and increases self-esteem among youth of all ages, but few people have started to really look at applying this to Indigenous youth and Indigenous populations.
"What we're interested in looking at is health and how culture can be interwoven into that. So we're looking at traditional forms of physical activities like hunting, gathering, and dancing and seeing if we can mix these traditional activities into a physical activity programming intervention, and then look at the intersecting mental health outcomes."
Dr. Arash Panahifar was being recognized for his research on 'Understanding the role of subchondrial angiogenesis and bone turnover in progression of osteoarthritis,' and Dr. Michael Schwandt for his work 'The patient-provider toolkit: Using a community-based research approach to support HIV+ patients accessing health care.'
Congratulations to all of this years' nominees and winners!