The Body Bequeathal Program is administered by the Department of Anatomy, Physiology and Pharmacology in the College of Medicine. This program provides the opportunity to donate your body to medical education and/or science.  For more information about this program, please click here for a full colour brochure. You may also find the FAQ enlightening.
For an overview of the program, take a look at this recent article and video posted by Global Saskatoon.
If you are already in our program and have a change to report, you may call us or download the update form and send it to us by mail.  If you do call us, we will send out a form confirming changes for your signature.  The signature is required for legal reasons.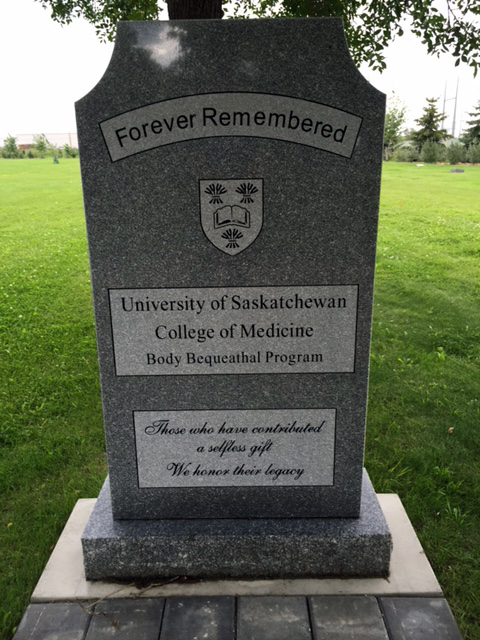 To sign up, please take some time to read our privacy statement  and consult the Next of Kin legal definition.
Then, do one of the following:
Go to the signup page and fill out the form.  You will be asked if you trust the site, say yes.  *The form requires all fields to be completed in order to submit your application and enroll in the program*.  If the form is incomplete, we will contact you to request the missing information.  If we do not receive a response within 2 weeks, we will delete the form from our records.
Download the form and print off all 4 copies or print one and make 3 copies of the completed form.  Follow the directions of dispersal on Page 2 of the document.
Request forms to be sent to you.  Please phone, fax or email your home address to us using the information below.
Contact Information
For more information and to initiate your enrollment in the Body Bequeathal Program, please contact:
Department of Anatomy, Physiology and Pharmacology
GA20-107 Wiggins Rd Saskatoon, SK S7N 5E5
Phone: 1-306-966-4075
Fax:1-306-966-4298
Email