About Us
What is a Physiatrist?
Physicians trained in the specialty of Physical Medicine and Rehabilitation (PM&R) are called Physiatrists (fizz eye' uh trists).  
Physiatry is the branch of medicine emphasizing the prevention, diagnosis, treatment, and rehabilitation of disorders, particularly those of the neuromusculoskeletal, cardiovascular, and pulmonary systems, that may produce temporary or permanent impairment.  
Physiatry is unique among medical fields in that its area of expertise is the functioning of the whole patient, as compared with a focus on an organ system or systems.  
Physiatrists treat conditions of the bones, muscles, joints, brain, and nervous system, which can affect other systems of the body and limit a person's ability to function.   
The Physiatrist can help to improve a person's functional capabilities by medical treatment and organizing and integrating a program of rehabilitation therapy such as physical, occupational, speech therapies, psychological, social nursing, prosthetic, orthotic, engineering and vocational services.  
--Definition from Association of Academic Physiatrists and Canadian Association of Physical Medicine & Rehabilitation--
---
Mission Statement
The mission of the Department of Physical Medicine and Rehabilitation at the University of Saskatchewan is to provide excellent patient care, education, and research in the field of Physical Medicine and Rehabilitation, leading to improvement in function, independence, health, and quality of life for each individual served. 
We provide holistic interdisciplinary assessment and rehabilitation services to patients and families, and we are committed to advancing knowledge of the art and science of medical rehabilitation.
---
Read our October 2015 Newsletter
Programs
The Department of Physical Medicine and Rehabilitation (PM&R) at the University of Saskatchewan offers clinical clerkship electives at both the Saskatoon City Hospital in Saskatoon, Saskatchewan, and the Wascana Rehabilitation Centre in Regina, Saskatchewan. Our academic residency program operates out of both sites, allowing clerks a broad exposure to the daily responsibilities of academic physiatrists and residents.
Clerks who are interested in a career in PM&R or a complimentary specialty such as Neurology, Orthopedics, Rheumatology, Neurosurgery or Family Medicine are encouraged to apply. Students will have the opportunity to their history taking and physical exam skills in core PM&R domains such as musculoskeletal, neurological, acquired brain injury, stroke rehabilitation, spinal cord injury, multiple sclerosis, and prosthetics and orthotics and others. Acute care consults and rehabilitation inpatient ward exposure will provide a "day in the life of Physiatry" involving history, examination, diagnosis and treatment.  Neuromuscular assessment and diagnosis is provided in the department allowing the student exposure to nerve conduction studies (NCS) and needle electromyography (EMG)
And elective schedule will be created based on the clerks' personal interests and basic physiatry learning objectives. A minimum of 1 week is required but up to 4 weeks is permitted. Both Regina and Saskatoon sites will provide a flexible elective. A combination of outpatient clinical, inpatient ward, consultation service, and formal teaching at the resident academic half day will make up the bulk of the rotation.
The University of Saskatchewan Department of Physical Medicine & Rehabilitation is a provincial program that provides a flexible opportunity to take advantage of the best training opportunities in Saskatoon and Regina as well as some opportunities to experience one or more regional centers.
We have integrated support for research with access to research scientists in both cities. We have strong working relationships with neurosciences, rheumatology and orthopedics. Both centres have established services in the core rehabilitation areas of stroke, spinal cord injury, brain injury and amputation.
In Regina at Wascana Rehabilitation Centre, we have all core rehabilitation services on one site including inpatient and outpatient services, prosthetics and orthotics, specialized seating and services for children with such diagnoses as cerebral palsy and spina bifida. At Saskatoon City Hospital there are inpatient and outpatient rehabilitation services, in addition to two community physiatrists with a mix of musculoskeletal and electrodiagnostic medicine. There is the opportunity to work with off site pediatric subspecialists as well as teams managing cerebral palsy, spina bifida and other neuromuscular diseases in addition to orthotics and prosthetics. As there is currently no certified pediatric physiatrist in Saskatchewan, we have an affiliation agreement in place with the University of Calgary where we require and support one block of pediatric rehabilitation.
Our two tertiary rehabilitation centres in Saskatoon and Regina serve a provincial population of just over one million. We feel the single program distributed between both cities offers the best of flexibility, personalized attention and practical experience. There is excellent support from the College of Medicine to support this distributed model. We have a strong focus on neurological and musculoskeletal anatomy reinforced by five half days per year in the College of Medicine anatomy lab guided by an anatomist and physiatrist. We are building our expertise for integrating ultrasound into chemodenervation and musculoskeletal procedures. We have also initiated optional EMG and ultrasound teaching rounds in addition to our regular academic teaching program.
Research
Overview
Welcome to the Division of Research page of the University of Saskatchewan Department of Physical Medicine and Rehabilitation. Our Provincial Department serves persons of all ages with acquired brain injury, amputations, multiple sclerosis, spinal cord injury, stroke, or disabilities secondary to any type of impairments. In keeping with our priorities, we aim to enhance service, learning, and patient function. We conduct collaborative interdisciplinary research in health/quality-of-life outcomes, pedagogy/medical education, clinical trials, Indigenous health, and healthcare quality improvement with community partners, medical students, and local, national, and international researchers.
The resident research program is co-facilitated by Drs. Katherine Knox and Darren Nickel. All our residents are required to complete at least one research project during their residency. This contributes to a culture of research in our department and advances scholarly activity. We aim to equip our residents to be keen and aware users of research literature and competent and responsible research partners.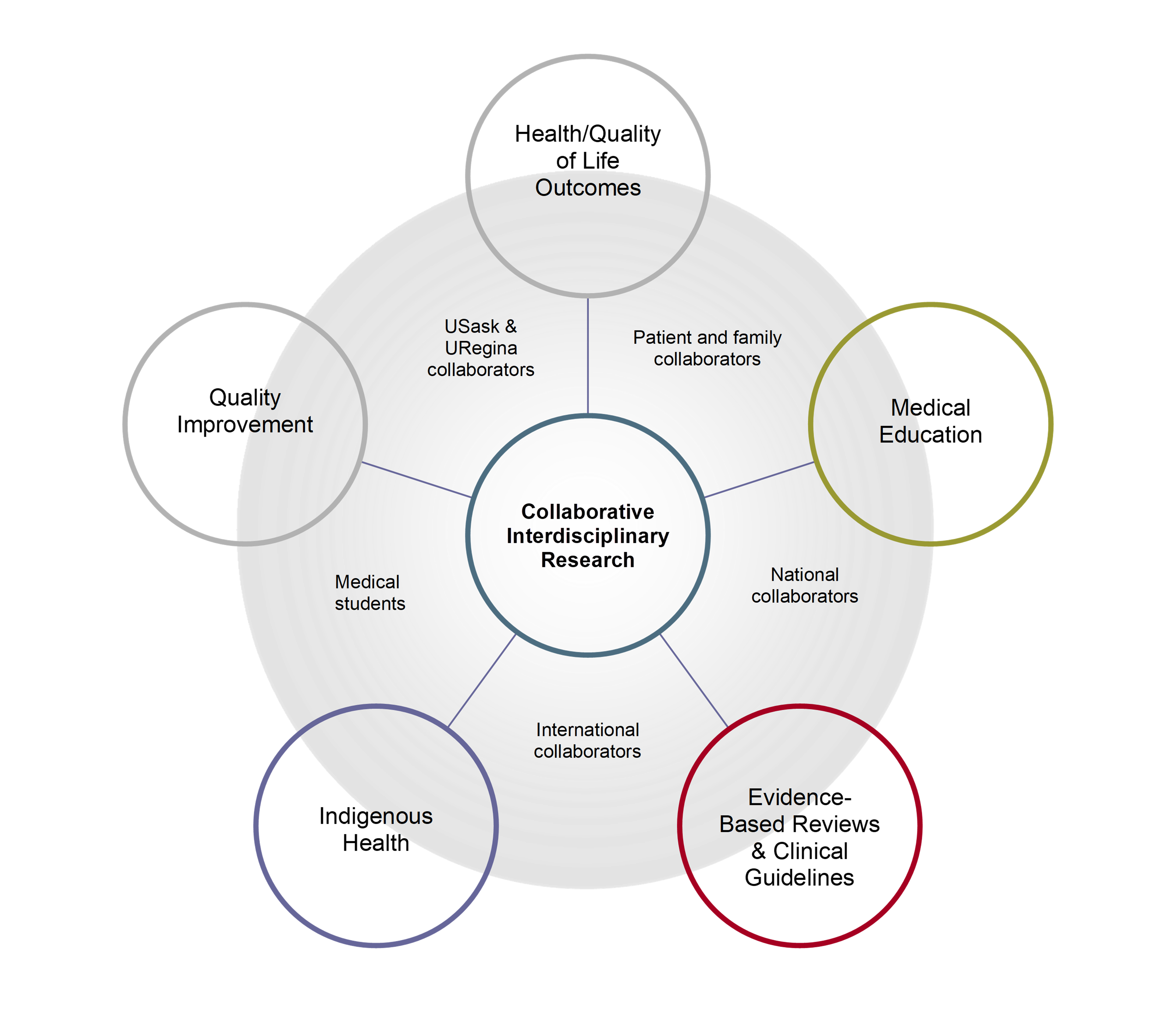 Katherine Knox, MD, FRCPC

Associate Professor

Physical Medicine & Rehabilitation

Saskatoon City Hospital

Saskatoon, SK, S7K 0M7

306-655-8657

Darren Nickel, PhD

Clinical Research Coordinator

Physical Medicine & Rehabilitation

Saskatoon City Hospital

Saskatoon, SK, S7K 0M7

306-655-8651
This page contains some recent publications that members of our department have published.
2018-2019
Arora T, Musselman KE, Lanovaz J, Linassi G, Arnold C, Milosavljevic S, Oates A. Walking stability during normal walking and its association with slip intensity among individuals with incomplete spinal cord injury. PM R. 2019, 11(3): 270-277.
Hodgkinson VL, Lounsberry J, Mirian A, Genge A, Benstead T, Briemberg H, Grant I, Hader W, Johnston WS, Kalra S, Linassi G, Massie R, Melanson M, O'Connell C, Schellenberg K, Shoesmith C, Taylor S, Worley S, Zinman L, Korngut L. Provincial Differences in the Diagnosis and Care of Amyotrophic Lateral Sclerosis. Can J Neurol Sci. 2018 Nov;45(6):652-659. doi: 10.1017/cjn.2018.311.
Knox KB, Saini A, Levin MC. The dilemma of when to stop disease-modifying therapy in multiple sclerosis: a narrative review and Canadian regional reimbursement policies. Int J MS Care. [Published online: 22 May 2019] doi: 10.7224/1537-2073.2018-107
2017-2018
Ahn H, Lewis R, Santos A, Cheng CL, Noonan VK, Dvorak MF, Singh A, Linassi AG, Christie S, Goytan M, Atkins D. Forecasting financial resources for future traumatic spinal cord injury care using simulation modeling. J Neurotrauma. 2017, 34(20): 2917-2923.
Allin S, Shepherd J, Tomasone J, Munce S, Linassi G, Hossain SN, Jaglal S. Participatory design of an online self-management tool for users with spinal cord injury: qualitative study. JMIR Rehabil Assist Technol. 2018; 5(1): e6
Al-Sakran LH, Marrie RA, Blackburn DF, Knox KB, Evans CD. Establishing the incidence and prevalence of multiple sclerosis in Saskatchewan. Can J Neuro Sci. 2018; 45(3): 295-303. doi: 10.1017/cjn.2017.301.
Craven CB, Kurban D, Farahani F, Rivers CS, Ho C, Linassi AG, Gagnon DH, O'Connell C, Ethans K, Bouyer LJ, Noonan VK, RHSCIR Network. Predicting rehabilitation length of stay in Canada: It's not just about impairment. J Spinal Cord Med. 2017; 40(6): 676-686.
Knox K, Clay L, Stuart-Kobitz K, Nickel D. Perspectives on walking from people with multiple sclerosis and reactions to video self-observation. Disabil Rehabil. [Published online: 22 Oct 2018] doi: 10.1080/09638288.2018.1496154.
Munce SEP, Allin S, Wolfe DL, Anzai K, Linassi G, Noonan VK, Jaglal SB. Using the theoretical domains framework to guide the development of a self-management program for individuals with spinal cord injury: results from a national stakeholder advisory group. J Spinal Cord Med. 2017; 40(6): 687-695.
Rivers CS, Fallah N, Noonan VK, Whitehurst DGT, Schwartz C, Finkelstein J, Craven BC, Ethans K, O'Connell C, Truchon C, Ho C, Linassi AG, Short C, Tsai E, Drew B, Ahn H, Dvorak MF, Paquet J, Fehlings MG, Noreau L, RHSCIR Network. Health conditions: impact on function, health-related quality of life, and life satisfaction following traumatic spinal cord injury. A prospective observational registry cohort study. Arch Phys Med Rehabil. 2018; 99(3): 443-451.
Papers 2016-2017
Cheng CL, Plashkes T, Shen T, Fallah N, Humphreys S, O'Connell C, Linassi AG, Ho C, Short C, Ethans K, Charbonneau R, Paquet J, Noonan VK, RHSCIR Network. Does specialized inpatient rehabilitation affect whether or not people with traumatic spinal cord injury return home? J Neurotrauma. 2017, 34(20): 2867-2876. [Published online: 24 May 2017]
Martin N, Traboulsee AL, Machan L, Klass D, Ellchuk T, Zhao Y, Knox KB, Kopriva D, Lala S, Nickel D, Otani R, Rauscher A, Perera WR, Sadovnick AD, Szkup P, Li D. Prevalence of extra-cranial venous narrowing on Magnetic Resonance Venography is similar in people with MS, their siblings, and unrelated healthy controls: a blinded, case-control study. Can Assoc Radiol J. 2017 May;68(2):202-209.
Noonan VK, Chan E, Santos A, Soril L, Lewis R, Singh A, Cheng CL, O'Connell C, Truchon C, Paquet J, Christie S, Ethans K, Tsai E, Ford MH, Drew B, Linassi G, Bailey C, Fehlings MG, RHSCIR Network.  Traumatic Spinal Cord Injury Care in Canada: A Survey of Canadian Centres. J Neurotrauma. 2017, 34(20): 2848-2855. [Published online: 18 May 2017]
Papers 2015-2016
Evaniew N, Noonan V, Fallah N, Kwon BK, Ahn H, Bailey C, Christie S, Fourney DR, Hurlbert RJ, Linassi G, Fehlings M, Dvorak MF. RHSCIR Network. Methylprednisolone for the treatment of patients with acute spinal cord injuries: A propensity score-matched cohort study from a Canadian multicenter spinal cord registry. J Neurotrauma. 2015;32(21):1674-83.
Hughes KE, Nickel D, Gurney-Dunlop T, Knox KB. Total knee arthroplasty in multiple sclerosis. Arthroplast Today. 2016;2(3):117-122. doi: http://dx.doi.org/10.1016/j.artd.2015.12.002
Rohatinsky N, Goodridge D, Rogers MR, Nickel D, Linassi AG. Shifting the balance: conceptualizing empowerment in individuals with spinal cord injury. Health Soc Care Community. 2017 Mar;25(2):769-779.  doi: 10.1111/hsc.12370. [Published online: 11 Jul 2016]
Papers 2014-2015
Carlson RJ, Doucette JR, Knox K, Nazarali AJ. Pharmacogenomics of interferon-β in multiple sclerosis: What has been accomplished and how can we ensure future progress? Cytokine Growth Factor Rev. 2015;26(2):249-261.
Diener T, Desai S, Lowry NJ, Talukdar C, Chrusch WM, Wiebe S, Tan B. An unusual case of vaccine-associated paralytic poliomyelitis. Can J Infect Dis Med Microbiol. 2014;24(4):227-228.
Dvorak MF, Noonan VK, Fallah N, Fisher CG, Finkelstein J, Kwon BK, Rivers CS, Ahn H, Paquet J, Tsai EC, Townson A, Attabib J, Bailey CS, Christie SD, Drew B, Fourney DR, Fox R, Hurlbert RJ, Johnson MG, Linassi AG, Parent S, Fehlings M. The influence of time from injury to surgery on motor recovery and length of hospital stay in acute traumatic spinal cord injury: an observational Canadian cohort study. J Neurotrauma. 2015;32(9):645-654.
Dvorak MF, Noonan VK, Fallah N, Fisher CG, Rivers CS, Ahn H, Tsai EC, Linassi AG, et al. Minimizing errors in acute traumatic spinal cord injury trials by acknowledging the heterogeneity of spinal cord anatomy and injury severity: an observational Canadian cohort analysis. J Neurotrama. 2014;31(18):1540-7.
Goodridge D, Rogers M, Klassen L, Jeffery B, Knox K, Rohatinsky N, Linassi G. Access to health and support services: perspectives of people living with a long-term traumatic spinal cord injury in rural and urban areas. Disabil Rehabil. 2015;37(16):1401-10. Pubmed PMID: 25332089.
Knox KB, Rohatinsky N, Rogers M, Goodridge D, Linassi G. Access to traumatic spinal cord injury care in Saskatchewan, Canada: A qualitative study on community healthcare provider perspectives. Can J Disabil Stud. 2014;3(3):83-103. doi: http://dx.doi.org/10.15353/cjds.v3i3
Ploughman M, Beaulieu S, Harris C, Hogan S, Manning O, Alderdice P, Fisk JD, Sadovnick D, O'Connor P, Morrow S, Metz LM, Smyth P, Mayo N, Marrie RA, Knox KB, Stefanelli M, Godwin M. The Canadian Survey of Health, Lifestyle and Aging with Multiple Sclerosis: methodology and initial results. BMJ Open. 2014;4:e005718.
Thorpe LU, Knox K, Jalbert R, Lim JHJ, Nickel D, Hader WJ. Predictors of institutionalization for people with multiple sclerosis. Disabil Health J. 2015;8:271-277.
Resources
Program Administration and Collaboration
Join the Academic Half Day WebEx session (Please note that the meeting room is only active when it is in use by the hosts).
Evaluation Forms
Other Resources
Contact
Saskatoon Rehabilitation Centre
Saskatoon City Hospital 
701 Queen St 
Saskatoon SK 
S7K 0M7

Reception Tel: 306-655-8175 
Fax: 306-655-8813
Wascana Rehabilitation Centre
2180 - 23rd Avenue
Regina SK
S4S 0A5
Appointment Coordinator Tel: 306-766-5521 
Outpatient Clinic Nurse Tel: 306-766-5514 
Admin Assistant Tel: 306-766-5402 
Fax: 306-766-7442