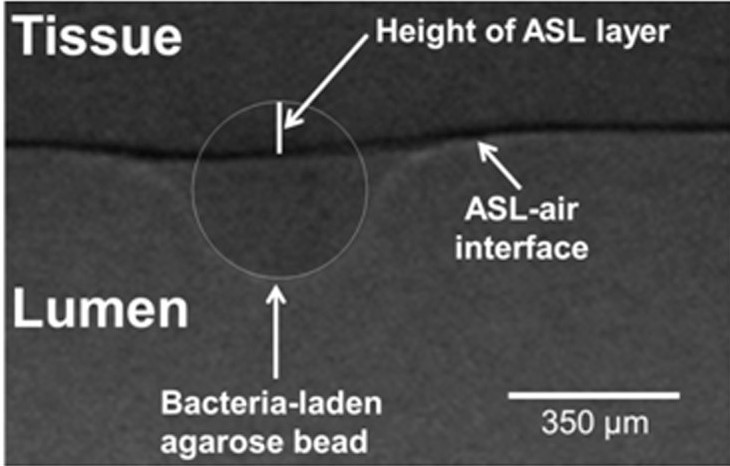 "You can't manage what you don't measure" not only rings true in the business world from which the adage comes from, it also applies to the management of biological diseases.
In the management of airway diseases, better measurement means being able to physically observe changes in living diseased tissue over time. This type of measurement can lead to a richer understanding of why diseases occur and what the appropriate targets for intervention may be.
This is the potential currently being realized at the Canadian Light Source (CLS) by Dr. Juan Ianowski, Faculty in the Department of Physiology, College of Medicine.
Since 2009, Dr. Ianowski's team has been developing a method utilizing the Biomedical Imaging and Therapy Beamline at the CLS to observe diseased tissues in real time, to verify theories of disease progression, and to provide insights into how therapies alter physiological processes. Focusing on Cystic Fibrosis, Dr. Ianoski's group has shown that their technique provides high-resolution images of live diseased tissue in swine models.
Through the use of this imaging, Dr. Ianowski's team demonstrated that bacteria that regularly infect Cystic Fibrosis patients induce bacteria-killing secretions in the airways, and that the gene mutation that causes Cystic Fibrosis interferes with this protective mechanism. These discoveries have illuminated the basic pathological mechanisms of Cystic Fibrosis and have led to further research into possible treatments for CF patients.
His hope is to continue the success of the collaboration between the College of Medicine and the Canadian Light Source, and beyond.
"I am very optimistic we can make really important contributions in the field by exploring the vast capabilities of this Campus."
Dr. Ianowski emphasizes that because, unlike basic scientists, clinicians see diseases in patients, the combination of expertise will yield the most clinically relevant answers for patients. He sees further integrating clinicians into the CLS research as an important next step for the Respiratory Research Centre:
"I think if we can translate the basic science research into actionable questions through this research center, it will be hugely valuable. Once we get a consistent connection between the clinicians, basic science researchers and the synchrotron scientists, we will be in a league of our own; no one else will be able to do what we do."
Then our own imagination is our only limit."