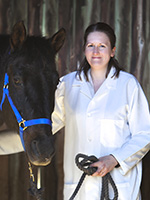 Dr. Julia Montgomery, Assistant Professor in the Western College of Veterinary Medicine knows the value of interdisciplinary collaboration. This is why she sees true value in membership with the Respiratory Research Centre.
"Our patients live in the same environment as the human patient so looking at similarities and differences is important."
Dr. Montgomery specializes in large animal internal medicine. Her PhD was in equine immunology and nutrition and, after a post doc fellowship in the pulmonary pathobiology lab she became interested in the lungs. Although she works with equine patients she sees the RRC as a means of reinforcing the "One Health" concept.
The mission of the University's One Health Initiative is "To be a pre-eminent institution in the world conducting One Health research and education by highly integrated teams of medical, animal, social and environmental scientists."
The opportunity for collaboration can be somewhat daunting when the participants of research projects seem so different. But, Dr. Montgomery does not see that as an obstacle. She sees the RRC as a platform for bringing together diverse health disciplines in a meaningful way. Despite anatomical differences she is currently working with other RRC members on potentially developing new lung sampling technology that might provide more diagnostic value in both humans and animals.
Now that the initial contacts have been made, Dr. Montgomery focuses on using the RRC as an avenue for continued partnerships at the University.
"Inclusion was the biggest challenge but, the RRC reminds us to show up to collaborate."