The University of Saskatchewan continues to invest in world-class facilities, services and resources to enhance your research and support our goals to be a leader in advancing health and wellness for all species.
Research Areas
Our faculty members carry out research in a wide variety of areas that include immunity to HIV infection, antibiotic resistance, biochemical aspects of Lyme disease infection, protein engineering, mitochondrial disease mechanisms, and biochemical alterations in cancer, to name only a few.
Facilities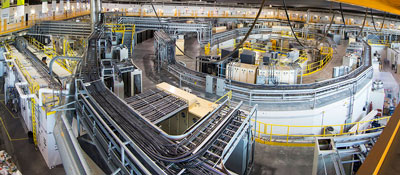 Canadian Light Source (CLS)

Synchrotron-based analysis provides unsurpassed information in a wide range of fields and allows scientists to gather information about the structural and chemical properties of materials at the molecular level.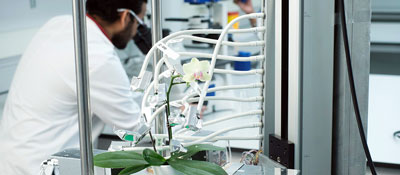 Saskatchewan Centre for Cyclotron Sciences (SCCS)
A world-class facility for nuclear imaging supports innovation in nuclear imaging and therapy in living specimens: plants, animals and humans.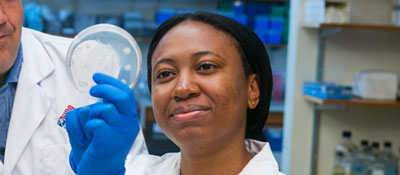 Vaccine and Infectious Disease Organization – International Vaccine Centre (VIDO-InterVac)
VIDO-InterVac is one of North America's largest containment level 2 and 3 vaccine and infectious disease research institutes and works with international partners to study human and animal pathogens for the prevention and control of human and animal diseases.
Health Sciences Facility
The state of the-art, integrated health sciences facilities allow researchers, faculty and students to interact collaboratively through interdisciplinary programs and problem-solving research initiatives that enhance health services.
Support
There are many supports available for your research and partnership activities from the planning stages to securing funding to ensuring your research is executed to the highest operational, financial, legal, ethical and safety standards. Get help with:
Tools and Resources
University Research System (UnivRS)
Find funding, collaborate online, track projects, import publications, share success or create reports  
The Conversation Canada
Access or contribute to a hub for academic knowledge, featuring 600-800 word articles written by researchers in their areas of expertise.
Research Computing
Consulting services such as 

system design and planning (

including IT 

consulting for grant applications), 

data and storage services, compute services and software services.
Harvest
USask's research archive
Balance & Belonging in Research


Equity, Diversity, and Inclusion training and resources

Safety Resources


USask's Safety Resources offers safety training courses, guidelines and procedures and can assist you and identifying an appropriate preventative and protective measure for a hazard in your workplace. 
Interdisciplinary Research Clusters
Faculty, researchers and graduate students work together across disciplines in shared facilities to support a wide range of research projects.