News
Our department has an array of enthusiastic researchers with innovative research ideas and techniques and  they are continually being acknowledged for their significant roles in discovery. In addition, our faculty are earning awards that reflect their passion in sharing their knowledge with their students.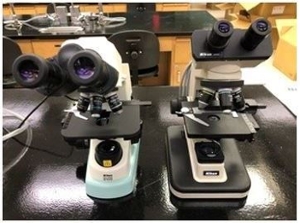 New Microscopes Support Student Learning
Learners in the College of Medicine will be able to see small and learn large thanks to the purchase of new microscopes by the Departments of Biomedical Sciences. The new lab equipment enables students to produce sharable, enhanced images of their lab results and experiments. The microscopes have a larger field of focus, improved ergonomics and lower energy requirements, and will be used by up to 300 biomedical students per term.