About
The Body Bequeathal Program is administered by the Department of Anatomy, Physiology and Pharmacology in the College of Medicine. This program provides the opportunity to donate your body to medical education and/or science.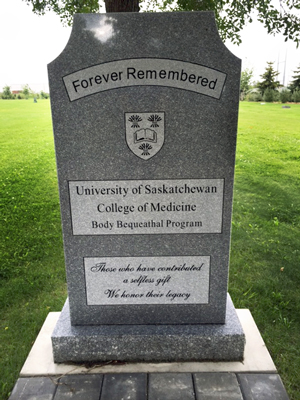 A priceless gift for a better tomorrow
Generous donors, and their families, allow future practitioners to develop a unique understanding of the human body and its form and function.
The College of Medicine is extremely thankful to those who choose to donate their body to medical science. At the University of Saskatchewan annual memorial ceremony, organized by the students who have benefited from the bequeathal program, bequeathal donors are described as being completely selfless. The students fully appreciate these generous donations and understand that without donors, their medical education would be incomplete.
Overview: how your body can help medicine and science
For an overview of the program, take a look at the article and video posted by Global News Saskatoon. You can also find answers to frequently asked questions.
Register with our program
Before signing up, please read through:
Our Privacy Statement (learn how your information is used and stored)
Then fill out the form in one of the following ways:
Online Form: Go to the signup page and fill out the form. You will be asked if you trust the site, say yes. *The form requires all fields to be completed in order to submit your application and enroll in the program*.  If the form is incomplete, we will contact you to request the missing information.  If we do not receive a response within 2 weeks, we will delete the form from our records.


Paper Form: 

Download the form

 

and make 4 copies of the completed form. Follow the directions of dispersal on Page 2 of the document.


Or request forms to be sent to you. Please phone, fax or email your home address to us using the contact information below.
Updating information
If you are already in our program and have a change to report, you may call us or download the update form and send it to us by mail.  If you do call us, we will send out a form confirming changes for your signature. The signature is required for legal reasons.
Contact
For more information and to initiate your enrollment in the Body Bequeathal Program, please contact:
Department of Anatomy, Physiology and Pharmacology
 GA20-107 Wiggins Rd
Saskatoon, SK S7N 5E5
Phone: 1-306-966-4075
Fax:1-306-966-4298
Email: appadmin@usask.ca
Hours
 Regular Hours
8:30 am - 12 pm and  1 pm - 4:30 pm
*During the COVID-19 pandemic, please phone if you wish to receive an informational package and application by mail.
After Hours
Our 24 hour answering service will be able to assist at the time of death.
Phone: 1-306-966-4075