About Us
The University of Saskatchewan has offered a Physical Therapy program since 1965. The School of Physical Therapy is an academic unit within the College of Medicine and works closely with Health Science Colleges on campus.
Physical Therapists play an important role in the delivery of health care. The primary goal of physical therapy is to prevent or alleviate movement dysfunction and to promote maximal physical independence and function. Physical Therapists work in a variety of settings including hospitals, private clinics, rehabilitation centres, sports medicine clinics, long-term care institutions, special-care homes, schools and community programs.
The School of Physical Therapy implented the Master of Physical Therapy (M.P.T.) program in August 2007 to replace the current Bachelor of Science in Physical Therapy (B.Sc.P.T.) program. Please refer to the educational program section within this website for further information.
One of the exciting aspects of the Physical Therapy curriculum is the integration of clinical practice throughout the program. Students have the opportunity to work with physiotherapists in a variety of clinical settings throughout Saskatchewan, and other parts of Canada. There are also unique opportunities to participate in non-traditional physiotherapy experiences as an undergraduate student, such as recent interdisciplinary student placements in developing countries.
Faculty and Staff
The School of Physical Therapy has 8 full-time faculty, 2.5 academic clinical coordinators, 3 support staff and a number of sessional lecturers and part-time clinical faculty. Faculty members work with colleagues from other departments in the College of Medicine and the other Health Science Colleges. The School partners with the Saskatchewan Physiotherapy Association in coordinating the Continuing Physical Therapy Education Program.
Community Involvement
Faculty members and students are involved in a variety of professional activities provincially, nationally and internationally. As well as acting as consultants primarily in the areas of advanced clinical practice and research, faculty members participate in national projects related to improvement of the health care system. All faculty members contribute to community projects through active membership on health care associations and special lectures to interested groups. Faculty members work closely with colleagues in the health regions througout the province.
Faculty and students are involved in a number of research fields. Recent studies include:
Development and validation of clinical tests for individuals with musculo-skeletal diseases, such as osteoporosis, fibromyalgia, and osteoarthritis. Research investigating the effectiveness of physical therapy treatment including exercise management for these conditions is ongoing.
Investigation of benefits of group exercise and education programs for individuals with Parkinson's Disease. Also, research related to falls in the elderly and maintaining physical activity in individuals with chronic health conditions.
A number of research projects related to Knowledge Translation, Evidence-based Practice and Interprofessional Education are contributing to knowledge and practice in the areas of competencies, methods and best practice decision-making.
Several research projects, such as these, have led to development of community programs aimed at better quality of life through improved physical function and activity.
Faculty members have also been very involved in secondary research participating as principal investigators or co-investigators in systematic reviews, meta-analysis and development of clinical practice guidelines related to effectiveness of non-pharmacologic interventions for musculoskeletal and neurological disorders. 
A significant emphasis is placed on providing opportunities for students to participate in research projects during the summer. These projects incorporate a wide range of topics relating to faculty members' expertise and research pursuits.
Policies and Guidelines
For a comprehensive list of policies and guidelines specific to the School of Physical Therapy please
click here
.
Clinical Instructor Resources
Clinical Practice
Outlines of Clinical Practice course information, expectations, pass/fail criteria, evaluatations, and presentations
Clinical Practice I
Clinical Practice II
Clinical Practice III
Clinical Practice IV
Clinical Practice V
Setting the Stage Video
Performance Evaluation Video
Research
This study, titled 'Walking Away from Chronic Low Back Pain',  is designed to determine whether a walking program is an effective strategy for improving outcomes in Saskatchewan residents living with chronic low back pain.
All participants see a physiotherapist for two appointments. The first appointment involves an evaluation of the lower back by the physiotherapist and an introduction to the pedometer. Each participant will then be asked to wear the pedometer to monitor their step count over a one week period and then return for their second appointment during which they will be provided with advice and educational materials to help guide their physical activity followed by random allocation into one of the two study groups: 1) a self-monitored program or 2) a 12-week walking program using a pedometer.
If assigned to the walking program, the research physiotherapist will guide each participant through the program, initially through face-to-face meetings and then by phone once a week over the study period to negotiate a graduated weekly increase in step count.
At the beginning and end of the 12-week period, regardless of group, each participant will be asked to complete a number of questionnaires that will provide information about their physical activity levels, their perceptions of their back pain, health care use and costs, and other markers of wellness. They will also be asked to complete these questionnaires at 6 months and at one year.
For more information:
Email: back.research@usask.ca
Phone: 639-480-5595
Awards and Honours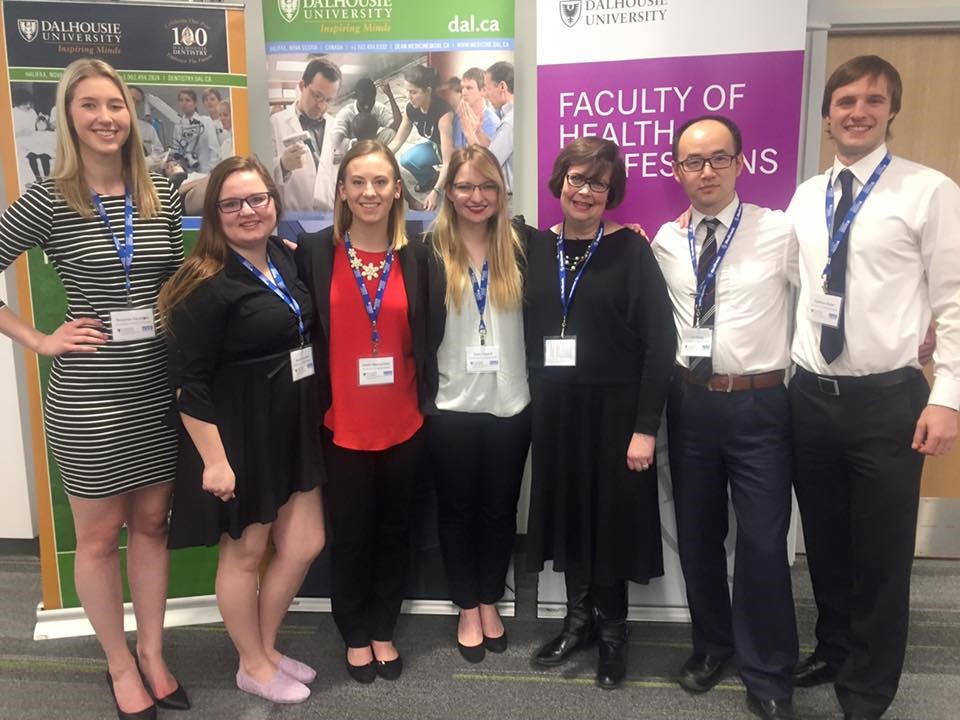 U of S student team takes top prize at National Health Care Team Challenge
A team of students, including the School of Physical Therapy's Matthias Muller, won the national competition hosted by the Dalhousie Health Sciences Student Association in late January, 2016. The team consisted of students from nursing, pharmacy, veterinary studies and a dietitian student in addition to Muller.
"As a Physiotherapy student I had a wonderful experience working collaboratively with other health science students, on developing a patient-centred care plan. The experience to me shows the potential we have as future health professionals to work effectively as a team, bringing together our own professional expertise to improve patient care." - Matthias Muller
The goal of the comeptition is inter-professional (IP) collaboration between students in various health profession programs. The team challenge is a low tech, high impact inter-professional simulation successfully used to practice IP core competencies. Initially developed at the University of British Columbia, and more recently implemented in the United States, Australia, and Japan, the HCTC is an innovative team-based educational model that promotes greater understanding of IP values, roles, teamwork, and communication. IP teams of students participating in the annual HCTC are challenged to create a collaborative patient-centered plan of care.
Congratulations Matthias!
Contact
Dr. Elizabeth Harrison - Associate Dean, Physical Therapy and Rehabilitation Sciences
Dr. Stephan Milosavljevic – Director, School of Physical Therapy
Mailing address:
School of Physical Therapy
University of Saskatchewan
St. Andrew's College
1121 College Drive
Saskatoon, SK S7N 0W3
Canada
General Inquiries
Phone:
(306) 966-6579
Fax:
(306) 966-6575
Admission Inquiries
Bev Cuzner - Academic Program Assistant
Email: pt.admissions@usask.ca
Phone: (306) 966-6581
Fax: (306) 966-6575
Arlis McQuarrie,
Academic Coordinator of Clinical Education
Phone: (306) 966-6584 
Peggy Proctor,
Assistant Academic Coordinator of Clinical Education (Saskatoon)
Phone: (306) 966-6574
Cathy Cuddington,
Assistant Academic Coordinator of Clinical Education (Regina)
Phone:  (306) 766-0559