Welcome
Physiologists answer key questions ranging from the workings inside single cells to the interactions between human populations and our environment on earth and beyond.
The 2009 Accreditation Site Survey for the MD program confirmed that Physiology courses received the highest ranking from medical school graduates for their perception of importance in preparation for medical school.
A B.Sc. degree in Physiology & Pharmacology provides the strongest possible scientific basis for further training in biomedical research medicine and in a variety of health care fields. Students will develop practical and critical thinking skills necessary to analyze and integrate the ever-growing amount of information in the health sciences.
Awards and Updates
Baillie awarded Governor General's Gold Medal

Dr. Landon Baillie was born and raised in Saskatoon, Saskatchewan and received his B.Sc. Hon. (Spring 2009) in Physiology and later his Ph.D. (Summer 2015) from the lab of Dr. Sean Mulligan at the University of Saskatchewan.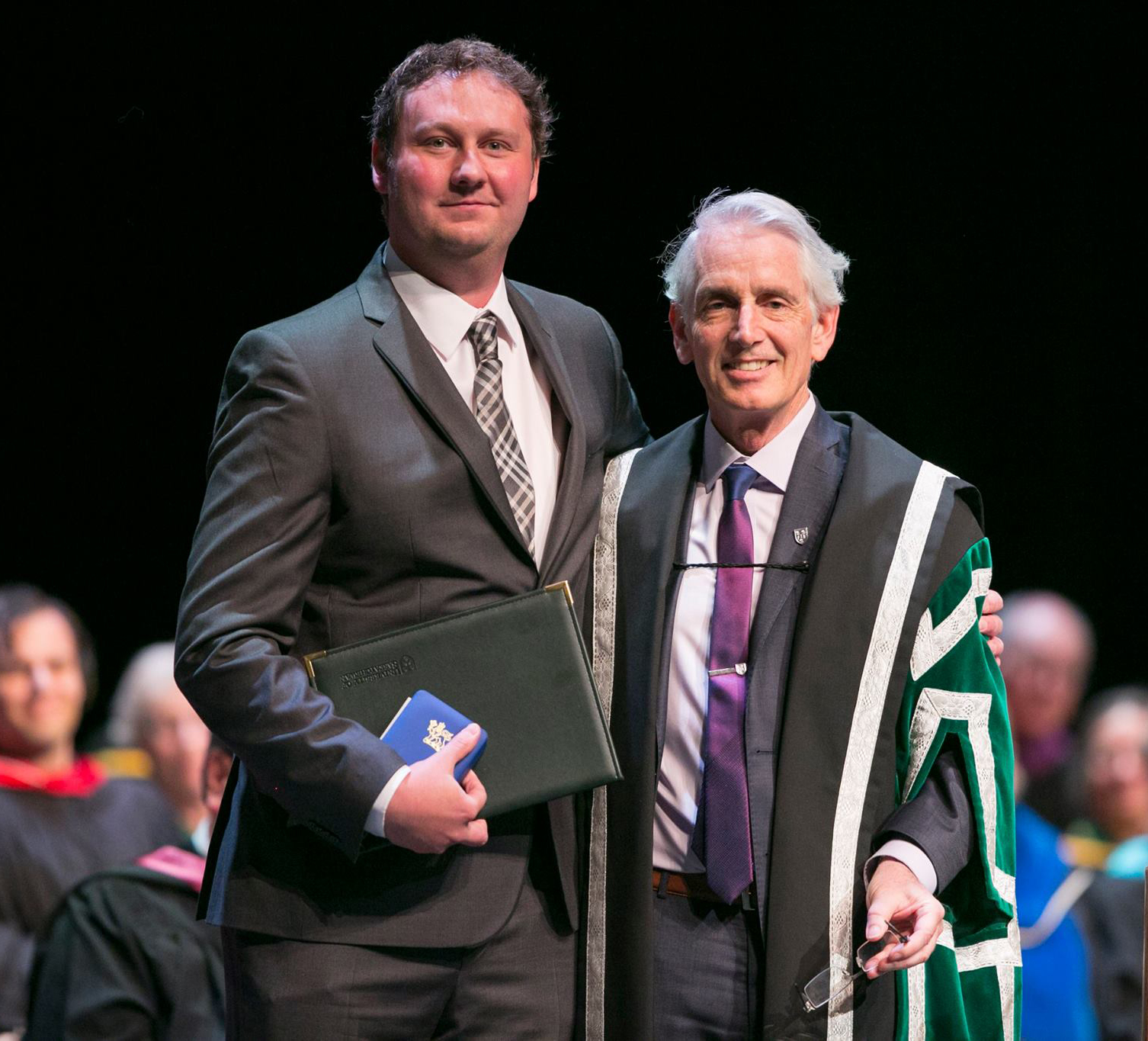 Landon's Ph.D. thesis, "Imaging nociceptive signaling in peripheral CGRP terminal fibres" highlights the creation of a novel preparation for the physiological study of the cells responsible for nociception and the initiation of pain sensation. The use of this preparation provided a greater understanding of the physiological and pathophysiological processes involved in pain signaling.
Aside from research, Landon took an interest in teaching while in graduate school and during his final year as a Ph.D. student began a lecturer position in the Department of Physiology, teaching a wide variety of topics. Landon has recently been hired by the Department of Physiology at the University of Saskatchewan as an AP-Assistant Professor and is excited to continue providing physiological education to future generations. 
---
Kailash Prasad MD, PhD, DSc, professor emeritus in the Department of Physiology, College of Medicine, University of Saskatchewan was an invited speaker at the plenary session on  "Atherosclerosis : From basic mechanisms to novel opportunities for diagnosis, prognosis and treatment"  at the 22nd Annual World Congress on Heart Disease, International Academy of Cardiology, Vancouver B.C., Canada, July 14-16, 2017. The title of the presentation was "Low Serum levels of soluble receptor for advanced  glycation end product is not a universal biomarker for cardiovascular diseases". He also co-chaired this session.
---
Prasad earns lifetime achievement award
Lifetime Achievement Award was presented to Dr. Kailash Prasad, MBBS (Hons), MD, PhD, DSc, FRCPC, FACC, FIACS, FICA, from the International College of Angiology at the 58th Annual World Congress of International College of Angiology in Prague, Czech Republic, June 2, 2016.
Graduate Program
Graduate Chair - Dr. Juan Ianowski
Degrees Offered: M.Sc. and Ph.D.
Research opportunities are available in the following areas: comparative respiratory and cardiovascular physiology; neurophysiology (electrophysiology, cellular imaging in neurons and glial cells, in vitro and in vivo studies of cerebral ischemia); vascular function, ion channels and endogenous gases; calcium channels and neuroendocrine secretion; hemoxygenase system and cardiovascular pathology.  Opportunities are also available for collaborative training with faculty in clinical departments of the College of Medicine.
 
Admission Qualifications: include B.Sc., M.Sc., M.D. degrees
 
Total Minimum Credit Units Required: 
Master's: 9 credit units at the 800-level, plus PHSI 990 and 994
Ph.D.: 0 credit units at the 800-level, including PHSI 990 and 996
Transfer from Master's to Ph.D.: 9 credit units at the 800-level, including relevant credit units taken before transfer, and PHSI 990 and 996
Core Courses: 9 credit units chosen in consultation with the advisory committee. PHSI 990, 994, or 996 are compulsory non-credit classes
Exam Requirements: Qualifying examination upon transfer from M.Sc. to Ph.D.; Ph.D. Comprehensive
Other: Students accepted as conditionally qualified may be required to take an evaluation examination.
Master's: 18 months
Ph.D.: 2 years    
Residency Requirements:
For further information on the University of Saskatchewan's graduate programs, please see the College of Graduate Studies & Research website or via e-mail.
If you have other questions or concerns please e-mail the Graduate Programs Secretary.
Contact
Department Head
Thomas Fisher
Phone: 306-966-6553
2D01.3 Health Sciences
Donna Dodge, General Inquiries
Phone: (306) 966-6292
Fax: (306) 966-4298
2D01 Health Sciences Building
Graduate Programs
Lori Luczka
Phone: (306) 966-4110
Fax: (306) 966-4298
2D01 Health Sciences
Undergraduate Advisor
Cindy S. Wruck
Phone: (306) 966-6323
2D01 Health Sciences