Through the College of Medicine Aboriginal Admissions Program, people of Aboriginal (Metis, Inuit and First Nations) ancestry can apply for admission to the Medical Doctor (MD) program of study. The program is designed to support growth in the number of Aboriginal people becoming doctors in Saskatchewan. Ten percent of the positions available in the MD degree program each year are specifically for applicants of Aboriginal ancestry.
The program is open to all residents of Canada, with preference given to residents of Saskatchewan, the Yukon, Nunavut and the Northwest Territories. (Residency is defined more specifically on the College of Medicine admissions website).
To be considered in the Aboriginal Admissions Program category, indicate on the application form that your ancestry is Aboriginal (proof of ancestry is required). Aboriginal applicants are required to meet the minimum standards for admission, as described in this brochure.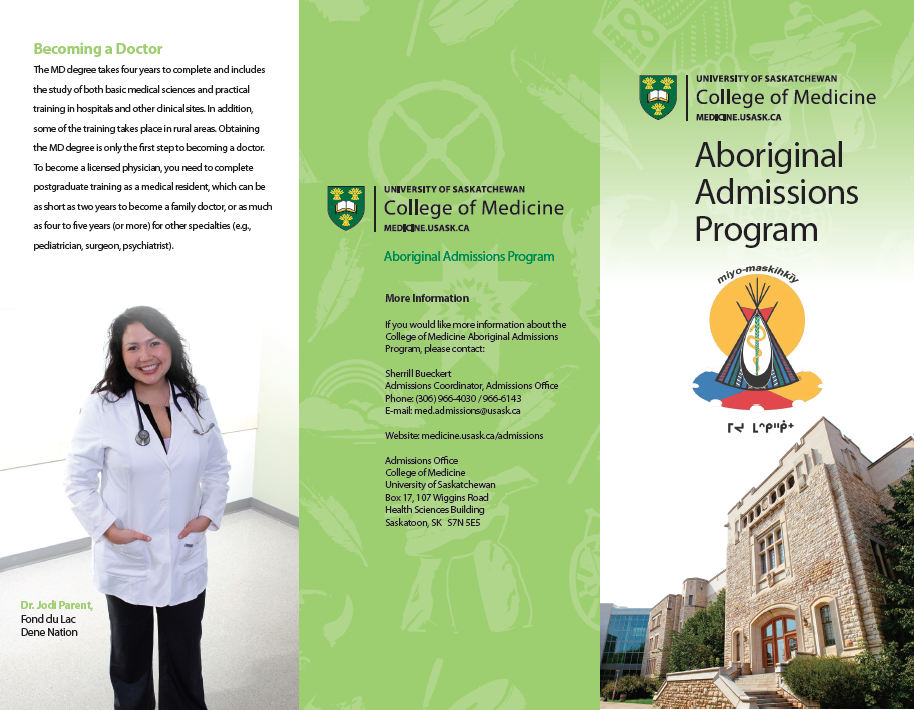 Educational Opportunities
Electives in Aboriginal Health
All Nations Healing Hospital, Fort Qu'Appelle
This unique elective places you in an interdisciplinary team of health care providers and engages you in patient-centered care in a rural community. All Nations HealingHospital also has a holistic healing center dedicated to residential school outcomes, addictions, abuse, family counseling, and crisis interventions.
Whitecap Health Centre, Whitecap Dakota First Nation
At Whitecap Health Centre you will work with the NP, mental health specialist, school staff, and community members to learn about Aboriginal community health programs and initiatives.
Aboriginal Student Mentorship Program
Spend either a half or full day with a physician while meeting medical students, doctors, and other health care workers. Contact
Valerie Arnault-Pelletier
, College of Medicine Aboriginal Coordinator, for more information.
Making the Links
Making the Links started in 2005 as a unique service learning experience offered by the College of Medicine. Selected undergraduate medical students experience community health and development in three contexts:
Urban underserved community at SWITCH (the Student Wellness Initiative Towards Community Health) in Saskatoon

Remote communities in northern Saskatchewan (ile-la-Crosse, Dillon, Kawacatoose, and Pine House)


International communities globally.
Indigenous Health Committee
The Indigenous Health Committee is comprised of faculty, staff, and community members who are dedicated to Indigenous health. The IHC exists to strengthen culturally-based linkages between Indigenous world views and the medical community.
The committee offers many services to the College of Medicine, including:
Reviewing and vetting Indigenous curriculum through a community based approach.
Working with Indigenous and non-Indigenous students (pre-med, undergrad, & residency) to provide unique experiential learning opportunities through placements in Indigenous communities.
Assistance in learning about Indigenous protocols, communities, and Elders.
Connecting faculty, staff, and students with Indigenous communities for initiatives, advocacy, and other activities that enhance Indigenous health.
Members:
Val Arnault-Pelletier
Dr. Veronica McKinney
Dr. Peter Butt
Louise Halfe
Dr. Roland Dyck
Dr. Sarah Oosman
Dr. Vivian Ramsden

Peggy Proctor
Dr. Nazeem Muhajarine
Dr. Caroline Tait
Sylvia Abonyi
Debbie Spence
Carlyn Seguin
Karissa Brabant
Awards and Scholarships
These awards are open to students of Aboriginal ancestry who are continuing students (beyond first year of a program) registered in a minimum of 24 credit units (September-April) working towards a Baccalaureate degree in a bona fide four-year baccalaureate degree program at an accredited Saskatchewan post-secondary institution, as determined by the College of Medicine Admissions Office and the Award Committee.
All University of Saskatchewan student awards can be found on the main 'Awards' page.
Search tips:
Enter "Aboriginal" as a keyword to find awards for Aboriginal students.
Many awards are not college-specific. Don't restrict yourself to searching only for Medicine awards.